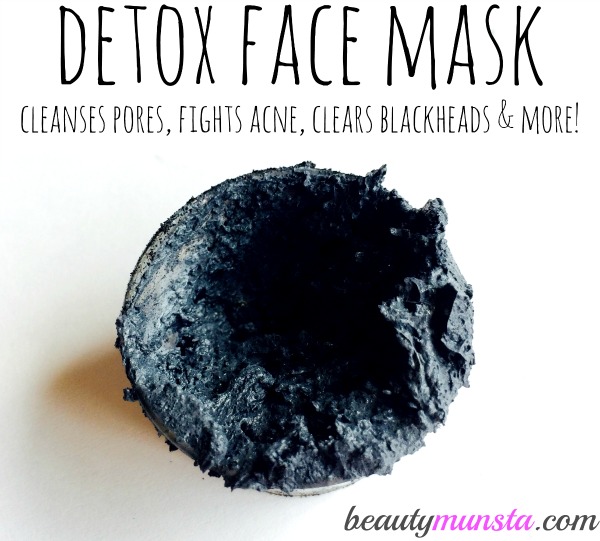 What this Bentonite Clay and Activated Charcoal Face Mask Does
Below is a small list of what this bentonite clay and activated charcoal face mask does to improve and promote smooth, soft and supple skin:
– Unclogs blocked pores
– Draws out toxins
– Removes excess sebum
– Fights acne
– Reduces blemishes
– Tightens & Reduces large pores
– Firms & Tones skin
– Regenerates skin tissue
– Exfoliates skin & removes dead cells
– Rejuvenates damaged skin
– Prevents & removes black heads
– Reduces the appearance of acne scars
– Promotes softer and smoother skin
Ingredients Profile
► Bentonite Clay – Bentonite clay is a powerful healing clay extracted from aged volcanic ash. It is mainly composed of montmorillonite, hence sometimes referred to as montmorillonite clay. Other components include iron, potassium, silica, sodium and calcium, which are all skin loving nutrients that are beneficial for healthy skin. When bentonite clay is mixed with water, an electric charge is created, making it able to bind to impurities and draw out toxins from within the skin. Apart from sucking up toxins and impurities from the skin, bentonite clay also tighten and shrinks large pores, tones & firms the skin, controls oily skin, reduces blemishes as well as exfoliates the skin.
► Activated Charcoal – From soaking up excess sebum to drawing toxins, activated charcoal has a myriad of skin benefits for a smooth and flawless complexion! It's produced by small particles of carbonaceous substances such as saw dust & coconut shells to very high temperatures, which forms charcoal. To 'activate' the charcoal, steam or very hot air is used to erode the internal surfaces thereby increasing its absorptive surface area. This absorptive surface area is the one which draws out harmful substances, toxins and impurities from deep within the skin. When using activated charcoal, remember a little goes a long way since it is proven to adsorb 1000 times its own mass in harmful substances and impurities and using it in high amounts may irritate skin and cause redness.
DIY: Bentonite Clay and Activated Charcoal Face Mask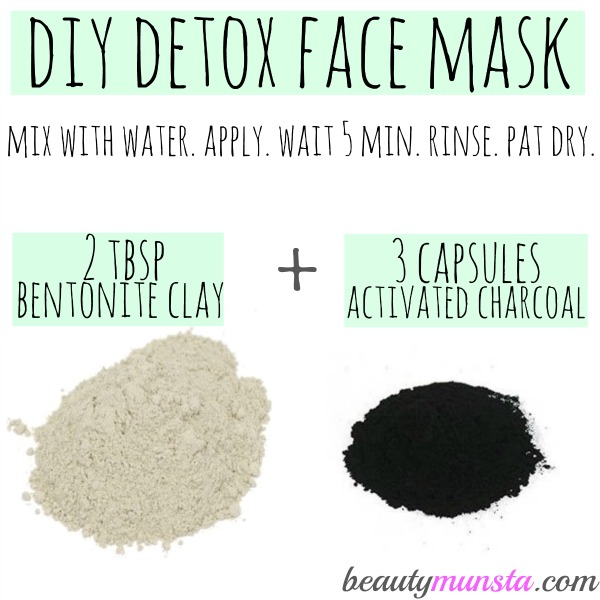 Ingredients
Directions
In a small non-metal bowl, add the bentonite clay and activated charcoal.
Mix well with a wooden/plastic spoon then add water tsp by tsp, while stirring, until you create a thick paste. Note: Do not use a metal spoon/bowl as it will react with the clay, making it lose most of its healing properties.
How to Apply this Mask

To use, first gather your hair away from your face and wear a headband to keep your baby hairs away from your forehead. Then cleanse your face thoroughly and pat dry with a towel.
Next, using clean fingertips, scoop up the mixture and apply on your face and neck.
Leave it on for about 5-7 minutes or until it dries up completely.
When the time is up, rinse off thoroughly with warm water until the mask is completely off.
Then splash your face with cold water to tighten the pores.
Pat dry with a fluffy towel and immediately apply a pea-sized amount of coconut oil to moisturize.
My Tips
Feel free to add other skin-healing ingredients such as raw honey, essential oils, lemon juice, etc. However, if your skin is sensitive and prone to redness, use the mask alone without optional ingredients.
If you have acne/dry skin, you can add ½ tsp of raw honey for its amazing anti-inflammatory and moisturizing properties.
Add a little organic raw apple cider vinegar for a more powerful bentonite clay and activated charcoal mask!
How often? Since this bentonite clay and activated charcoal face mask has a powerful skin detoxifying effect as well as exfoliating properties, it's not necessary to use it every day. Once a week is perfect!
Red face? If your face looks red after you remove the mask, don't panic. This is normal and will go away after a few minutes. The reason your face turns red is because the bentonite clay and activated charcoal both increase blood circulation or bring more blood to the surface of your skin while drawing out impurities, thereby causing it to appear red.