De-gunk your pores using this DIY activated charcoal peel-off mask! It works wonders in removing all kinds of impurities from your facial pores!
This DIY activated charcoal peel-off mask will:
Drive out impurities: stale sebum, germs, pollution, heavy metals, dead cells & others from pores
Remove blackheads
Get rid of peach fuzz/tiny facial hairs
Soften smoothen your face
Control acne
Exfoliate your skin
And more!
Let's check out how to make it:
DIY Activated Charcoal Peel-Off Mask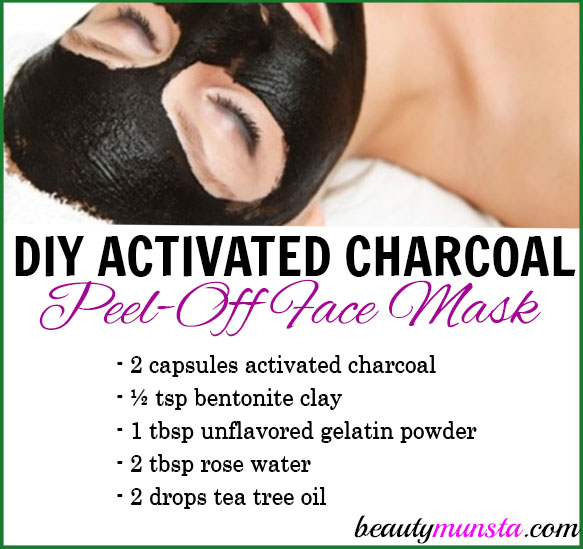 What you need
*Do not use metal container or spoon for this face mask. Metal makes the bentonite clay lose its potency.
Directions
Empty 2 capsules of activated charcoal into the shot glass then add the bentonite clay and unflavored gelatin powder.
Pour in the rose water or just plain water, if you want.
Now stir well until combined then place the shot glass in the bowl of hot water to warm and thicken up.
Stir it and when it's thick, remove from the hot water and add the tea tree essential oil & mix again.
Your DIY activated charcoal peel-off mask is ready for application!
Use your clean fingers to apply the mask in a thick even coat, avoiding the area around eyes Do not apply the mask on places where there's hair that you don't want to remove (eyebrows). Because this mask gets rid of peach fuzz and tiny facial hairs too!
After the mask dries up completely, the fun part has arrived: time to peel-off!
Peel off the mask from one edge coming inwards.
After all of the mask is off, wash your face with hot water and a mild cleaner then splash it with cold water.
Admire your soft, smooth and black-head free skin! Pat dry and moisturize with shea butter.
Please go ahead and use this DIY activated charcoal peel-off mask once or twice a month to de-gunk your pores! xoxo