Learn how to make bentonite clay poultice for bug bites, remove splinters, draw out toxins and more!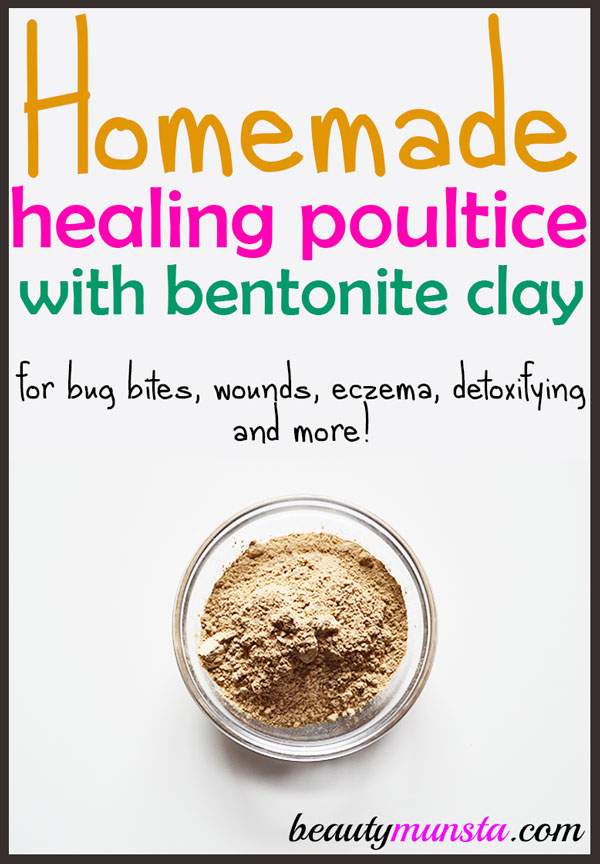 Ancient home remedies like using poultices are coming back with a big bang. Long ago, this is how they used to treat wounds, reduce inflammation and draw out foreign bodies stuck in the skin such as a bee stinger.
There are many recipes for poultices that use different healing herbs and powders. But one of the most powerful substances you can use to make a poultice is bentonite clay!
Healing Benefits of Bentonite Clay
Bentonite clay is also called montmorillonite clay. It was first discovered in a region of France called Montmorillon, from where it also gets its name. Today, bentonite clay is harvested in the US, France and Italy. The largest known source of bentonite clay is found in Fort Benton, Wyoming in the US.
This brilliant clay works in removing toxins and heavy metals from the body. How does it work? Well, in its natural state bentonite clay contains negatively charged molecules. On the other hand, most toxins and heavy metals have positively charged molecules. So bentonite clay carries a strong negative charge which bonds to the positive charge in many toxins and heavy metals. This helps it to draw out the toxin.
When used in a poultice, bentonite clay has some of the following benefits:
Heals dermatitis, eczema and psoriasis
Draw out pus, bee stings, splinters and more
Healing wounds
Helps treat skin disorders
Treat ingrown hairs
Treats skin cancer
Helps relieve mastitis
Helps drain swollen lymph nodes
Regulate digestion and cure constipation
Reduces inflammation
Allows cells to receive more oxygen
Speeds up skin healing
And more
Note: When using bentonite clay, please do not put it in a metal container or use a metal spoon to mix it up! This is because metal has positively charged molecules that will neutralize the negative charged molecules of bentonite clay. This will render the clay useless! Let the bentonite clay get into contact with only plastic, glass or wooden bowls, spoons and containers.
What Type of Bentonite Clay to Get
Did you know that not all bentonite clays out there in the market are equal? I'm not talking about the two types of bentonite clay: sodium bentonite clay and calcium bentonite clay. It really doesn't matter what variety you choose. What I'm talking about is the method of extraction of the clay.
I already talked about how you shouldn't use metal spoons or bowls when handling and mixing up bentonite clay. So when bentonite clay is extracted with metal equipment, it renders the clay completely useless because all the negative charge in the clay would be neutralized by the positive charge in metals.
It's important to buy bentonite clay from a good and knowledgeable company that extracts it clay using stainless steel or coated metal equipment.
Good brands of bentonite clay are Aztec Secret Indian Healing Clay and Redmond Bentonite Clay.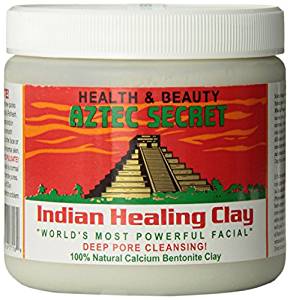 How to Make a Bentonite Clay Poultice
What you need
¼ cup bentonite clay
½ cup cooled chamomile tea
1 tbsp manuka honey
5 drops rosemary oil
5 drops tea tree oil
Wire gauze
Medical tape
Directions
Mix ¼ cup of bentonite clay with ½ cup of cooled chamomile tea till you form a thick paste.
Next mix in 1 tbsp of manuka honey.
Place a dollop of the clay mixture on a clean wire gauze.
Cover the affected area with the gauze and use medical tape to adhere the gauze to the skin.
Let the poultice sit on the skin for 2-3 hours, then remove it and clean and dress the affected area.
Repeat 3 times a day until you feel relief.
Store the excess mixture in the refrigerator for a week.
My Tips
Depending on the size of your wound/affected area, use more or less bentonite clay.
Instead of chamomile tea, you can use filtered water or a flower hydrosol like rose water.
You can leave out the essential oils if you don't want to use them.
What are you going to use this bentonite clay poultice for? Share in the comments below!