Want to lose a couple of inches fast? Learn how to make homemade body wraps with bentonite clay!
Body wraps are no joke – they can really help you lose an inch or two to and make you look slimmer and more toned. If you do them regularly, you can even get rid of 6 to 30 inches off your body – no kidding!
They work by helping you sweat thereby forcing out excess unwanted fluids, that have an overload of toxins and wastes, trapped under the surface of skin.
The ingredients used also have powerful detoxifying properties: bentonite clay is one of them! It is an ancient secret ingredient for beautiful skin and good health.
Aztec Indians even used to consume a little bentonite clay before eating poison berries (which were the only available food during a certain season) to absorb the poison. So amazing right?! That's how powerful bentonite clay is – it helps remove impurities, accumulated old fat cells that cause cellulite, toxins and heavy metals from the body. Find out more of what it does below:
Bentonite Clay Body Wrap Benefits
Removes toxins and heavy metals
Detoxifies the body
Helps reduce cellulite
Promotes smooth and soft skin
Promotes firm and toned skin
Reduces bloating & fluid rentetion
Promotes weight loss
Before You Get Started…
When you're under the woolen blanket with the body wrap around you, you're going to sweat profusely. Don't let it bother you because sweating is the way body wraps work. Allow your body to sweat it all out!
You might be bored while lying under the woolen blanket but you can use this time to close your eyes and relax or do affirmations such as 'I have a fit, strong and beautiful body.' Alternatively, you can browse on your phone or listen to calming tunes.
Do not wrap your chest. Wear undergarments or a bikini when doing the wrap. When wrapping your butt, wrap the cotton cloth firmly upwards.
After the wrap, have an alternate hot and cold shower to stimulate flow of toxins and wastes in your body.
If your bathroom is big enough for you to lie down with the towel over you, you can apply the messy body wrap mixture in there. If not, find a private area in your home which can easily be cleaned up.
Place a plastic sheet below you before you smear the wrap on your body to prevent drips on the floor.
Use the wrap once a week for six weeks then once a month after that for maintenance. You can also do the wrap a couple days or the night before a main event for instant weight loss.
Leave the wrap on for an hour or two but some people leave it for 4 hours to see better results. I don't know if this is true but one hour is more comfortable and convenient especially if you're under the woolen blanket.
Always take a hot shower and exfoliate your body well before doing the wrap. This opens your pores, removes dead cells and prepares your body for the wrap.
You might need to use more of the ingredients depending on your body size and height. So feel free to adjust the ingredients below to be able to make enough to spread all over your body.
Drink water after the wrap to help you eliminate the toxins.
Homemade Body Wraps with Bentonite Clay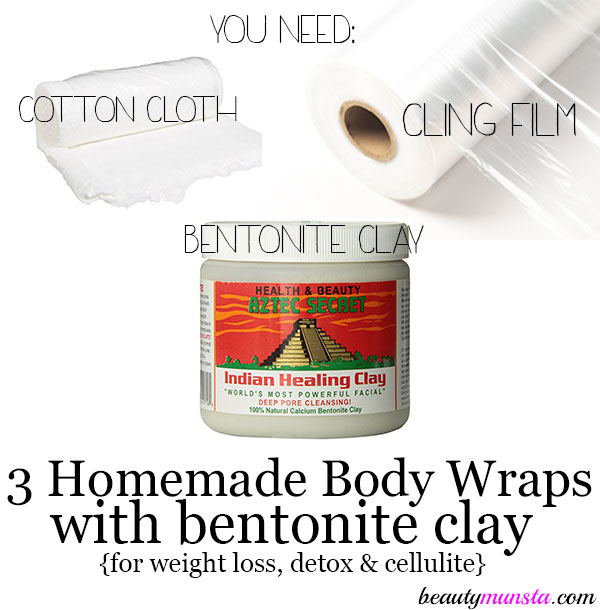 1. Detox Body Wrap
What you need

Directions

In a stainless-steel pot, add 1 and 1/4 cups of distilled water and let it boil. Once boiled, remove from heat and slowly add in the Epsom salt, bentonite clay and kelp powder. Stir until well combined into a thick mixture with no lumps.
Mix in the olive oil and essential oils and stir well.
Now while it cools off, go and take a hot shower and exfoliate your skin with a bath sponge or loofah or a body scrub.
Dry your body thoroughly them go to a private place in your house and place a plastic sheet on the floor.
Step on the plastic sheet and apply the mixture on your legs then wrap the cotton cloth strips reasonably tightly on top of the mixture.
Repeat this with your thighs, stomach and arms.
Then wrap the cling wrap on top of the cotton cloths.
Lie flat on the floor and place the wool blanket over your body to trap heat.
Stay in this position for 60 minutes.
When the time is up, remove the cling film cotton cloths and take an alternate hot and cold shower.
2. Cellulite Body Wrap
What you need

Directions

Brew two cups of strong black coffee and while it's hot, stir in the bentonite clay to form a thick mixture. Not too thick, though or there won't be much to spread all over your body.
Now stir in the olive oil and grapefruit oil.
Put a plastic sheet over your work area to prevent drips then spread the mixture on your clean dry and exfoliated body, while wrapping the cotton strips on top snuggly.
When you're done applying the mixture and wrapping it with the cotton cloth, start wrapping cling film on top of the cotton cloth.
Then lie down flat and place a wool blanket over your body. Stay there for an hour for the wrap to take effect.
Remove the cling wrap and cotton cloths then take a hot and cold shower to stimulate flow of lymph.
3. Weight Loss Body Wrap
Note: Please be careful with the amount of dried ginger you use! It can burn your skin when your showering if you use a lot.
What you need

Directions

Make 3 cups of strong green tea and stir in the bentonite clay, seaweed powder and dried ginger powder until you form a paste. Now add the essential oils and stir again.
Smear the mixture over your legs, then wrap firmly with a cotton cloth. Repeat with the rest of your body.
After wrapping with the cloth, wrap again with the cling film.
Lie down and place the wool blanket over you for an hour.
Take a hot and cold shower (first with hot water then cold water).