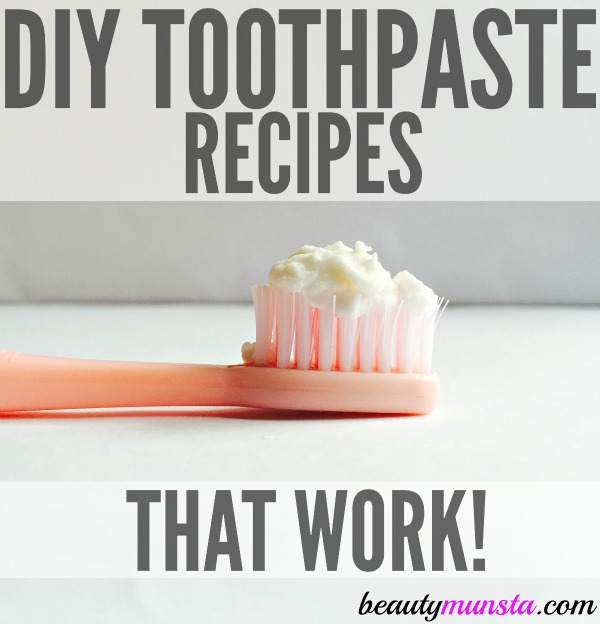 Have you ever wondered what people long ago used to keep their teeth clean and healthy? You might be surprised to know that a myriad of natural herbs, spices, roots and other ingredients such as ash, charcoal, clay and salt were used as natural toothpastes that worked! Long ago, in Africa, people used ash to cleanse their teeth while in Ancient Arabia, aromatic sweet sticks called miswak, were used as natural and effective toothbrushes. In South East Asia, different ground herbs and spices were used to make cleansing and strengthening tooth powders.
In Modern Europe, baking soda was first used in the early 1900s as toothpaste to cleanse teeth. In this post, you'll find three homemade toothpaste recipes containing powerful ingredients such as detoxifying clay and healing essential oils that not only cleanse your teeth but also fight bad breath and promote a healthy mouth!
Ingredient Profile
Learn what each of the ingredients in these 3 homemade toothpaste recipes do to promote clean, healthy and strong teeth and gums!
► Coconut Oil – One study (1) found that using coconut oil for your teeth and gums significantly reduces plaque buildup on teeth as well as the tooth decay-causing bacteria known as Streptococcus mutans. Coconut oil is also famously used as the main ingredient in oil pulling, which helps remove tartar and promotes shiny white teeth.
► Calcium Powder – Promotes remineralization of teeth as well as whitens and strengthens the teeth and gums. You can also use magnesium powder instead.
► Baking Soda – Balances the mouth's natural pH by neutralizing too much acidity caused by the acidic foods we eat. It also removes tartar and plaque due to its slight abrasive texture. Baking soda whitens teeth as well and also removes yellow and brown teeth stains.
► Peppermint Essential Oil – Add peppermint to your toothpaste to refresh your mouth, fight off bad breath and prevent cavities as well! Research (2) shows that peppermint is more powerful in action than the chemical chlorhexidine, used in mouthwashes when it comes to inhibiting the formations of biofilm which is a cause of cavities.
► Bentonite Clay – This powerful healing clay, just like activated charcoal absorbs impurities, toxins and heavy metals. It also has a high mineral content which promotes remineralization of teeth and heal cavities!
► Xylitol – Is a natural sweetener which cuts out the unpleasant salty taste of homemade toothpaste but that's not all – xylitol has powerful action against cavity-causing bacteria as well!
► Activated Charcoal – A powerful ingredient, activated charcoal not only whitens and brightens teeth but also has a detoxifying effect of drawing out impurities & heavy metals from the mouth. Use activated charcoal to remove yellow teeth stains as well!
Homemade Toothpaste Recipes for Clean and Strong Teeth
From bentonite clay to coconut oil, the following three homemade toothpaste recipes contain all-natural ingredients that provide gum strengthening and cavity protection benefits.
1. Remineralizing Toothpaste with Bentonite Clay
Ingredients
– 3 tbsp coconut oil (buy here)
– 2 tbsp calcium carbonate powder (buy here)
– 1 tsp baking soda (buy here)
– 10 drops peppermint essential oil (buy here)
– ½ cup filtered water
– ¼ cup bentonite clay (buy here)
– Liquid stevia, to sweeten (buy here)
Directions
Add all ingredients in a non-metal bowl and use a silicone whisk to mix till you get a smooth and lump-free paste. Add enough drops of liquid stevia to sweeten. Transfer to a sterilized glass jar or silicone squeezable tooth paste tube. If storing in a mason jar, ensure to use a popsicle stick to put the toothpaste on the toothbrush to avoid contamination. Note: Do not use anything metal as this will make the bentonite clay ineffective.
2. DIY Baking Soda Toothpaste Recipe with Activated Charcoal
Ingredients
– 5 tbsp coconut oil (buy here)
– 4 tbsp baking soda (buy here)
– 3-4 capsules activated charcoal *optional (buy here)
– 15 drops of peppermint essential oil (buy here)
– 1-2 tsp xylitol, to sweeten (buy here)
Directions
Add all ingredients in a sterilized glass jar and stir vigorously with a small spoon until well combined. Use a popsicle stick to scoop out the homemade toothpaste from the jar and place it on your toothbrush. Store in your bathroom cabinet and keep away from water and other contaminants.
3. Homemade Toothpaste Recipe without Baking Soda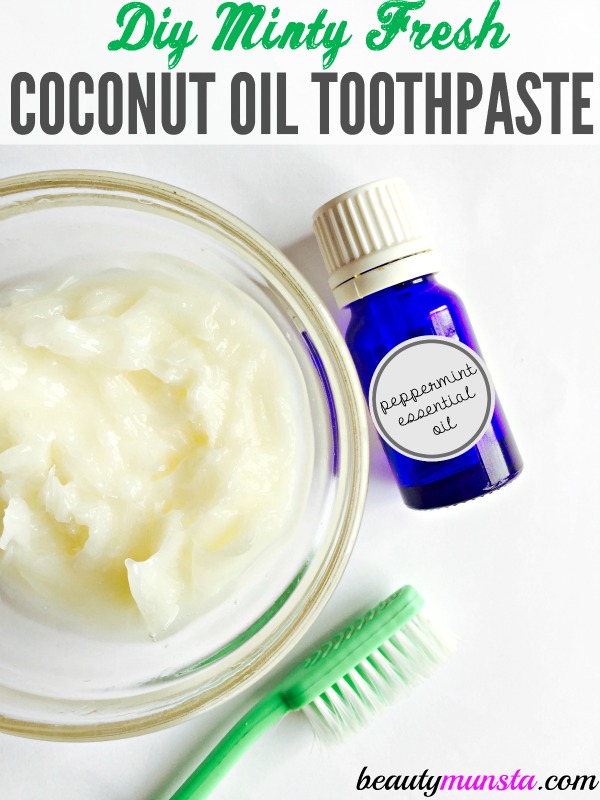 Ingredients
– ½ cup coconut oil (buy here)
– 10-15 drops peppermint essential oil (buy here)
– 2-4 tsp xylitol (buy here)
Directions
Combine all ingredients in a small sterilized container. If your coconut oil is hard, soften it by running the jar under hot running water or pop the coconut oil jar in a bowl of hot water. To use, scoop a pea sized amount using a clean fingertip onto your toothbrush.
My Tips
Use any of these homemade toothpastes twice – once in the morning and before bed.
Feel free to substitute peppermint essential oil with any other essential oils of your choice. However, it's safer to stick to sweet orange, clove, lemon, spearmint, rosemary, tea tree and parsley seed in small quantities. Avoid using potent essential oils such as oregano, sweet basil or cinnamon as these are hot oils and can burn your mouth!
Xylitol and stevia are used as natural sweeteners to mask the salty taste of the homemade toothpaste recipes. If you wish, you could exclude them or use any other sweeteners of your choice.
Do not get any water into any of these homemade toothpastes to avoid spoilage.
Keep out of reach of children and pets. Xylitol is known to be toxic to dogs.
References
(1) J Indian Soc Periodontol. 2014 Jul;18(4):441-6
(2) GreenMedInfo March 19, 2013