Try your hand at DIY African black soap face wash! It's good for sensitive and acne prone skin types!
For centuries, women in African have made and used their own soap using plantain peel ash, cocoa pod ash, water, palm oil, camwood and other ingredients. Moisturizing ingredients like shea butter were also added in some recipes. Today, African black soap comes from West Africa. You can find many brands out there, some being the real hand crafted soap, while others are chemically manufactured. If you're looking for a good African black soap, I recommend Natural Cosmetic's African Black Soap. It's cheap plus the real thing.
In the recipe below, you have to carefully break up the bar of soap into tiny chunks to fill ¼ cup. Then let the chunks dissolve completely in hot distilled water for 3 hours. It's better to leave it overnight so it completely liquefies.
Okay, let's get onto the face wash recipe:
DIY African Black Soap Face Wash Recipe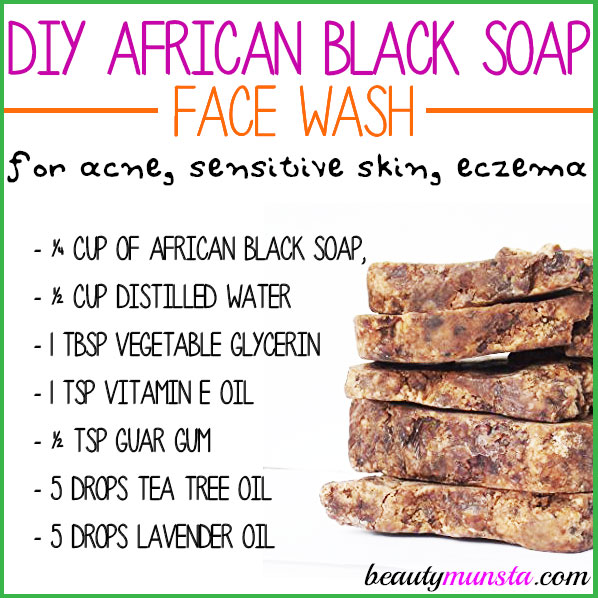 What you need
Directions
Into the Pyrex measuring cup, add your ¼ cup of African black soap chunks/grated soap.
Pour ½ cup of hot distilled water into the Pyrex cup and leave the black soap to completely dissolve overnight.
When it has dissolved, add the vegetable glycerin, vitamin E oil and then the guar gum. Mix well with a spoon to combine everything.
Finally mix in the tea tree and lavender essential oils, drop by drop.
Your DIY African black soap face wash is ready! Pour it into your stainless steel soap dispenser using a small funnel.
Use in the morning and at night time.
I hope you love my DIY African black soap face wash recipe! Try it out and let me know your thoughts! xoxo