Make the easiest ever DIY eye makeup remover! The best part? It works well!

I like using oil to remove my eye makeup and sometimes when I'm feeling lazy after a long day, I can just use warm water and a mild soap. But this doesn't do a 'clean' job plus leaves my eye area feeling dry. Are you the same? If you are, then welcome this DIY eye makeup remover!
It is soapy and oily so it gets your eye makeup to come off clean plus leaves your skin feeling moisturized and supple!
DIY Eye Makeup Remover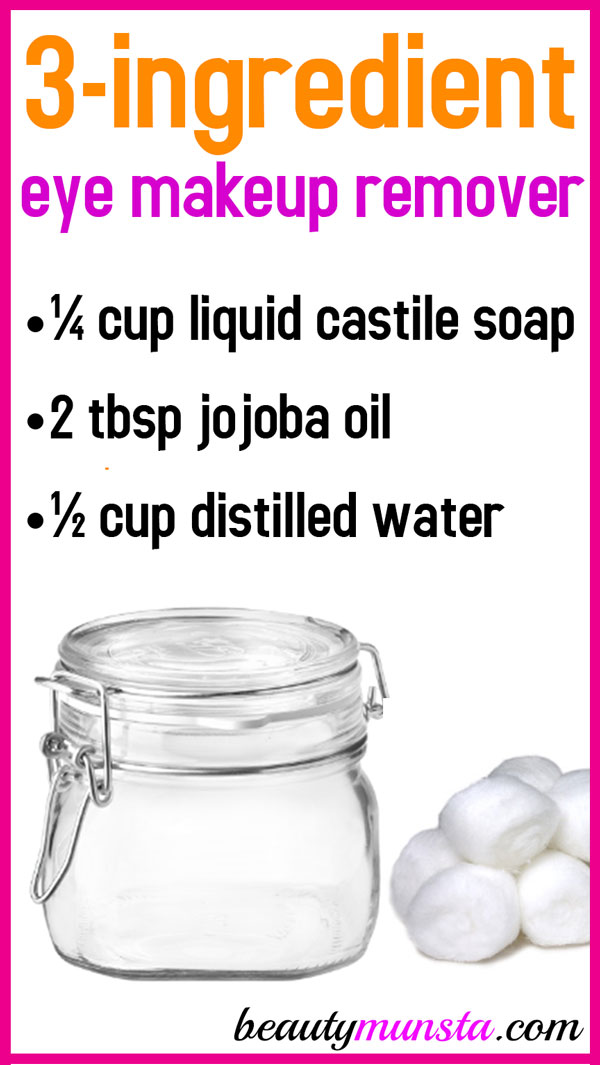 What you need:
¼ cup liquid castile soap *choose the unscented kind
2 tbsp jojoba oil
½ cup distilled water
Clean jar for storage
Pyrex measuring cup
Directions:
You need the Pyrex cup to mix all your ingredients together seamlessly.
Begin by pouring 2 tbsp jojoba oil into the Pyrex cup followed by ¼ cup of liquid castile soap Mix the two together then slowly pour in ½ cup distilled water. Mix well.
Gently pour it into a clean jar. You can use glass or plastic, whichever you prefer.
And what do you know?! Your DIY eye makeup remover is ready!
To use, dip a clean cotton ball or cotton pad into the mixture and gently wipe off your eye makeup.
My Tips
Instead of jojoba oil, you can use any of your favorite carrier oils. Choose light oils like sweet almond, apricot kernel and grapeseed.
It's totally optional but you can add essential oils! Just one drop will do, though because we don't want it to enter the eyes and burn! Essential oils will make your product smell nice, boost its shelf life, kill bacteria plus offer beauty benefits to your under eyes and eye lashes. Lavender and tea tree oils are safe options.
This DIY eye makeup remover keeps for a month!