Here are some effective soap alternatives for eczema that you can use in the shower. They're kid-safe too!
6 Soap Alternatives for Eczema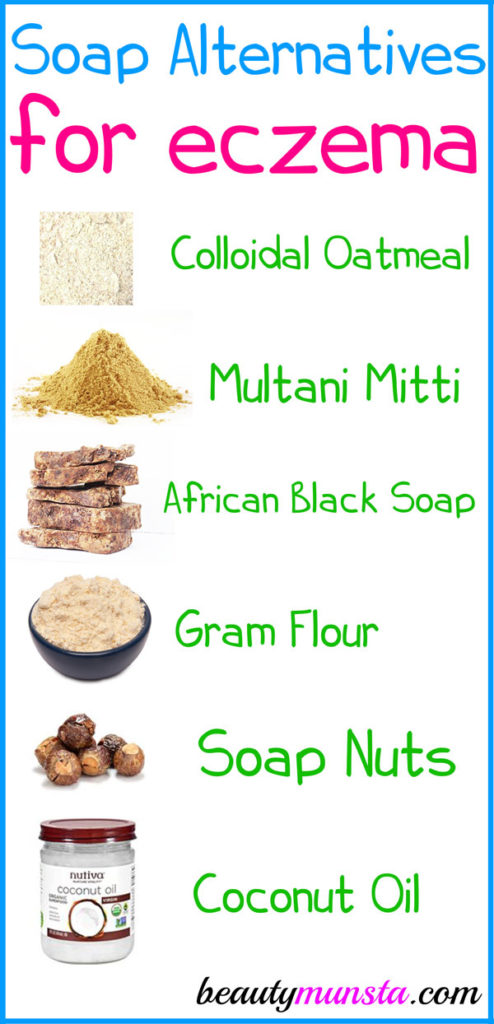 1. Colloidal Oatmeal
Colloidal oatmeal is one of the best treatments for eczema. Whether you use it as an eczema mask, make a face cream with it, use it in lotion or as a soap alternative! It is very gentle and soothing on irritated and sensitive eczema skin. What makes it good as a soap alternative is that it has substances called saponins in it. Saponins are natural cleansing agents found in some plants powders. Here's how to use colloidal oatmeal as a soap alternative:
Add ½ cup or more of colloidal oatmeal to a bowl. Now add just enough water to form an easily applicable paste. Wet your skin in the shower then glide this colloidal oatmeal paste on your skin gently. It'll help slide off dirt, excess oils and dead cells on your skin. After applying it on your whole body, rinse off well.
2. Multani Mitti
Multani mitti is the Indian name for Fuller's Earth. It is a type of clay mined in India that has been used for centuries as a face and body wash. It has amazing cleansing powers plus it has got detoxifying properties that pull out impurities stuck in the skin pores. It's also good for gently removing flaky skin on eczema. To use, make this DIY multani mitti body wash:
In a bowl, add ½ to 1 cup of multani mitti. Now add enough water to form a paste. Then add 5 drops of lavender essential oil and mix well. Scrub this smooth paste on your skin gently. After application, rinse it off well in the shower. Your skin will feel clean and soft!
3. Gram Flour
Gram flour, also known as garbanzo flour, is a fine silky flour made from roasted garbanzo beans. You might be thinking how can I use flour to wash my skin?! Don't be put off because in India, for centuries people have been using it to cleanse skin! It's so gentle that it's even used as a daily soap for baby's skin. Just like oatmeal, gram flour also has natural saponins in it that gently and effectively cleanse skin. When you apply it on your skin, you'll see it has a bit of a 'soapy' feel.
To use, all you need to do is mix 1/2 cup gram flour in water or even milk till you create a smooth paste. It has a bit of an earthy smell to it (it doesn't bother me) but you can add 7 drops of essential oils good for eczema like lavender or rosemary to it to mask the scent. Apply the paste all over your body then rinse off thoroughly.
4. Soap Nuts
Soap nuts are not actually nuts but dried shells got from the fruit of the Soap Nut Tree (Sapindus mucorossi). Soap nuts are another ancient skin cleanser from India! These people sure had a variety of awesome natural cleansers to keep their skin clean in those days! They also contain saponins that give them powerful cleansing action. Soap nuts form a lather too! No wonder they're called soap nuts. When you buy soap nuts, you're supposed to boil them in water to activate the saponins in them. Here's my soap nut body wash recipe:
Grind up 10 soap nuts in a coffee grinder till powdered. Now boil the powder in 1 ½ liters of water for 30 minutes. Turn off the heat and let it cool down completely before straining into a jar. Your soap nuts liquid is ready! Pour ¼ cup of it into a foaming soap dispenser then add ½ cup of distilled water. Next, add 5 drops lavender essential oil. Shake well to combine everything and your body wash is ready. Gently soap up your body with the foam or add to a washcloth for more scrubbing action.
5. African Black Soap
African black soap is an amazing ancient soap from Africa! People made it out of cocoa pod ash, shea butter, palm leaves and other natural ingredients. It actually foams, just like soap nuts. The best way to use raw African black soap is first buying a pound of it from a trusted seller. Then follow these instructions:
If you buy a pound of African black soap, break it into tiny pieces to fill up ¼ cup. Then add it to a Pyrex cup filled with ¾ cup of hot water. Leave the soap to melt down overnight. In the morning, your body wash will be ready! Shake it up in a foaming soap dispenser together with a little more water (like ½ cup). You can add 5 drops lavender essential oil if you want. For a more nourishing African black soap body wash, go to my recipe: 12 Beauty Benefits of African Black Soap
6. Coconut Oil
Yes, you can use oil to wash your body, just like you can use it to wash your face. Think the Oil Cleansing Method but for your body. Coconut oil is used because it has strong antibacterial properties plus it sinks into the skin very fast. It is also very moisturizing and soothing as well. It softens eczema patches, reduces redness and promotes speedy healing! Here's what how to wash your body with coconut oil:
In the shower, carefully apply 1-2 tbsp of coconut oil all over your body in a firm motion. Now let it sit for a few seconds while you shave or something. Then get a washcloth and run it under hot water. Squeeze out the excess water and wipe it all over your body, repeating when the washcloth gets cold. Then towel off and voila! You'll feel clean and moisturized! You can add a few drops of essential oils like lavender to your coconut oil to leave you smelling nice and for more antibacterial powers (coconut oil is already antibacterial).
Which of these soap alternatives for eczema are you interested in? Share below!