Got sensitive skin? Make your own soap-free body wash with this easy recipe that leaves your skin fresh, clean and silky!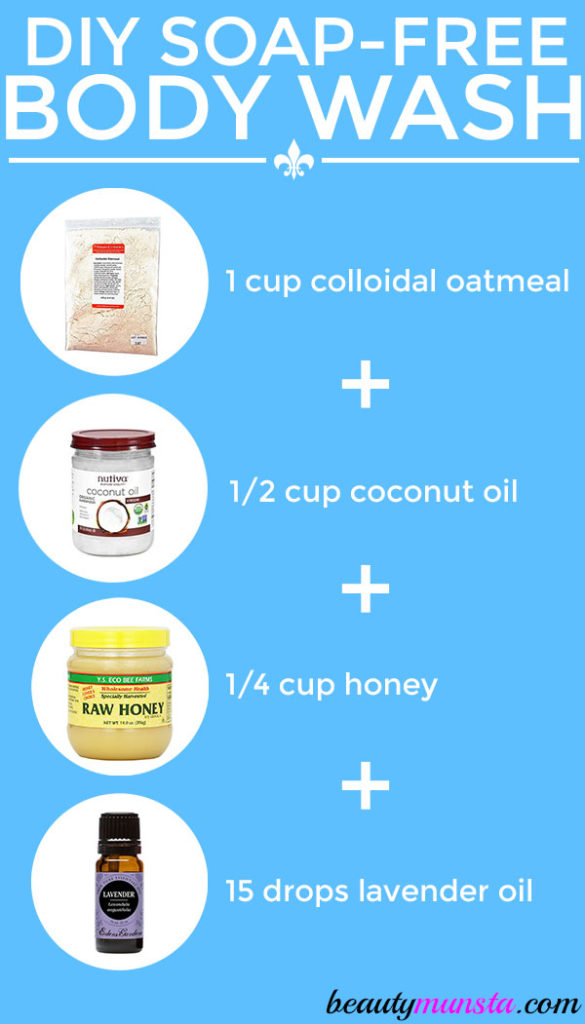 Many of us want to avoid soap on our skin especially when we have sensitive skin, psoriasis, body acne, eczema, skin allergies and other skin problems that make us super reactive to foaming soap.
The reason why our skin reacts negatively to soap is because it's filled with ingredients like chemicals such as SLS (sodium lauryl sulfate) which has been linked to hormone disruption and the big bad guy – fragrance. Fragrance is a major cause of skin allergies and the worst part is that it's not just one ingredient – fragrance is a term used to describe very many chemicals including phthalates, synthetic musks and neurotoxicants that are downright dangerous for our health. Yes, fragrance is so bad that if there's just one reason to go soap-free, it's to avoid fragrance.
People have been using soap-free body washes for ages and living clean and fresh. How? Using all-natural cleansing ingredients such as oatmeal, honey and more! This soap-free body wash glides on skin and feels just like soap – only without the lather but it still helps slide the dirt off your skin easily, getting you squeaky clean.
Ingredients
If your coconut oil is hard, please use liquid coconut oil. You can also use liquid honey!
Why these Ingredients?
► Colloidal Oatmeal – If you've ever used smeared oatmeal on your skin and washed it off, it feels just like rinsing soap – only without the foam! Oatmeal has long been used to wash and soothe skin because of its natural saponin content (natural cleansing agents). Colloidal oatmeal is finely powdered oatmeal. I used colloidal oatmeal because it's super fine, easy to apply and feels just like soap.
► Coconut Oil – Ah, the joys of coconut oil are never-ending. It's incredible for skin with its easily penetrative medium chain fatty acids that nourish, heal and protect skin cells. Coconut oil is also antimicrobial, warding off germs and microbes that irritate skin. Its emollient properties moisturize skin, helping dry and flaky skin including skin with eczema/psoriasis patches. Did you know that to remove stale sebum and grime from skin pores, good oils are needed? Good oils like coconut oil reach within the pores and drive out impurities from them, cleansing and purifying skin on a deeper level.
► Honey – Honey is also cleansing! Ever heard of the honey face washing method? It involves using honey alone and warm water to cleanse facial skin. It's all the rave these days because it works so well! Honey is also a natural humectant, meaning a substance that draws moisture from its surrounding and seals it into the epidermal layer of skin. This sweet goodness also has medicinal and healing effects as well as powerful antimicrobial properties which help treat acne, eczema, psoriasis and manage sensitive skin types.
► Lavender Essential Oil – Fun fact: Lavender comes from the Latin word lavare, which means 'to wash.' Long ago, people actually used these fragrant flowers to cleanse their skin with and threw in handfuls to warm baths as natural cleansing and body perfuming agents. Lavender essential oil has much more benefits for skin including calming sensitive skin types, combating germs and microbes that irritate skin, keeping skin fresh and scented as well as ridding it of impurities.
Now that we've looked at the benefits of each ingredient, let's get on to the soap-free body wash recipe!
Directions
Get a large bowl and dump in the colloidal oatmeal, coconut oil, honey and lavender essential oil and stir very well until everything is combined.
Now pour the mixture into a 16 oz disc top dispenser bottle.
And that's it! Your delicious smelling soap-free body wash is ready! It smells just like dessert!
Store the body wash in your bathroom cabinet and make sure NOT to get any water into it. It's easy to keep it water free if you're using a disc top dispenser bottle!
How to Use this Soap-Free Body Wash
Pour some on your hand and rub it all over your skin.
Rinse off with warm water and you're done! Enjoy your fresh clean and silky smooth skin ~
Save