Believe it or not, you can wash your body without soap! Discover 9 soap alternatives for cleansing skin!
The incredibly foaming soap we use nowadays wasn't there in the past. So how did people long ago keep clean? You might be surprised to know that there are effective natural cleansers they used! Some of them even form a nice lather!
Check out 9 soap alternatives for cleansing skin:
9 Soap Alternatives for Cleansing Skin
These soap alternatives can be used for your face and whole body!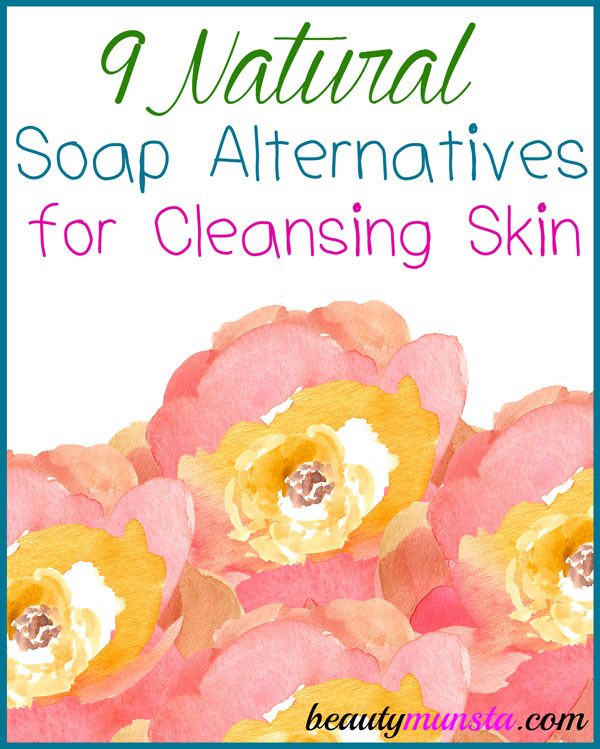 1. Herbal Bath Powder
Herbal bath powder is amazing. It's been used for centuries in India to keep skin clean, free from skin conditions and smelling lovely! As a matter of fact, people with skin problems usually ditch soap and turn to herbal bath powder. If you're into Ayurveda, you must have come across this natural soap alternative. I've used herbal bath powder too and had amazing results with it. For one, it clears up/reduces any skin condition you have: acne, eczema, etc. It also makes you smell amazing.
What's in it? An assortment of herbal powders, flower petal powders and essential oils! You can actually make your own herbal bath powder. Or buy it online. The way to use it is by mixing the powder in water in a bowl then applying it all over your body. Rinse it off afterwards and enjoy your skin!
2. Soap Nuts
Soap nuts are eco-friendly cleaning products also originating from India! They're used for cleansing skin, hair, clothes and basically anything that can be washed with soap, can be washed with soap nuts too! Like your car or windows! Soap nuts come from the fruits of the Soap Nut tree (Sapindus mucorossi). They're not actually nuts but dried shells of the soap nut fruits or soap berries. How do you make soap nut body wash? Follow the instructions below:
Boil 10 soap nuts in a pot of 1 ½ liters of water for 30 min. Turn off the heat and let it cool down completely before straining into a jar. Your soap nuts liquid is ready! To make a body wash, pour ¼ cup of the liquid into a foaming soap dispenser then add ½ cup of distilled water. Next, add 5 drops lavender essential oil. Shake well to combine everything and your body wash is ready. Use as body wash!
3. African Black Soap
African black soap is just now rising to fame. But it's another natural soap that has been around for centuries. Yup! It originates from Africa and is made of 100% natural ingredients such as cocoa pod ash, shea butter, cocoa leaves and others to create a chunky soap that lathers well! Make body wash with this soap, you'll love it! My African black soap body wash recipe can be found in this post: Beauty Benefits of African Black Soap
4. Colloidal Oatmeal + Honey + Coconut Oil
I used these major ingredients to make a Homemade Soap-Free Body Wash and it works! Check out the link! If you have sensitive skin, eczema, dry skin or psoriasis, you can use these ingredients to make a gentle body wash that will cleanse your skin well. The combination of these ingredients makes a nice paste that has a slight soapy effect that slides dirt off skin. You can make a small batch for one-time use every time you're going to shower or a bigger batch.
5. Natural Clays
Yes, natural clays are another great soap alternative you must try. When mixed with water, their saponins (natural cleansing agents) get activated and make a smooth paste with slight lathering action. You can use bentonite clay, Fuller's Earth, rhassoul clay, kaolin clay and others. The most popular clays that work as soap alternatives for cleansing the skin include Fuller's Earth (also known as multani mitti) and Rhassoul Clay (used in Morroco).
To make a clay body wash, simply dump about ½ cup of your clay of choice into a bowl then add water a little by little to form a silky paste. Now mix in 7 drops of lavender, ylang ylang or lemongrass (for men) essential oils. Apply the paste on your skin as soap then rinse off with water.
6. Milk
Did you know Cleopatra, one of the greatest Pharaohs of Egypt used to have regular milk baths? Milk kept her her skin flawless! Milk is a natural cleanser because it contains lactic acid, which is an AHA (Alpha Hydroxy Acid). It sloughs off dead cells from skin, leaving it looking soft, smooth and moisturized.
Now you don't have to bathe in milk because that seems wasteful and is expensive. But what you can do is fill a bathtub with warm water then add 2-4 cups of whole milk or 2 cups of powdered milk. Soak for 20 minutes and scrub your skin with a washcloth to remove dirt and dead cells. When you come out, your skin will feel luxurious!
7. Orange Peel Powder
This seems like some weird thing to wash your skin with but people actually do this! It brightens skin complexion so well! Orange peel powder has skin lightening properties and it's rich in limonene and vitamin C that boost collagen production and promote youthful looking skin. It's even easy to make orange peel powder! All you need to do is sundry orange peels to a crisp then powder them in your pepper mill, coffee grinder or even blender. This will create a fragrant orange peel powder. To use as a soap free alternative for cleansing your body, add about ¼ cup or ½ cup to a bowl then stir in a little water or cooled green tea to form a nice paste. Scrub onto your whole body then rinse off.
8. Oil Cleansing
If you have very dry skin, oil cleansing is a heaven sent soap alternative for cleansing it! You can use any good skin care oils but sesame oil and coconut oil are popular choices. What you're going to do is pour 1-2 tbsp of your oil into a bowl and take it to the shower with you. Strip then apply the oil all over your body. Wait for 20 min then shower with luke warm water. Use a washcloth to gently remove the excess oils. At the end of your shower, you'll have soft, smooth, supple and moisturized skin! For how to wash your face with oil please go here: Oil Cleansing Method Recipes for All Skin Types
9. Mashed Fruits
I've tried using fruit to wash my face with refreshing results. I haven't used it on my body, though so that's something you'll have to try and tell me about! Fruits like strawberries, blueberries, oranges, etc are rich in AHA's (Alpha Hydroxy Acids) that dissolve dead cells on skin, revealing soft, smooth and clean skin underneath. To use mashed fruits to clean your face, mash up one to two strawberries in a bowl then rub it on your face for a minute.
For your body, blend about 1-2 cups of your fruit of choice (oranges and strawberries are the best). Don't blend for long because you'll end up with a smoothie. We just want to roughly blend it up to create some textured fruit pulp. Now rub the mashed fruit on your damp skin in the shower. Leave it on for 2 min at least then rinse off well. You might have to clean up your shower afterward but it's no big hassle! Your skin will look bright and nice after this cleanse!
Please share any of your own soap alternatives for cleansing skin! We'd love to know!