If you're into herbal infusions, you might be wondering if you can steep tea in oil! Find out the answer here!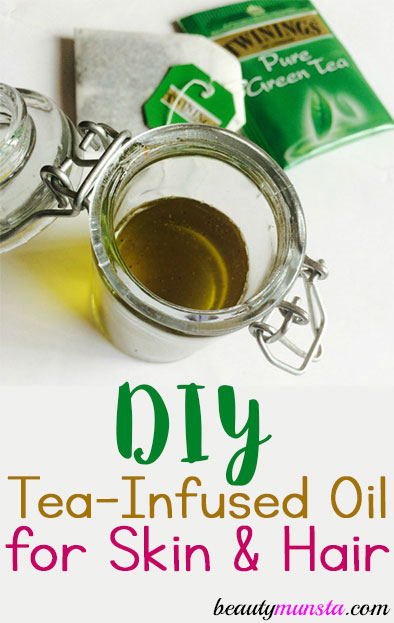 Infused oils are lovely beauty products that offer amazing benefits to skin and hair! What kind of things can you infuse or steep in oil? Herbs, herbal powders, spices, flower petals, leaves, roots and even tea! Yes, you can steep tea in oil! In this article, I'll show you how to steep tea in oil plus share a DIY tea-infused beauty recipe!
What Type of Tea Should I Steep in Oil?
The type of tea that you want to use depends on what you're going to use your infused oil for. There are a variety of teas you can steep in oil. Some of them and their benefits include:
Green tea – anti-aging, reduce cellulite, tone skin
Chamomile tea – soothe skin, good for eczema and psoriasis
Lavender tea – promotes hair growth, calms irritated skin
Peppermint tea – cooling & soothing, promotes hair growth, sore muscles, relieves itchy skin & scalp
Rosemary tea – pain relief, promotes hair growth, good for skin irritations and rashes
Which Oil Should I Use?
Choose any oil of your choice to steep your tea in! If using it for your skin, then you can use your favorite skin care oil. Here's a list of good oils to choose from:
Olive oil
Liquid coconut oil
Jojoba oil
Grapeseed oil
How to Steep Tea in Oil
There are actually two methods of steeping tea in oil:
Method One is a quick method of heating the oil or using the double boiler for gentle heating then steeping the tea in it for about 20 minutes.
Method Two is a slower method where there's no heat involved. Just steep your tea in a mason jar of oil and let it sit for 2-3 weeks while shaking the mason jar occasionally.
Method One:
What you Need:
2 tea bags
½ cup oil of your choice
1 Vitamin e capsule
A pair of scissors
2 mason jars
Funnel
Plastic tea strainer
Directions:
Cut open two tea bags and empty their contents into a mason jar.
Now pour ½ cup of oil into it.
Swirl the bottle gently to distribute the tea evenly into the oil.
Seal the mason jar tightly and store it in a cool dry place for 2-3 weeks, swirling the bottle occasionally.
After the time is up, strain into another mason jar, add the Vitamin E oil (be piercing the capsule and squeezing out the oil). It's ready for use!
Method Two:
What you Need:
2 tea bags
½ cup oil of your choice
1 Vitamin e capsule
Small pan & heat source
A pair of scissors
Mason jar
Funnel
Plastic tea strainer
Directions:
Pour ½ cup of oil into a small pan and heat it gently on low heat for a couple of minutes.
Now cut open two tea bags and pour the contents of the bags into the oil.
Stir well.
Turn off the heat and let the tea steep in the warm oil for 20 minutes.
When the oil has completely cooled down, strain it into a mason jar with the help of a funnel and plastic tea strainer.
Seal the bottle tightly.
Now snip the edge of 1 vitamin E capsule with a pair of sharp scissors and squeeze out the oil into the infused oil.
Gently swirl the bottle to combine the oils.
Store your tea-infused oil in a cool dry place.
Tea Infused Oil Beauty Recipe
Other Oil Infused Beauty Recipes
What tea are you planning to steep and in what oil? Share below!