Make your own DIY moringa butter for skin & hair! Moringa is actually a very powerful antibacterial and anti-inflammatory substance. It promotes beautiful skin and great hair. Try the recipe below to benefit from moringa's amazing benefits!
Moringa is a superfood that's recently been touted for its amazing health benefits. It also has lots to offer in the beauty department! It is an amazing anti-aging product plus has lots of other beauty benefits like fighting acne, promoting a healthy skin glow, encouraging hair growth, reducing blemishes and more.
In this DIY moringa butter recipe, we're going to be using cold-pressed moringa oil. It's not easy to find in stores but you can easily buy it off Amazon. I've provided a link on where to get it.
Okay, let's check out the recipe now!
DIY Moringa Butter for Skin & Hair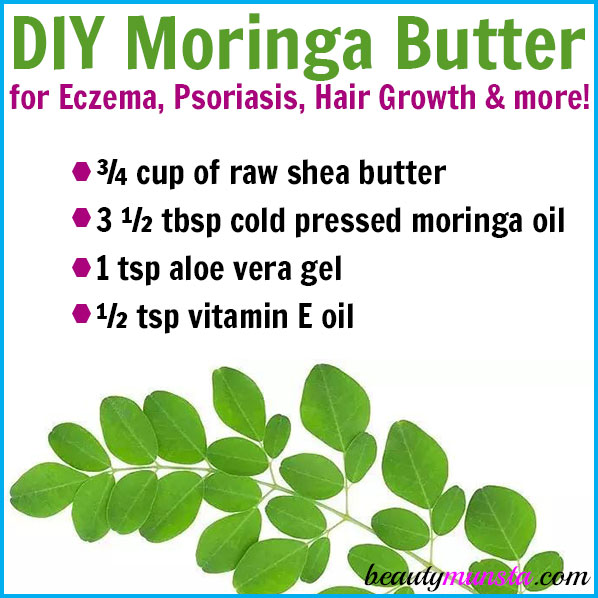 What you need
Directions
Begin by melting your shea butter in a double boiler over low heat. Keep an eye on it as it will melt very fast.
Once melted, let it cool down till warm then stir in the vitamin E oil, aloe vera gel and cold pressed moringa oil.
Now let the mixture cool down until it has solidified partially. It will turn an opaque color when it partially solidifies. You can place it in the refrigerator for 15 minutes to speed up results.
When the time is up, get out your hand mixer and whip up the mixture into a fluffy white whipped cream.
At the end, add 15 drops of your favorite essential oils for scent. I add lavender, ylang ylang, rose or geranium. They smell wonderful!
Scoop up the whipped butter into sterilized storage containers. It's best to use amber colored jars to protect your DIY moringa butter from UV rays.
Store in a cool dry place and use clean dry fingers to dip into the jar.
You can use this DIY moringa butter for eczema, psoriasis, hair growth & more!