Cuticles can get dry and peel like crazy during winter. Such cuticles look unsightly and can even hurt with a throbbing pain! Use this homemade cuticle cream recipe to make a moisturizing solution for healthy cuticles!
What are cuticles anyway? You know the little strip of skin just above your nails? It's kinda like a curved border on the upper part of your nails. Now those are cuticles.
Some people (me included!) can get dry peeling and painful cuticles sometimes and they are so frustrating. The best solution to this is make your own homemade cuticle cream. Let's check out the ingredients we'll need and their roles in this recipe:
Ingredients Needed & How they Help
Shea butter – A plant-based butter that's rich in fatty acids and vitamins A, E and K, shea butter is incredibly moisturizing. The best part about it is that though it has a creamy butter consistency, it's actually very penetrative. It quickly melts at body temperature and the skin rapidly absorbs it.
Jojoba oil – With a molecular structure similar to that of our own skin's natural oils, jojoba oil is a great moisturizer for skin. It has a good consistency that nourishes skin and keeps it looking beautiful.
Coconut oil – A white creamy 'oil,' coconut oil is filled with medium chain triglycerides that are known to penetrate deep into the skin and feed it with nourishing nutrients.
Chamomile oil – Soothing and calming, chamomile oil is good for reducing inflammation and moisturizing skin.
Lavender oil – Lavender oil is antibacterial and hydrating. It locks moisture into skin while keeping it conditioned, soft and shiny!
Homemade Cuticle Cream Recipe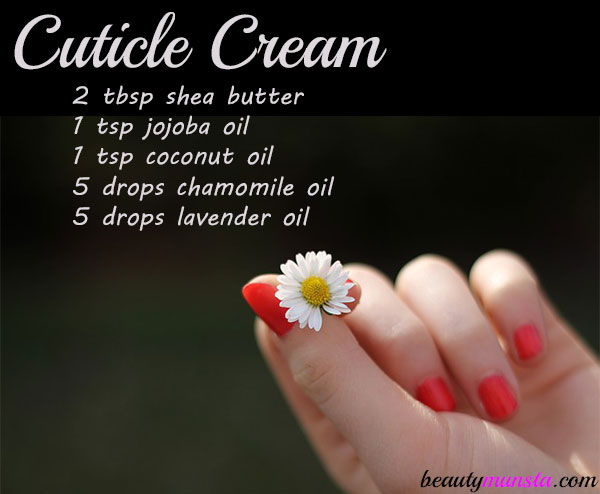 What you need
Directions
Place the shea butter in a large bowl and whip it using a whisk until it turns creamy.
Then add the coconut oil and jojoba oil and whisk again till it gets well combined.
Finally, add the essential oils and mix again.
Voila! Your homemade cuticle cream is complete!
How to Use Your Homemade Cuticle Cream
Use a pea-sized amount to moisturize your cuticles on both hands.
To show your cuticles more TLC, do an at-home manicure! You'll need a nail brush and a bowl of hot soapy water.
Soak your nails in this solution for about 5 minutes. Then use the nail brush to scrub your nails and cuticles gently.
Dry your hands thoroughly and apply the cuticle cream. You can do this in the weekends.
Meanwhile, continue applying this homemade cuticle cream at least every morning and night for healthy shiny cuticles!