Dry and peeling cuticles not only look unsightly but can also be painful. Learn how to make homemade cuticle oil for healthy and well moisturized cuticles!
Cuticles are the tiny layers of skin just above your nails. This skin sits right on top of the nail's growth matrix. It is very delicate and can easily become dehydrated, flaky and peel. Make your own cuticle oil to keep this skin looking beautiful!
You will need a roller bottle for easy application. A 10 ml roller bottle would be just perfect and handy to keep in your purse for use anywhere. You can also store it in a dropper bottle.
Let's look at the ingredients needed for this cuticle oil!
► Grapeseed oil – An oil extracted from grape seeds, grape seed oil has a light consistency. It penetrates deep into the skin and nourishes it without making it too greasy.
► Vitamin E oil – A powerful antioxidant, vitamin E is literally the skin vitamin. It protects skin from free radicals, nourishes it and lubricates it.
► Jojoba oil – Jojoba oil has a similar molecular structure to that of our skin's own sebum. This makes it a superior oil for skin care out of all the other oils.
► Geranium oil – A flowery scented oil, geranium nourishes, balances and protects skin. It has moisturizing effects and helps repair peeling skin.
How to Make Homemade Cuticle Oil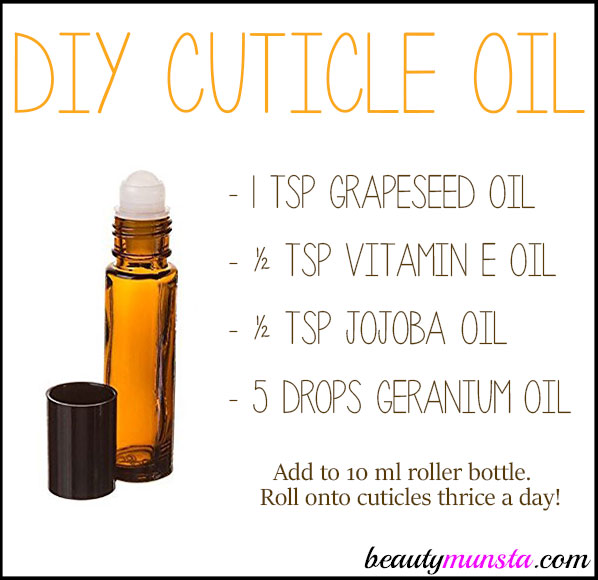 What you need
Directions
Remove the roller ball from the bottle and add all the oils.
Push the ball back firmly, close the cap and shake well to combine.
Roll onto cuticles thrice a day.
Tips for Healthy Cuticles
► Do not cut off your cuticles. I know many people would disagree, but seriously cutting your cuticles can do more harm than good. It increases the risk of infection, bleeding and painful cuticles that will take days to heal. Instead, soften and moisturize them to keep them looking healthy.
► Drink enough water. Cuticles are part of skin and therefore get dry when the body is dehydrated. Ensure to take just enough water to keep yourself hydrated.
► Do not pick at them. If your cuticles are dry and prone to peeling, leave them alone instead of picking them. Just use the above cuticle oil to moisturize and heal the skin.

Are your cuticles always in need of moisturization? Have you ever made a homemade cuticle oil? Share your thoughts below!