In love with the gentle and delicate chamomile? Then you'll love reading these 12 beauty benefits of chamomile flowers for skin, hair & more! 
Chamomile flowers are one of the oldest known medicinal herbs. The word chamomile comes from a Greek word meaning ground apple. This is because chamomile has a sweet apple-like fragrance.
Long ago, chamomile teas and tonics were used as relaxants for calming the mind and inducing sleep. In folklore, chamomile flowers were used in baths to beautify skin and increase attractiveness to the opposite sex. It has a soothing effect on the skin and is good for many skin ailments and beauty problems.
Where to Get Chamomile Flowers

Make sure you buy organic dried chamomile flowers. You can get them here. If you have access to fresh flowers, make sure they are fully dry (no water or dew drops) before using them.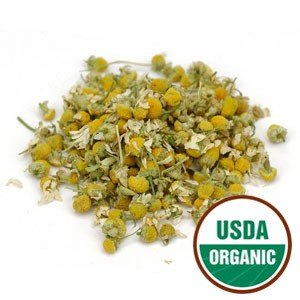 Below, let's explore the top 12 beauty benefits of chamomile flowers for skin, hair & more:
12 Beauty Benefits of Chamomile Flowers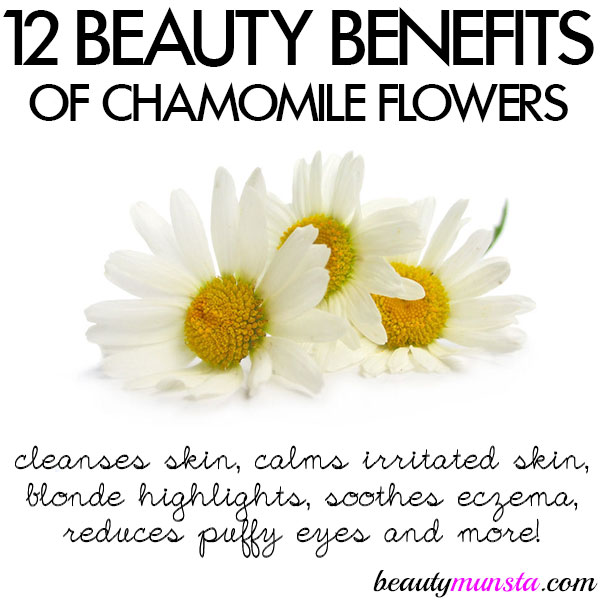 1. Facial Cleanser
Chamomile flowers have been used traditionally to cleanse skin. They were strewn in baths for their cleansing properties.
You can make your own soap-free facial cleanser by grinding in a blender: ¼ cup of dried chamomile flowers, ½ cup of colloidal oatmeal and ¼ cup of powdered milk together. Store the DIY facial cleanser in a clean container and store it in your bathroom cabinet. To use, place a tsp on your palm, mix with water and scrub on your face. Rinse off with tepid water.
2. Natural Hair Highlights
For blonde hair, chamomile flowers have long been used to bring out natural highlights and make hair look blonder.
Make a chamomile hair rinse by steeping 1 chamomile tea bag in two cups of boiling water for 20 minutes. Let it cool completely then store in a Pyrex measuring cup. In the shower do your final rinse by pouring the chamomile water onto your hair length.
3. Reduces Inflammation
Chamomile is known to soothe inflammation because of its anti-inflammatory properties. It also reduces redness.
4. Fights Acne
Acne is characterized by red painful pus-filled raised bumps on the skin. Chamomile can take care of all these with its anti-inflammatory, antibacterial and analgesic (pain relieving) properties.
Make an acne facial mask by combining 2 tsp kaolin clay, 2 tsp pure aloe vera gel and 2 drops chamomile oil in a small bowl. Mix them up and gently apply with clean fingers. Wash off after 5 minutes. Repeat twice a week to clear acne.
5. Tones Skin
Chamomile has astringent properties that tighten firm and tone skin. It also helps shrink large pores which reduces oily skin.
Boil 1 cup of water then drop in one chamomile tea bag. Let it steep for about 15 minutes then let it cool down completely. Pour into a fine mist spray bottle. Mist on skin after cleansing as a toner.
6. Soothes Sensitive Skin
If you have skin that's easily irritated and sensitive to many skin care products, then you need to use chamomile. It's gentle and delicate, perfect for even babies skin.
Make your own sensitive skin face cream by melting ¼ cup of shea butter and 1 tbsp of argan oil in a double boiler. Then place the melted liquids in the refrigerator for about 15 minutes. When the time is up, add 7 drops of chamomile oil. Now use a hand mixer to beat the ingredients into a fluffy white cream for 10 minutes. Use a pea-sized amount on your face every after cleansing it.
7. Heals Sun Damaged Skin
Chamomile is good for soothing sunburn with its skin calming and anti-inflammatory properties. It also cools the sun damaged and overheated skin.
Take a handful or two of chamomile flowers and put it in a tepid to warm bath. Then add 2 cups of colloidal oatmeal and stir the bath till it turns milky white. Soak for about 15 minutes to soothe sunburned skin.
8. Conditions Hair
When used as a hair rinse or in a conditioner, chamomile has conditioning properties that keep hair silky soft and free from tangles.
Add about 5 drops of roman chamomile oil to 1.5 tbsp of conditioner. Apply on hair, let it sit for 5 minutes then rinse off.
9. Relieves Inflammatory Skin Conditions
Eczema, psoriasis and rosacea breakouts can all be relieved using chamomile. You can sprinkle fresh chamomile flowers in your bath or better yet, make a healing bath blend:
Mix 25 drops of chamomile oil in 1 tbsp of fractionated coconut oil. Pour this into a warm bath and stir well. Soak for as long as you can to moisturize, soothe and nourish your skin.
10. Moisturizes Cuticles & Nails
Chamomile is also moisturizing in nature. The oil of chamomile, in particular promotes hydration and seals moisture into skin.
Make a nourishing nail oil to keep your cuticles and nails moisturized. Fill a 10 ml roller bottle with grapeseed oil then add 7 drops of chamomile oil. Shake well and roll onto nails and cuticles at night before bed.
11. Reduces Puffy Eyes
Make yourself a cup of calming chamomile tea then use the squeeze the tea bag of excess liquid and place it over your eyes. Watch the puffiness disappear! Also don't forget to sip the tea, which will help drain out excess fluids from the body.
12. Treats Dandruff
Add about 5 drops of chamomile oil to your shampoo and use it to banish dandruff and keep your scalp healthy!
Caution
Before using chamomile oil, consult a doctor especially if you are pregnant, lactating or have any serious/chronic health conditions.
Do a patch test with chamomile oil on your inner elbow to see if you might be allergic to it.
People taking blood thinner medications should avoid chamomile.