Are you ready to discover the wonderful beauty benefits of chamomile essential oil? Read on!
There are two types of chamomile essential oil: roman chamomile essential oil and german chamomile essential oil. Roman chamomile essential oil is more available compared to german chamomile essential oil. They both have similar therapeutic properties!
For beauty purposes, though roman chamomile is most commonly used, both of the essential oils have the same impact – so choose your pick and get ready to be beautiful naturally!
Ingredient Profile of Chamomile Essential Oil
This is the ingredient profile of roman chamomile, which is the commoner of the two essential oils used specifically for beauty purposes.
♥ Scientific Name:
Chamaemelum nobile
♥ Origin:
Roman chamomile is native to native to western Europe and northern Africa.
♥ Color and Smell:
It is a very light clear blue in color. Roman chamomile essential oil has a sweet apple-like scent.
♥ Texture:
It has a watery viscosity.
♥ Shelf Life:
5-6 years
♥ Potential for Irritation:
Roman chamomile essential is non-toxic, non-irritant and non-sensitizing. But please do a patch test with it before use (see precautions & tips).
♥ Precautions & Tips
Please first do a patch test with chamomile essential oil before use. To do a patch test, mix 1 drop of chamomile essential oil in 1 tsp of carrier oil and apply it on your inner wrist. If there's no negative reaction within 60 minutes, then go ahead and use this oil!
A little goes a long way. As with any essential oil, use very small amounts of chamomile essential oil to see perfect results. Do NOT use large amounts as this will irritate your skin and hair!
Always dilute chamomile essential oil before application. Use a carrier oil or any other base ingredient like shampoo, aloe vera gel, unscented lotion, etc for dilution. The dilution rate is 2 drops of chamomile oil in 1 tsp of carrier oil like olive oil, coconut oil, etc. For more info, read How to Dilute Essential Oils
Never drop chamomile oil into your eyes, ears or mucous membranes.
Do not ingest.
Keep away from children and pets.
Avoid during pregnancy and lactation because chamomile essential oil has emenagogue properties that promotes uterine contractions.
If having any severe or chronic health problems, consult a doctor before using chamomile essential oil.
12 Beauty Benefits of Chamomile Essential Oil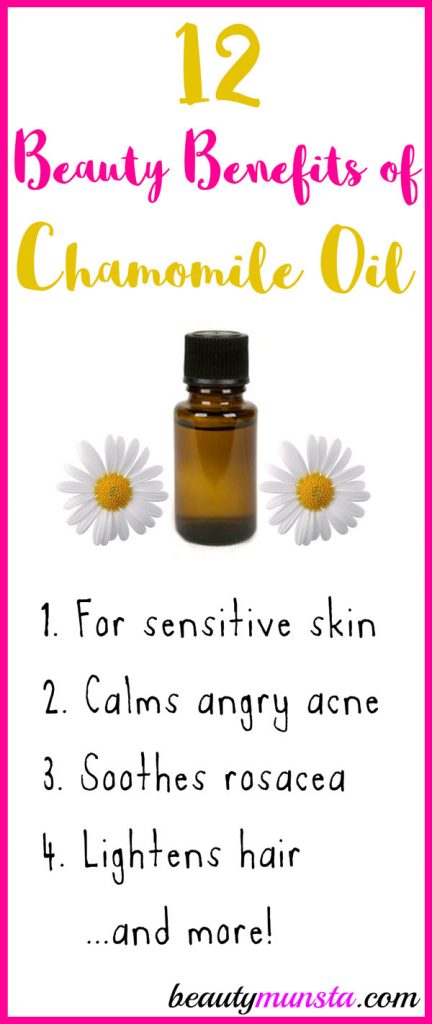 1. For Sensitive Skin
One of the best essential oils for reducing sensitive skin is chamomile! It helps decrease redness, reduce inflammation and calm down irritated skin. Make a chamomile face mask as follows:
Chamomile Face Mask: In a small bowl, add 1 tbsp colloidal oatmeal. Now pour a little water and mix to form an easily spreadable paste. Next add 3 drops of chamomile essential oil and stir well. Apply on your whole face, avoiding the eyes. Let the goodness sit on your skin and sink deep within 10 minutes then rinse off well and moisturize with a pea-sized amount of shea butter.
2. Soothes Redness
Red skin caused by sunburn, rashes, acne, etc can be soothed with chamomile essential oil. The anti-inflammatory and skin calming properties come into play to minimize skin redness.
3. Reduces Irritation
If you have irritated skin such as rashes, chamomile essential oil gently calms it down and relieves irritation fast!
4. Treats Inflammatory Skin Conditions
Chamomile essential oil has powerful anti-inflammatory properties. It reduces inflammation caused by eczema, psoriasis, dermatitis, skin rashes and other inflammatory skin conditions.
5. Relieves Itchy Skin & Scalp
If you've got an itchy scalp or skin, dilute chamomile essential oil in your favorite skin care oil and apply it for instant relief.
6. Balances Sebum on Skin
Another beauty benefit of chamomile essential oil is that it balances sebum on skin. This ensures skin is not too oily and not too dry!
7. Lightens Hair
Chamomile tea lightens hair but you can also use the essential oil and get results!
Hair Lightening Spray: Make a hair lightening spray with it by combining 4 drops chamomile essential oil with 2 cups of cooled chamomile tea. Pour this over your head slowly as the final hair rinse. Use every time you wash your hair, to reveal subtle light colored highlights in your hair!
8. Gets Rid of Dandruff
Dandruff is a flaky scalp problem that itches like no man's business. If you have chamomile essential oil, then it is a good remedy for treating dandruff naturally! One of the best ways to use it is as follows:
Chamomile Coconut Dandruff Cream: In a medium-sized bowl, add ½ cup of coconut oil and 10 drops of chamomile essential oil. Beat the ingredients into a fluffy white cream using a hand mixer. Store in a cool dry place. Apply a suitable amount all over your scalp, let it sit for an hour then wash your hair as usual. Repeat twice a week for a month to help drastically reduce and get rid of dandruff!
9. Calms Acne
Acne can be greatly reduced using chamomile oil! It helps decrease inflammation and redness related to acne. It also balances excess oil production on the face!
10. Moisturizes Dry Flaky Skin
Got dry flaky skin? Chamomile essential oil is your pal! It helps hydrates skin and plump up skin cells! Dilute about 2 drops of chamomile essential oil in 1 tsp of aloe vera gel and apply it all over your dry skin. When it dries, apply your usual moisturizer on top.
11. Reduces Rosacea
There are few essential oils safe for rosacea – but chamomile is one of them! It has amazing anti-inflammatory properties that reduce inflammation and soothe redness related to rosacea. You can make your own rosacea cream by combining shea butter, rose water, manuka honey, aloe vera gel and chamomile essential oil! Here's the recipe:
Calming Rosacea Cream: In a medium-sized glass bowl, add ¼ cup of soft shea butter, 1 tbsp rose water, ½ tsp manuka honey and 1 tsp aloe vera gel. Now beat the ingredients using a hand mixer for about 5 minutes to form a white fluffy cream. Finally, add 5 drops of chamomile essential oil and whip again for a few seconds to evenly distribute the oils. Store in a clean container in the refrigerator. Use a tiny amount to moisturize after washing your face.
12. Prevents Premature Aging
Chamomile essential oil also prevents premature aging because it has anti-oxidant properties. Antioxidants ward off free radicals which steal oxygen from healthy skin cells and make them dull & lifeless. By using chamomile essential oil on your face, you'll decrease wrinkles and look youthful!
Where to Get Chamomile Essential Oil
Make sure to buy 100% pure and high quality chamomile essential oil. I recommend Plant Therapy's 100% Pure Roman Chamomile Essential Oil. It comes in a 5 ml dark amber essential oil bottle. You can also buy essential oils from Mountain Rose Herbs, Eden's Garden and Rocky Mountain Oils.