These beauty benefits of grapefruit essential oil will keep your skin and hair looking great!
Grapefruit is a refreshing citrus fruit! It is extracted from the peels of grapefruit through mechanical expression. The essential oil of grapefruit is good for boosting the lymphatic system, brightening dull moods and also a variety of beauty benefits that we shall see below!
Ingredient Profile of Grapefruit Essential Oil
♥ Scientific Name:
Citrus paradisi
♥ Origin:
Grapefruit is native to Asia.
♥ Color and Smell:
It is a pale yellow or light ruby color. Grapefruit essential oil has a sharp refreshing grapefruit smell.
♥ Texture:
It has a watery viscosity.
♥ Shelf Life:
6 months
♥ Potential for Irritation:
Grapefruit essential oil is non-toxic, non-sensitive and non-irritant. However, it is a photo-sensitive oil that must not be applied on skin that's going to be exposed to sunlight.
♥ Precautions & Tips
Please first do a patch test with grapefruit essential oil before use. To do a patch test, mix 1 drop of grapefruit essential oil in 1 tsp of carrier oil and apply it on your inner wrist. If there's no negative reaction within 60 minutes, then go ahead and use this oil!
A little goes a long way. As with any essential oil, use very small amounts of grapefruit essential oil to see perfect results. Do NOT use large amounts as this will irritate and cause burning sensations on your skin and hair!
Always dilute grapefruit essential oil before application. Use a carrier oil or any other base ingredient like shampoo, aloe vera gel, unscented lotion, etc for dilution. The dilution rate is 2 drops of grapefruit oil in 1 tsp of carrier oil like olive oil, coconut oil, etc. For more info, read How to Dilute Essential Oils
Never drop grapefruit oil into your eyes, ears or mucous membranes.
Grapefruit essential oil is a photo-sensitive oil that must not be applied on skin that's going to be exposed to sunlight. Use it at night time, wash it off well before heading out or cover up the area that you've applied it to.
Do not ingest.
Keep away from children and pets.
Avoid during pregnancy and lactation.
If having any severe or chronic health problems, consult a doctor before using grapefruit essential oil.
10 Beauty Benefits of Grapefruit Essential Oil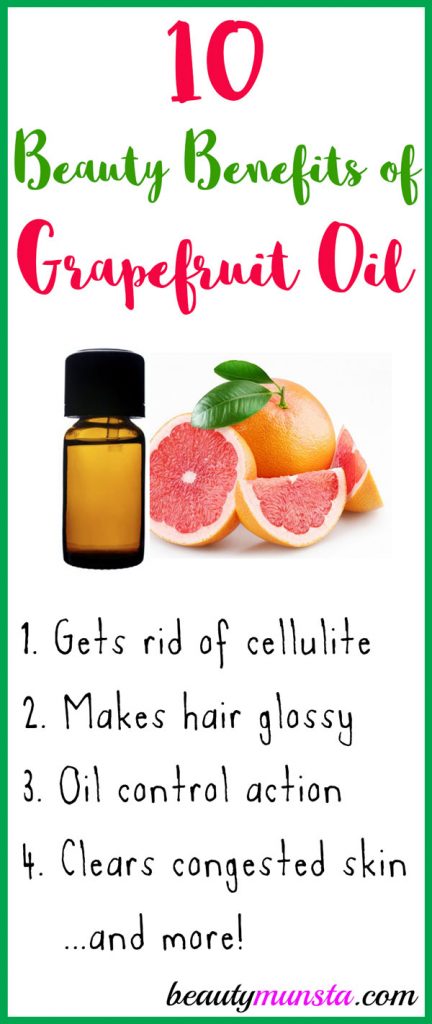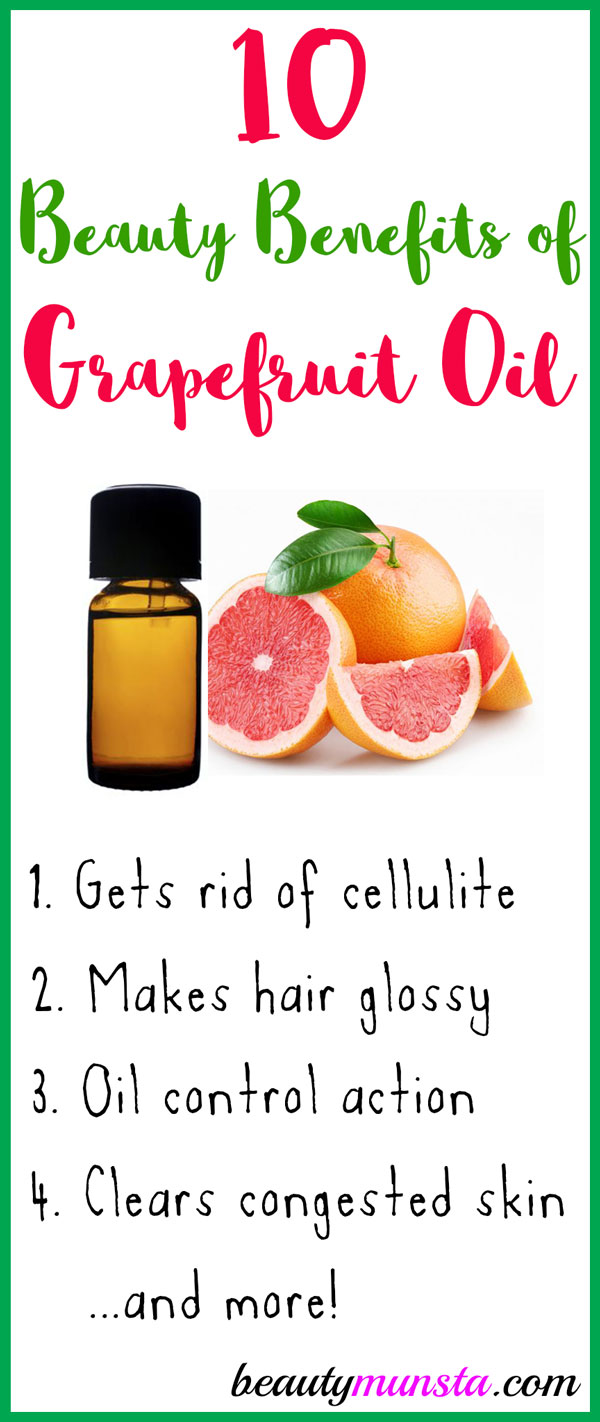 1. Clears off Cellulite
Grapefruit oil is great for clearing off those ugly dimples on skin that are known as cellulite. This is because it is a lymphatic stimulant which promotes the flow of toxins, wastes and old fat cells, all of which form cellulite, to sites of elimination.
2. Reduces Oily Skin
Got oily skin? Grapefruit essential oil can help! It is a natural astringent which removes excess oils within the pores and on the surface of the skin. You can use it to make a DIY Facial Toner (see Point 6 below).
3. Fights Acne
Grapefruit essential oil has antiseptic properties which disinfect skin. By killing off acne causing germs, grapefruit oil contributes to a clearer complexion!
4. Natural Deodorant
The refreshing citrusy scent of grapefruit essential oil is great to be used as in a natural deodorant. Make this citrus deodorant spray below:
Citrus Deodorant Spray: In a 4 oz spray bottle, add 2 oz witch hazel and 2 oz distilled water. Now add 7 drops of grapefruit essential oil. Cap tightly and shake well. Spray onto clean underarms.
5. Makes Hair Glossy
Grapefruit essential oil makes hair glossy with a beautiful sheen! You can add it directly to your shampoo bottle (10 drops of grapefruit oil in 8 oz of shampoo). Or, try making your own chemical-free shampoo as follows:
Grapefruit Shampoo: Use a funnel to transfer ¼ cup of liquid castile soap to an old shampoo bottle or jar. Next add ½ tsp of vegetable glycerin, 2 tsp jojoba oil and ½ cup distilled water. Shake gently to mix everything up. Transfer it to an applicator bottle. Pour a little on your scalp & hair then work it in. Rinse off thoroughly.
6. Facial Toner
Tone your skin using grapefruit essential oil! It reduces oily skin, shrinks large pores and tightens skin. Make a facial toner with it as follows:
Facial Toner: Into an amber glass spray bottle, pour ½ cup of distilled water. Then add 1 tsp witch hazel and 3 drops grapefruit essential oil. Cap tightly and shake well. Spray onto your face after cleansing. Let it dry completely then moisturizer as usual.
7. Promotes Hair Growth
Surprise! Grapefruit essential oil is also used in hair care to promote hair growth. It stimulates the hair follicles which facilitates healthy hair growth! You can make the grapefruit shampoo in Point 5 above to promote hair growth naturally.
8. Reduces Water Retention
Being a natural diuretic, grapefruit essential oil helps reduce water retention in the body. This gets rid of puffy skin, a bloated body and under-eye puffiness. You can dilute 10 drops of grapefruit essential oil in 2 tbsp of coconut oil and add it to warm bath water.
9. Clears Congested Skin
Blocked pores, comedones, whiteheads and blackheads all make up congested skin. Thankfully, you can purify pores and clear your skin using grapefruit oil. Make this pore cleansing grapefruit scrub and use it twice a week:
Citrus Facial Scrub for Clear Skin: In a small bowl, add 1 tbsp baking soda, 2 tsp raw honey and 2 drops of grapefruit essential oil. Mix well to form a thick paste. Gently scrub this paste all over your clean face (you can do facial steaming beforehand to open up pores). Leave it to work for 7-10 minutes then rinse off with tepid water. You can use this Water-Based Green Tea Face Moisturizer to keep your skin oil-free.
10. Gets Rid of Oily Scalp & Hair
Grapefruit also helps get rid of oily scalp & hair! You can add a few drops to your shampoo directly, make a shampoo with it (see Point 5) or make the fantastic smelling hair tonic below!
Oily Hair Tonic: In a 4 oz amber spray bottle, add 1 oz aloe vera juice, 2 oz distilled water and ½ oz vodka/rubbing alcohol. If you don't want to use alcohol, then leave it out. Next add 15 drops grapefruit essential oil. Cap the bottle tightly and shake well to combine. Spray on your scalp & hair 2 hours before a shower.
Where to Get Grapefruit Essential Oil
Make sure to buy 100% pure and high quality grapefruit essential oil. I recommend Plant Therapy's 100% Pure Grapefruit Essential Oil. It comes in a 10ml dark amber essential oil bottle. You can also buy essential oils from Mountain Rose Herbs, Eden's Garden and Rocky Mountain Oils.