Get to know these striking beauty benefits of rosemary essential oil for better looking skin, hair and more!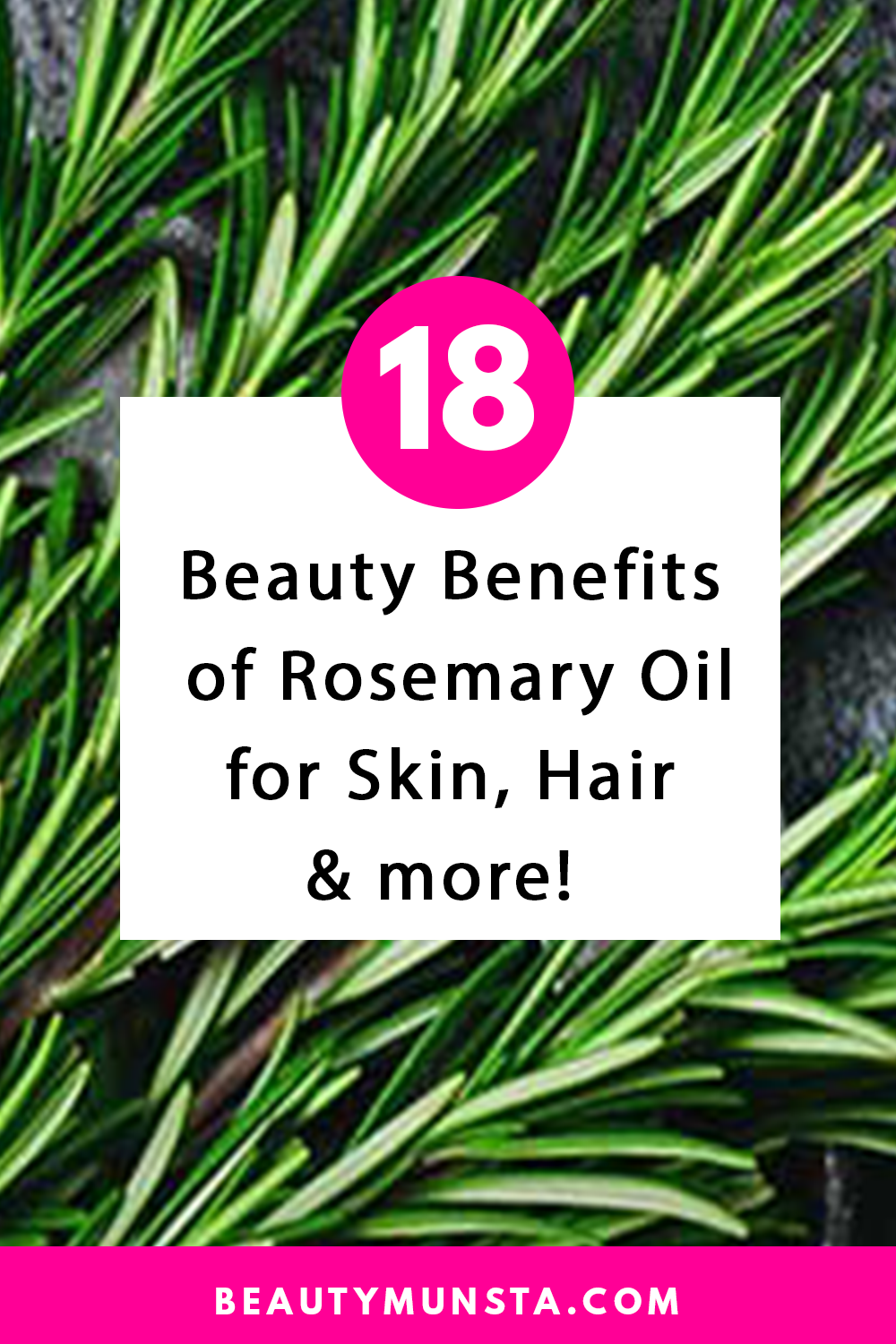 Rosemary essential oil is quite popular in the beauty world! It's mainly known for its hair care benefits but it also has lots to offer in the skin and general beauty department!
Before we see 18 beauty benefits of rosemary essential oil, let's first explore its ingredient profile to get to know more about this amazing essential oil below!
Ingredient Profile of Rosemary Essential Oil
♥ Scientific Name:
Rosmarinus officinalis
♥ Origin:
Rosemary originates from Asia
♥ Color and Smell:
It is a clear in color. Rosemary oil has fresh, sharp herbal scent.
♥ Texture:
It has a thin watery consistency.
♥ Shelf Life:
3 years
♥ Precautions & Tips
Please first do a patch test with rosemary essential oil before use. To do a patch test, mix 1 drop of rosemary essential oil in 1 tsp of carrier oil and apply it on your inner wrist. If there's no negative reaction within 60 minutes, then go ahead and use this oil!
A little goes a long way. As with any essential oil, use very small amounts of rosemary essential oil to see perfect results. Do NOT use large amounts as this will irritate your skin and hair!
Always dilute rosemary essential oil before application. Use a carrier oil or any other base ingredient like shampoo, aloe vera gel, unscented lotion, etc for dilution. The dilution rate is 2 drops of rosemary oil in 1 tsp of carrier oil like olive oil, coconut oil, etc. For more info, read How to Dilute Essential Oils
Never drop rosemary oil into your eyes, ears or mucous membranes.
Do not ingest.
Keep away from children and pets.
Avoid during pregnancy and lactation.
If having any severe or chronic health problems, consult a doctor before using rosemary essential oil.
Do not use rosemary oil if you suffer from epilepsy or high blood pressure.
18 Beauty Benefits of Rosemary Essential Oil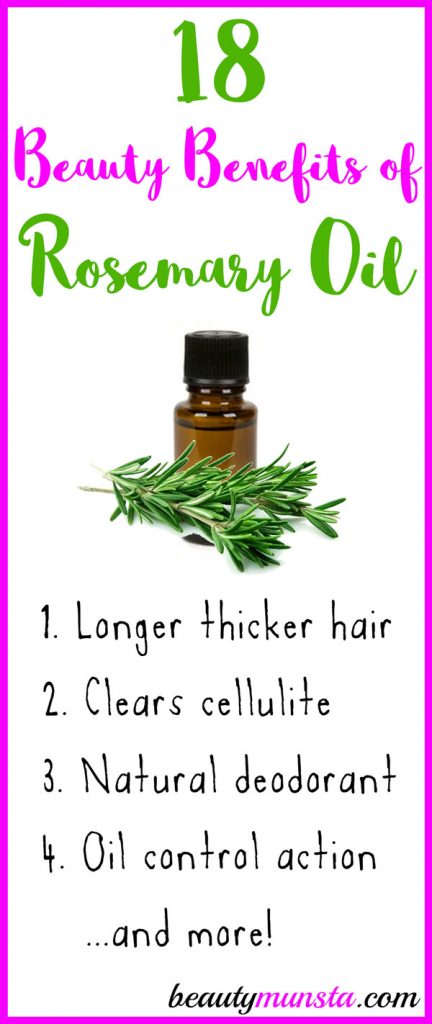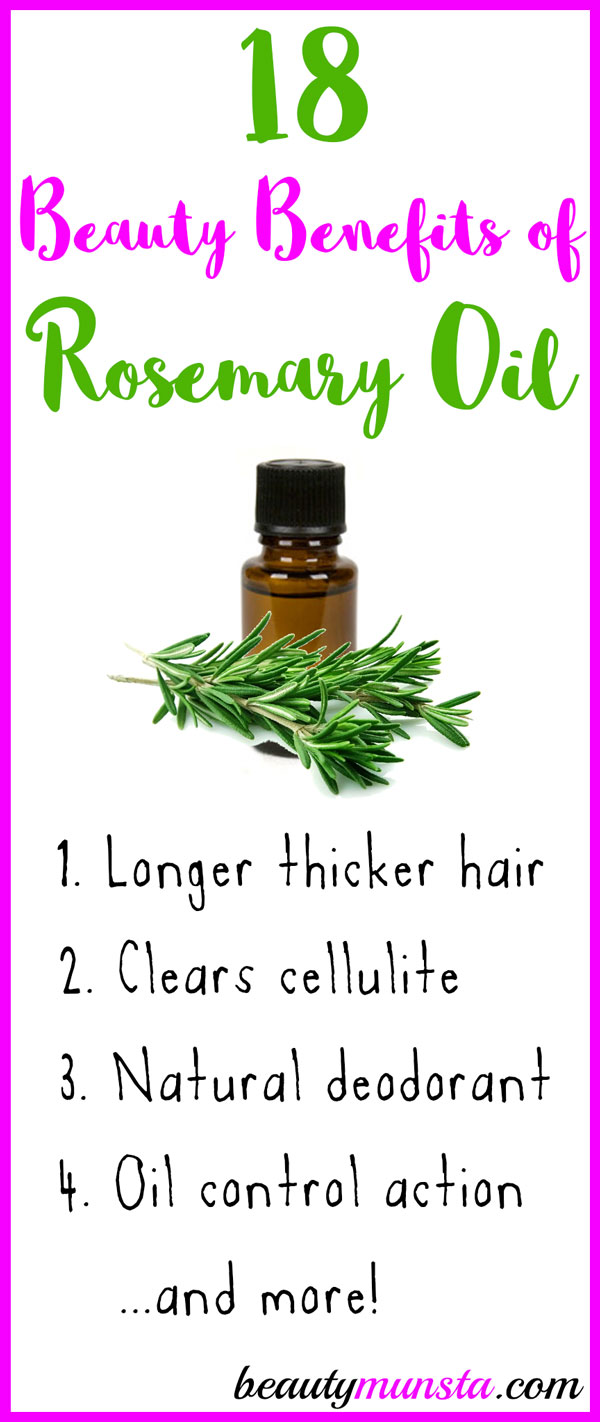 1. Promotes Longer Thicker Hair
One of the top beauty benefits of rosemary essential oil is that it promotes longer and thicker hair growth! You can read all about it here: How to Use Rosemary Essential Oil for Hair Growth
2. Clears Cellulite
Rosemary essential oil breaks down old fat cells that form cellulite. Make my favorite Rosemary Sugar Scrub and use it on cellulite prone areas in the shower to help clear cellulite!
3. Relieves Itchy Scalp
Got an itchy scalp? Use rosemary essential oil! It keeps irritants away from skin and it takes away itchiness. Dilute 3 drops of rosemary essential oil in 1 tbsp of coconut oil and apply this all over your scalp. Wash your hair after 30 minutes.
4. Treats Inflammatory Skin Conditions
The strong anti-inflammatory properties of rosemary essential oil reduce inflammation and redness associated to eczema, psoriasis and dermatitis. Dilute 6 drops of rosemary essential oil in 2 tbsp shea butter and apply onto affected skin to help speed up healing.
5. Reduces Poison Ivy Rashes
You can also use rosemary essential oil (diluted) on poison ivy rashes to dry it up and promote healing.
Poison Ivy Spray: Make a poison ivy spray by combining ½ cup of distilled water in a 4 oz amber spray bottle. Now add 1 tsp witch hazel and 4 drops of rosemary essential oil. Spray onto your rash to dry it up fast, relieve itching and heal it faster.
6. Oil Control Action
The natural astringent properties of rosemary essential oil give it oil-control properties!
Facial Toner for Oily Skin: You can add 4 drops of rosemary essential oil and 1 tsp witch hazel to ½ cup of distilled water. Shake well and use this as a facial toner for oily skin!
7. Reduces Puffiness
Bloated skin, under eye puffiness, edema on feet can be reduced using rosemary essential oil. It has diuretic properties that reduce fluid retention in the body! You can dilute it with a carrier oil of choice and add it to your bath or foot bath to help remove excess water in the body.
8. Gets Rid of Dandruff
Another beauty benefit of rosemary essential oil is that it beats dandruff! It not only fights off Malasezzia which is the yeast that causes dandruff but also reduces itching and keeps the scalp clean!
9. Natural Deodorant
The scent of rosemary essential oil is very refreshing! It masks bad body odor so you can use it as a natural deodorant! To make your own DIY deodorant spray, follow these instructions:
DIY Deodorant: Into a spray bottle, pour ¼ cup distilled water and ¼ cup witch hazel in a 4 oz amber spray bottle. Now add 7 drops of rosemary essential oil. Shake well and spray onto clean pits after a shower for freshness!
10. Clears Up Acne
Clear up your complexion using the anti-acne powers of rosemary essential oil! It reduces oiliness, soothes acne inflammation and redness as well as kills acne-causing bacteria! Make a water-based acne treatment with rosemary as follows:
Acne Treatment: In a small glass jar, add ¼ cup pure aloe vera gel. Now add 3 drops lavender essential oil and 3 drops rosemary essential oil. Mix the ingredients together using a disposable chopstick. Apply a pea-sized amount all over your face after washing and drying it. Then you can apply your makeup.
11. Freshens Breath
Got stinky breath? Not to worry when you have rosemary essential oil! It's refreshing scent neutralizes bad odor while its antiseptic properties kill bacteria in the mouth. Make a mouthwash with it as follows:
Freshening Mouthwash: In a clean bottle, pour 1 cup of warm water followed by 1 tsp sea salt and 4 drops of rosemary essential oil. Shake well to make an easy mouthwash that freshens breath! Use after brushing your teeth.
12. Shrinks Large Pores
Use rosemary essential oil to shrink large pores by making a facial toner with it. See Point 6 above for how to make a facial toner.
13. Makes Hair Silky & Shiny
Want silky and shiny hair? It's time to use rosemary essential oil on your hair! You can add it to your conditioner bottle (10 drops of rosemary oil in 8 oz of conditioner). You can also make a hair rinse by combining 4 drops of rosemary oil in 2 cups of water. Use this as your final hair rinse in the shower.
14. Tightens & Tones Skin
Rosemary essential oil has a skin tightening and toning effect thanks to its astringent properties!
15. Gets Rid of Under-Eye Bags
Because it reduces fluid retention, rosemary essential oil is good for getting rid of under eye bags! To use, simply mix 1 drop in ¾ tsp of witch hazel and apply it on your under eye bags. Make sure to apply it after you wash your face with cold water. Let it stay on for 20 minutes then rinse your face.
16. Decreases Wrinkles & Fine Lines
With its a strong antioxidant properties, rosemary essential oil also promotes youthful skin! The powerful antioxidants in it deflect free radicals that steal oxygen from healthy skin cells which makes them dull and lifeless, thereby causing wrinkles! Rosemary essential oil also tightens, firms and lifts skin. Make an anti-aging facial mask with it as follows:
Anti-Aging Facial Mask: In a small glass bowl, add 1 tbsp bentonite clay. Now pour 1 tbsp of cooled green tea in the clay while stirring to form a smooth mixture. Next add ½ tsp of raw honey. Lastly, add 3 drops of rosemary essential oil. Stir well and apply on your clean face, avoiding the eye area. Rinse off after 7 minutes.
17. Cleanses Pores
Rosemary essential oil is also cleansing in nature! If you have clogged pores, try doing facial steaming with rosemary essential oil!
Facial Steaming: In a pot, boil 3 cups of water till it's very steamy. Remove from heat and place the pot on a table. Sit in front of the pot so the steam hits your face directly. Create a tent with a towel enclosing your head and the pot to trap the steam. Close your eyes and stay in the tent with the steam reaching deep into your pores. After 5 minutes, wash your face very well then scrub it with 2 tsp baking soda + 1 tsp water. This will get your pores cleaned up from deep within.
18. Treats Ingrown Hairs
Got ingrown hairs? Make this DIY Ingrown Hair Spray but add rosemary essential oil instead of tea tree essential oil! It is naturally antiseptic which helps treat ingrown hairs and protects them from infection.
Where to Get Rosemary Essential Oil
Make sure to buy 100% pure and high quality rosemary essential oil. I recommend Plant Therapy's 100% Pure Rosemary Essential Oil. It comes in a 10ml dark amber essential oil bottle. You can also buy essential oils from Mountain Rose Herbs, Eden's Garden and Rocky Mountain Oils.