Ingrown hairs make shaving/hair removal such.a.pain. Fortunately, there are some tips and tricks that can work wonders in preventing, reducing and eliminating the little buggers. One such trick in this DIY ingrown hair treatment spray.
It contains just 3 ingredients but it's effective in controlling ingrown hairs. The ingredients include:
Aspirin tablets – Contain salicylic acid that exfoliates skin and fights germs in the skin pores that can lead to infected ingrown hairs.
Witch hazel – It has anti-inflammatory and soothing properties plus helps reduce redness.
Rubbing alcohol – Tones and tightens pores to prevent them getting clogged up. It also disinfects skin.
Tea tree oil – Kills bacteria that cause infected ingrown hairs & tightens pores.
DIY Ingrown Hair Treatment Spray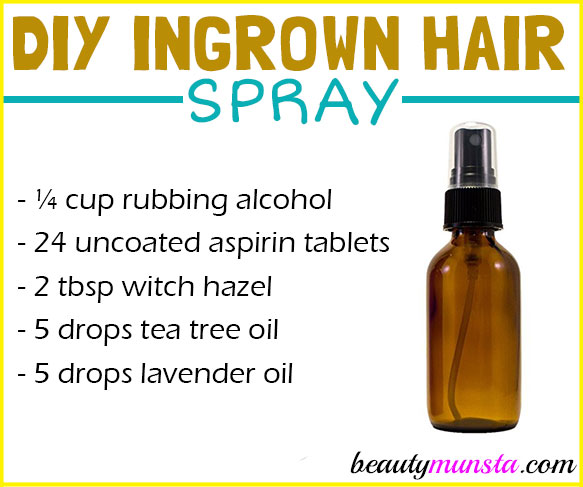 What you Need
Directions
The first thing to do is crush your aspirin tablets to powder. It doesn't need to be completely crushed to fine powder but just make sure there aren't any big chunks.
After crushing, pour the rubbing alcohol into the mixture and stir well. Let the aspirin dissolve.
Next add the witch hazel to your glass spray bottle, together with the drops of tea tree and lavender essential oils.
Pour in the crushed aspirin – alcohol solution into the spray bottle.
Close the bottle tightly (make sure to keep it sealed tight always to prevent the alcohol from evaporating) and shake well to mix.
Your DIY ingrown hair treatment spray is ready! Store in a cool dry place and shake well before use.
To use, gently spray on freshly shaved skin and when it dries, quickly apply a moisturizer. You can use coconut oil, shea butter or jojoba oil. Coconut oil is very soothing and cools down your sensitive skin.
You can also spray it on existing ingrown hairs to make them go away.
Caution
After applying this DIY ingrown hair treatment spray, make sure you don't step into direct sunlight as your skin will be very sensitive. That's because freshly exfoliated skin after hair removal is sensitive and is more prone to sunburn and damage. If you must go, then lather up with some sunscreen.
This spray will sting a tiny bit so use carefully: don't over spray your skin.