These 14 beauty benefits of patchouli essential oil will wow you!
When it comes to essential oils for skin and hair care, patchouli may not be the very first on the list. BUT you'll be surprised to know that it has so many beauty benefits that you never could have imagined!
Throughout history, patchouli has been a very valuable commodity. Early European traders even exchanged one pound of patchouli for one pound of gold! Patchouli essential oil is extracted from the fragrant flowers and leaves of the patchouli plant. It has various therapeutic properties and benefits for the whole body.
To get to know more about patchouli oil, see its ingredient profile below:
Ingredient Profile of Patchouli Essential Oil
♥ Scientific Name:
Pogostemon cablin, Pongostemon patchouli
♥ Origin:
Patchouli is native to India and Malaysia
♥ Color and Smell:
It is a light yellow to dark brown color. Patchouli oil has a combination of a rich musky sweet, strong spicy and herbaceous smell
♥ Texture:
It has a thick consistency.
♥ Shelf Life:
10+ years
♥ Potential for Irritation:
Patchouli essential oil is non-toxic, non-irritant and non-sensitizing. But please do a patch test with it before use (see precautions & tips).
♥ Precautions & Tips
Please first do a patch test with patchouli essential oil before use. To do a patch test, mix 1 drop of patchouli essential oil in 1 tsp of carrier oil and apply it on your inner wrist. If there's no negative reaction within 60 minutes, then go ahead and use this oil!
A little goes a long way. As with any essential oil, use very small amounts of patchouli essential oil to see perfect results. Do NOT use large amounts as this will irritate your skin and hair!
Always dilute patchouli essential oil before application. Use a carrier oil or any other base ingredient like shampoo, aloe vera gel, unscented lotion, etc for dilution. The dilution rate is 2 drops of patchouli oil in 1 tsp of carrier oil like olive oil, coconut oil, etc. For more info, read How to Dilute Essential Oils
Never drop patchouli oil into your eyes, ears or mucous membranes.
Do not ingest.
Keep away from children and pets.
Avoid during pregnancy and lactation.
If having any severe or chronic health problems, consult a doctor before using patchouli essential oil.
14 Beauty Benefits of Patchouli Essential Oil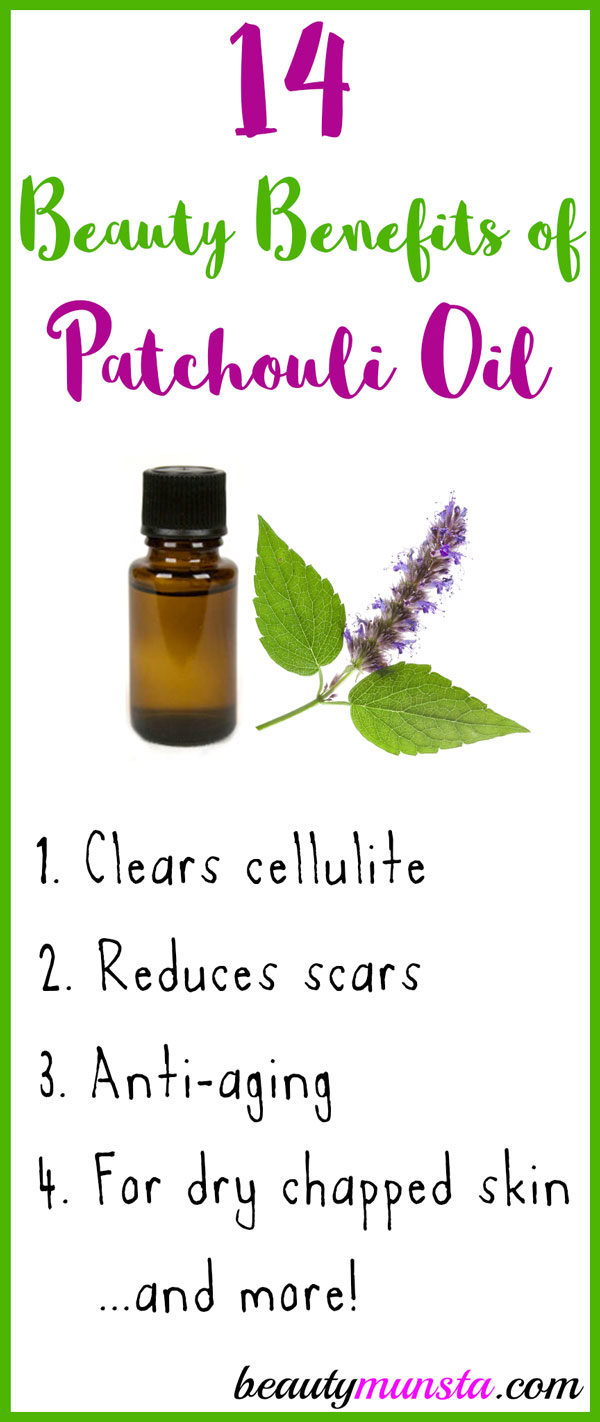 1. Reduces Scars
When it comes to reducing scars, patchouli essential oil does a wonderful job. It has excellent tissue regenerating properties and it helps with cell repair.
2. Clears Cellulite
Clear cellulite using patchouli essential oil! It has diuretic properties that help reduce water retention and break up cellulite! Make this Coffee Sugar Scrub and add 5 drops of patchouli essential oil to it.
3. Treats Fungal Skin Infections
Patchouli oil has anti-fungal properties that make it excellent in treating fungal skin infections. It can also be used on the scalp to fight off scalp fungal infections including dandruff. Add it to your shampoo bottle (7 drops in 8 oz) as a no-hassle treatment!
4. Helps Dry Chapped Skin
Got dry chapped skin? Patchouli is here to help! Aside from lavender, sandalwood and jasmine, patchouli is another essential oil that has moisturizing qualities. Add a few drops of it to your usual body cream and apply it all over your body for a luxurious hydrating skin treat. You can also try this scrub with patchouli in it:
Moisturizing Body Scrub: In a bowl, combine 1 tbsp thick unsweetened yogurt, ¼ cup brown sugar, 1 tbsp coconut oil, 5 drops patchouli and 5 drops lavender. Use this to scrub your skin in the shower to make it hydrated and soft.
5. Relieves Eczema
Because of its antiseptic properties and moisturizing ability, patchouli essential oil is good for relieving eczema. You can add it to your bath water (see Point 10 below) or apply it topically by mixing it in a skin care oil of your choice ( just follow the rule 2 drops patchouli oil in 1 tsp of carrier oil).
6. Natural Aphrodisiac
Patchouli's musky scent is a natural aphrodisiac. You can use it to make a perfume to increase attraction and desire. A few drops can be added to a light carrier oil then applied onto your hair ends as a simple aphrodisiac perfume.
7. Enhances Hair Growth
Increase hair growth and thickness using patchouli essential oil! It wards off germs and irritants thereby keeping the scalp healthy to foster growth of healthy hairs. Mix patchouli with rosemary, lavender and cedarwood essential oils to make a hair growth massage oil. Here's the recipe:
Hair Growth Massage Oil: In an amber bottle, combine 1/4 cup of jojoba oil with 3 drops each of rosemary, patchouli, lavender and cedarwood essential oils. Massage about 1 tbsp of this blend onto your scalp for 2 minutes. Let it sit on your hair for 2 hours then wash your hair as usual. Shampoo twice if necessary, to remove excess oils.
8. Gets Rid of Dandruff
As an anti-fungal agent, patchouli oil also fights dandruff! Prepare an anti-dandruff treatment by combining 2 drops of patchouli oil & 2 drops tea tree oil in 1 tbsp coconut oil. Massage the cream all over your scalp then cover your hair with a shower cap. Wash your hair with an anti-dandruff shampoo after 1-2 hours. You can make your own anti-dandruff shampoo too! Here's the link: Homemade Tea Tree Shampoo
9. Reduces Fluid Retention
Patchouli essential oil has a unique beauty benefit that not many oils possess. And that's reducing fluid retention! It helps move excess fluids out of the body because of its diuretic properties. This reduces under eye puffiness, bloating and edema on feet! Make a body oil using patchouli and other diuretic essential oils like grapefruit and geranium essential oils.
10. Has Anti-Aging Properties
There are quite a few essential oils that boast amazing anti-aging properties. Patchouli is one of them! When used to make an anti-aging serum, it helps decrease wrinkles and fine lines. Here's an easy yet effective anti-aging serum recipe:
Anti-Aging Serum: In a 2 oz amber glass dropper bottle, pour in 3 tbsp of argan oil using a small funnel. Next add 4 drops geranium essential oil, 3 drops rose otto essential oil and 4 drops patchouli essential oil. Cap tightly and roll the bottle between your palms to gently mix up the oils. Massage 3 drops on your clean face two times a day. It can be applied under makeup.
11. Has Wound Healing Properties
Patchouli essential oil has tissue regenerating properties and it helps stimulate the formation of new skin cells. This assists in wound healing. You can mix 2 drops of patchouli essential oil in 1 tsp of witch hazel and use this to disinfect your wound. It's best to apply this mixture on wounds that have closed to prevent stinging.
12. Balances Sebum Production
One of the beauty benefits of patchouli essential oil is that it balances sebum production. So if you have oily skin, you can add a drop of patchouli essential oil in 1 tsp of your usual face cream and apply it on your face and neck.
13. Makes Hair Silky & Shiny
Patchouli essential oil helps hydrate and beautify dry chapped skin and in the same way, it helps dry lifeless looking hair too! Add a few drops of patchouli essential oil to your hair conditioner bottle to see your hair turning into a shiny silken mass! Add about 2 drops of patchouli oil in 1 tbsp of conditioner, or open your conditioner bottle (8oz) and add 7-10 drops of patchouli oil.
14. Bath Oil
One of my favorite natural bath oils is made using patchouli essential oil! It is so relaxing, grounding and makes skin soft and smooth! Here's the recipe:
Soothing & Beautifying Bath Oil: In an air tight container, add ¼ cup of castor oil. Now add 10 drops cedarwood essential oil, 10 drops vetiver essential oil and 7 drops patchouli oil. Mix well. Add about 2 tsp to your warm bath water, swirl the water with your hand and soak for 20 minutes for a soothing, skin softening bath.
Where to Get Patchouli Essential Oil
Make sure to buy 100% pure and high quality patchouli essential oil. I recommend Plant Therapy's 100% Pure Patchouli Essential Oil. It comes in a 10ml dark amber essential oil bottle. You can also buy essential oils from Mountain Rose Herbs, Eden's Garden and Rocky Mountain Oils.