Bust scalp acne, dandruff, itchy scalp, etc with this homemade tea tree oil shampoo!
Tea tree oil is good for many things. But it's a true winner when it comes to DIY beauty! It's helpful for getting rid of humongous zits, dandruff, itchy skin, eczema, and more! One of the most popular ingredients in shampoos these days is tea tree oil.
I've personally used tea tree oil based shampoos and they worked great at solving hair and scalp issues. But the one problem with them? They contain a whole host of other unnecessary ingredients that are actually harmful to use. These ingredients include parabens, artificial fragrances, SLS (sodium lauryl sulfate) and other chemicals.
That's why in today's post, I want to show you guys how you can make your own homemade tea tree oil shampoo! This shampoo is super easy to make, provided you have the right ingredients on hand. What's more is that it forms a nice lather so it's just like conventional shampoo or better since it comes without any toxic additives!
A tea tree oil shampoo is good for:
Combating dandruff
Soothing scalp inflammation
Fighting scalp acne
Getting rid of scalp itchiness
Treating scalp fungal infections
Stimulating hair growth naturally
Deep cleansing the scalp
Removing excess oiliness on scalp & hair
And more!
Okay, let's head onto the homemade tea tree oil shampoo recipe!
Homemade Tea Tree Oil Shampoo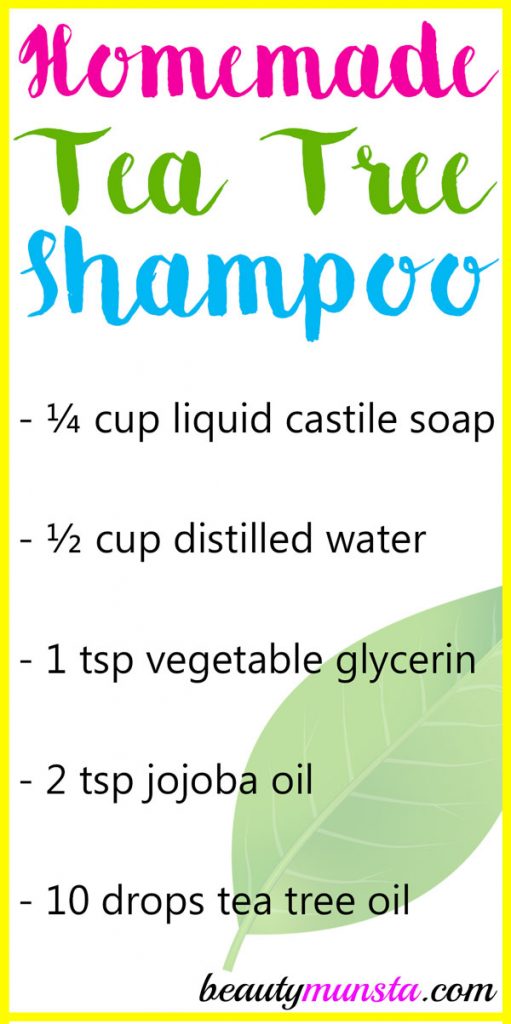 What you need:
¼ cup liquid castile soap
½ cup distilled water
1 tsp vegetable glycerin
2 tsp jojoba oil
10 drops tea tree essential oil
Funnel
Old shampoo bottle or soap dispenser
Directions:
Using a funnel, carefully pour ½ cup of distilled water into an old shampoo bottle or soap dispenser. You can also use any clean container of your choice. Make sure it's a bottle for easy application.
Now slowly pour ¼ cup of liquid castile soap into the bottle.
Next, add 1 tsp of vegetable glycerin and 2 tsp of jojoba oil.
Finally, add 10 drops of tea tree essential oil.
Cap the bottle and gently shake it to combine the ingredients together.
Your homemade tea tree oil shampoo is ready! Store in a cool dry place for up to 4 months.
Use in place of your usual shampoo.

Guys, go ahead and try this easy homemade tea tree oil shampoo! It is very effective in treating scalp problems and it leaves your hair feeling fresh and clean!