It's time to ditch your shampoo and make your own! This homemade aloe vera shampoo recipe is perfect for all hair types, and it promotes hair growth, too!
The Goodness of Aloe Vera for Hair
There's nothing quite as amazing as aloe vera for hair!
The natural gel-like substance found within the succulent leaves of the aloe vera plant is bustling with vitamins, minerals, enzymes and nutrients. The many compounds found in aloe vera gel are healing for damaged follicles, hair and split ends.
Why You Need to Get Rid of Commercial Shampoo NOW
Did you know that commercial shampoo can actually CAUSE scalp irritation, dandruff and hair fall?!
Shampoo contains a myriad of harsh chemicals and synthetic ingredients that are not good for our long term health.
Synthetic fragrances, parabens, triclosans, petroleum derivatives and toxic surfactants like SLS, are just some of the harmful contents found in shampoo. These compounds are known to be irritants, endocrine disruptors and even carcinogens!
5 Benefits of Using Homemade Aloe Vera Shampoo
Here are the benefits of using this homemade aloe vera shampoo:
Detoxification – Over time, the usage of commercial hair products can cause product-build up and the accumulation of toxins. These toxins clog the pores and cause hair thinning. This aloe vera shampoo cleanses and detoxifies the scalp, hair follicles and hair shafts.
Follicle Repair – Damaged hair follicles are one of the main causes of hair fall and weak hair shafts. This homemade shampoo has nourishing ingredients that help repair and nurture damaged hair follicles.
Hair Growth – Containing eggs, this shampoo nourishes the hair cuticles with its keratin enriching properties.
Fights Dandruff – Aloe vera cleanses the scalp and soothes dry skin. This can help cure dandruff holistically.
Naturally Scented – For fragrance, this homemade shampoo uses natural essential oils that are non-toxic. Feel free to use your favorite essential oils or choose from specific essential oils for hair growth. Read: Essential Oils for Hair Growth for more information.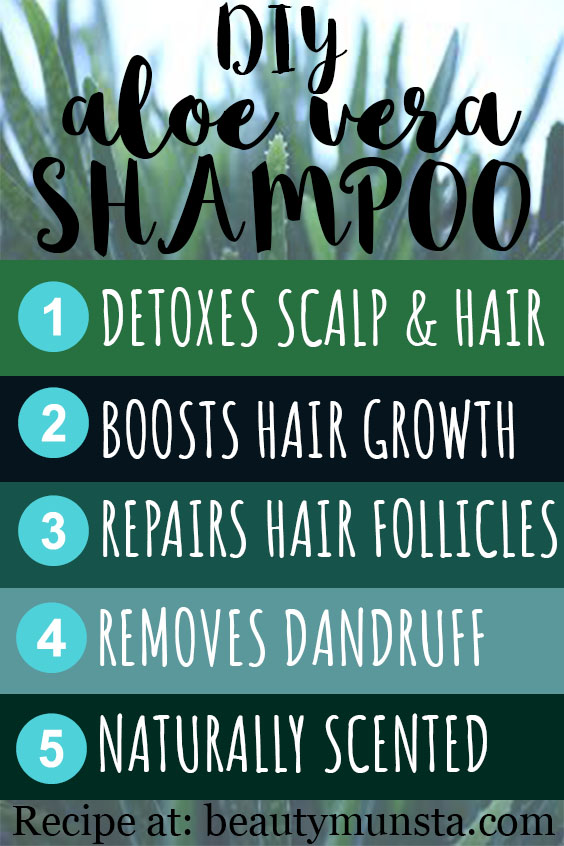 How to Make Homemade Aloe Vera Shampoo
This shampoo contains no preservatives so it must be made immediately before use. Luckily it takes only a few minutes to whip up, and it is totally worth it!
What you need:
Method:
In a deep bowl, pour in all the ingredients.
Use a whisk to beat all the ingredients until you get a smooth mixture.
Apply this onto your hair and massage it into your scalp for at least 2 minutes.
Now wash off with cold water.
Follow Up the Shampoo with: Apple Cider Vinegar Hair Rinse
The natural pH of our skin ranges between 4- 7, which is slightly acidic.
But this homemade shampoo is a little more on the alkaline side. For one, the natural foaming agent/ surfactant that we are using, liquid castile soap, has a pH of almost 9 – quite alkaline.
In order to rebalance the pH of your scalp, I recommend rinsing your hair with an ACV rinse after shampooing. Since vinegar is acidic, it will help reduce the alkalinity of the shampoo and bring your scalp back to a balance.
To make an apple cider vinger rinse, all you need is:
Mix these thoroughly and pour into a mason jar. Now rinse your hair with this after shampooing.
The smell of apple cider vinegar doesn't linger at all, and often disappears within 10 minutes. But if the scent bothers you, feel free to add a hair-supporting essential oil like rosemary to your rinse.