Rejuvenate lifeless locks by making and using this homemade shampoo for dry damaged hair! It's totally all natural and sulfate-free – perfect for reclaiming your beautiful hair back!
Hair can be damaged through overuse of heat tools, improper or excessive bleaching/hair coloring, hard water, chlorine and too much sun exposure. Once hair gets damaged, it's very hard to get it back to its original state. It needs a lot of TLC to help it rejuvenate and replenish its damaged hair cells. That's why turning to natural hair care products is very important to nurse your dry damaged hair back to health and vitality.
You can check out my posts helpful for dry damaged hair such as Coconut Oil Hair Masks, 10 Common Foods for Hair Regrowth, DIY Aloe Vera Leave in Conditioner, DIY Hair Serum for Damaged Hair and even this DIY Hair Straightening Gel, if your hair is damaged by hair straightening.
A homemade shampoo for dry damaged hair is also useful to make and use to nourish and rejuvenate your hair. Let's check out the easy recipe below:
Homemade Shampoo for Dry Damaged Hair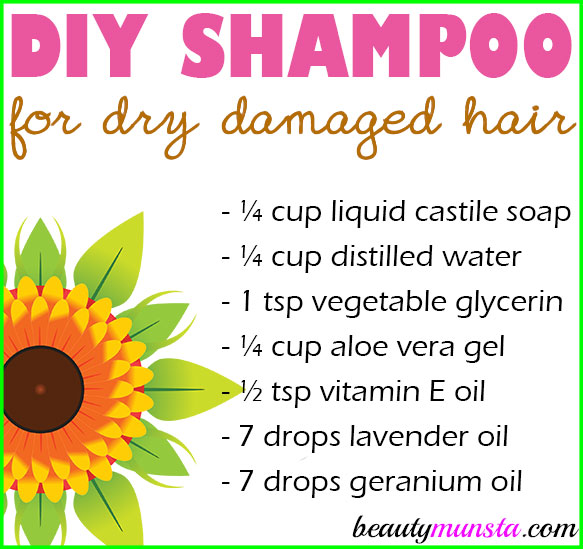 What you Need
Directions
Begin by adding your distilled water, aloe vera gel, vitamin E oil and vegetable glycerin to the Pyrex measuring cup.
Now blend slowly using the immersion blender until everything is well combined.
The next step is to gently pour in the measured amount of liquid castile soap.
Blend again until you form a smooth and well combined mixture.
Add the lavender and geranium essential oils, drop by drop and give it a little mix with the immersion blender.
Now pour the mixture into a flip top bottle using a funnel.
Your homemade shampoo for damaged hair is ready! Store in a cool dry place. You can also store it in the refrigerator.
To use, squeeze a little on your palm then work it in your scalp and hair length. Let it sit for about 2-3 minutes while you shave/wash the rest of your body then rinse off with tepid water first then cold water.
To condition your hair, I recommend using this DIY aloe vera leave in conditioner. Or, you can use a little amount of coconut oil to condition. I also love this DIY Shea Butter Hair Conditioner. It's suitable for dry and damaged hair!
Note: If you have no time to make your own shampoo + conditioner, please try out my favorite natural sulfate-free Maple Holistics shampoo & conditioner. It's effective for dandruff, hair loss and color treated hair too.
I can't wait for you to try out this homemade shampoo for dry damaged hair. Here's to beautiful hair naturally!