Looking for easy effective DIY hair serum recipes? Look no further than these 8 best recipes for dry hair, oily hair, split ends, frizzy hair, hair growth, natural hair and more!
Hair serums are incredibly easy to make – as you'll see in each of the recipes below! All you need is a few good quality carrier oils and some drops of powerful essential oils. You can also make serums with other natural ingredients like aloe vera! Enjoy these recipes ~
8 Best DIY Hair Serum Recipes for All Hair Types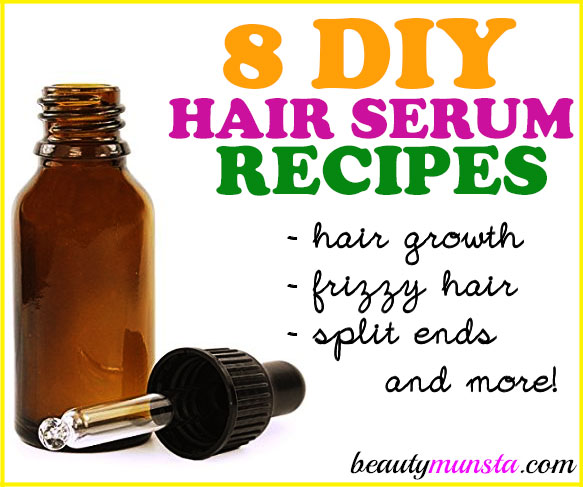 1. Homemade Hair Serum for Hair Growth
Boost your hair growth by miles using this homemade hair serum for hair growth! It contains herbs like rosemary, lavender, cedarwood and thyme in essential oil form. The carrier oils used are also renowned for promoting thicker, longer hair!
2. DIY Hair Serum for Frizzy Hair
Banish those frizzy flyaways by using this DIY hair serum for frizzy hair with moisturizing and anti-frizz oils. You can use this serum as a hot oil treatment, hair wrap oil, overnight treatment and best of all, a leave-in conditioner!
3. Homemade Hair Straightening Serum
Lay off the hair straightener and try this homemade hair straightening serum. This recipe contains specific instructions on how to use the serum to straighten your hair the natural way – without heat!
4. Nourishing DIY Serum for Damaged Hair
Damaged hair can give people a scare because hair damage is not one to be taken lightly. However, not to worry, if you use this nourishing DIY serum for damaged hair consistently, you'll bring the glory back to your hair!
5. DIY Hair Serum for Oily Hair
Oily hair also needs to be moisturized to balance out the excess sebum and keep it looking healthy. Try this DIY oily hair serum and see your hair improve!
6. Homemade Hair Serum for Split Ends
Seal up your split ends and heal damaged hair ends using this homemade hair serum for split ends. It contains nourishing oils such as fractionated coconut oil, argan oil and sea buckthorn oil – all said to be very nourishing and healing for hair.
7. DIY Hair Serum for Natural Hair
Show your natural hair extra TLC by concocting this DIY natural hair serum! It is perfect in adding moisture to hair while keeping it soft, fluffy and frizz-free!
8. DIY Moisturizing Hair Serum for Dry Hair
Dry hair and scalp can be lubricated and soothed using this DIY dry hair serum with castor oil – for its emollient properties, avocado oil – for its nutrient-rich and detangling properties and sweet almond oil – for its anti-frizz effects!
Okay, that's it! 8 of the best DIY hair serum recipes for gorgeous hair at Beautymunsta.com! Please give any of these DIY hair serums (for your hair type) a try and come share your results!