Healthy long hair is just a serum away! Make this homemade serum for hair growth and thickness!
Nowadays almost everyone is making hair growth treatments right at home. Why? Because they work! You don't need to spend a fortune to grow your hair back anymore. Just combine a few powerful hair growth oils together and you can have hope of regaining lost hair.
We're going to be using the following ingredients for this homemade serum for hair growth:
Grapeseed oil & Jojoba oil – These two oils are the base ingredients for this recipe. The reason I used these in particular because in one study, alopecia patients were successfully treated using regular scalp massages done using equal parts of these two oils combined with essential oils of rosemary, lavender, thyme and cedarwood. This shows that these oils are nourishing to the scalp and encourage hair growth.
Essential oils – The essential oils we'll be using are rosemary, lavender, thyme and cedarwood. These oils are proven to promote hair growth (as you can see from the above study). They stimulate the hair follicles, increase blood circulation to the scalp and foster growth of new hairs!
Homemade Serum for Hair Growth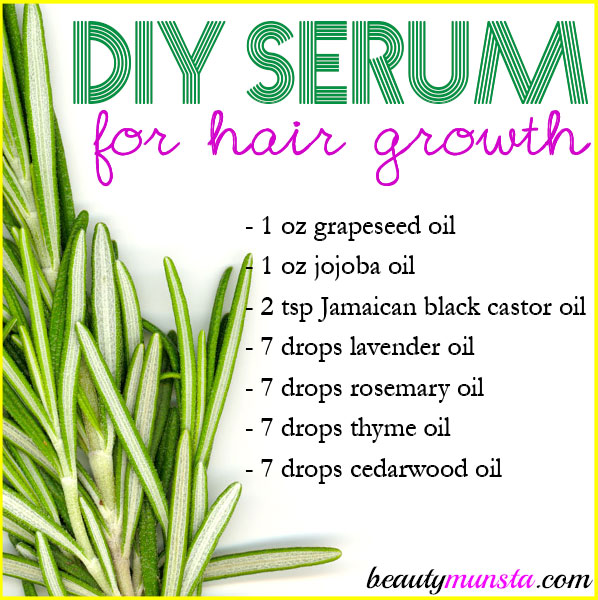 What you need
Directions
Using a small funnel, pour the grapeseed oil, jojoba oil and Jamaican black castor oil into your amber glass dropper bottle.
Next, carefully add the lavender, rosemary, thyme and cedarwood essential oils, drop by drop.
After adding all the ingredients, close the bottle and shake well to mix everything up.
Your homemade serum for hair growth is ready! Store in a cool dry place, away from sunlight.
You can massage this hair serum onto your scalp 1-2 hours before showering. Consider using this natural sulfate-free shampoo & conditioner to encourage hair growth!
Twice a week, give your scalp an invigorating massage using this homemade serum for hair growth! xoxo