Suffer from thinning hair, premature graying and itchy scalp issues? Try using this herbal DIY rosemary hair rinse for hair growth & more!
The herb rosemary smells fresh, pungent and herbaceous. It has long been used as a memory booster, food spice and also hair treatment! Yup, women in the Mediterranean would use rosemary as an herb for beautiful hair! I've written more on the benefits & uses of rosemary here: How to Use Rosemary Leaves for Hair. Please read it to know more!
Here are the best benefits of rosemary for your hair:
Promotes hair growth & stops thinning of hair
Soothes an itchy scalp
Reduces oily hair
Promotes shiny and glossy hair
Strengthens the hair shaft
Fights scalp fungal infection
Removes dandruff
One of the best ways to use rosemary is by making a DIY rosemary hair rinse. Let's check out a simple but effective recipe below:
DIY Rosemary Hair Rinse for Hair Growth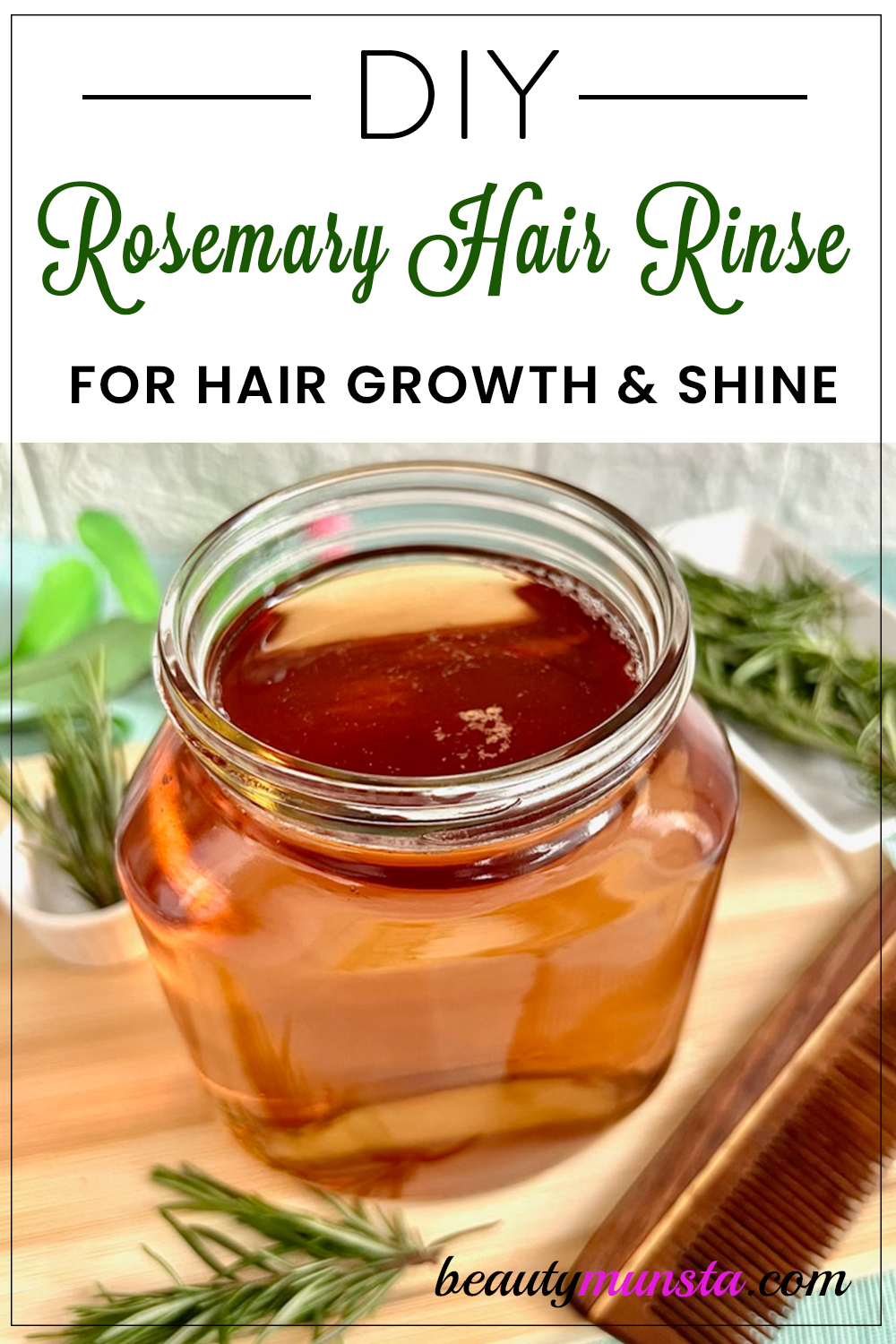 There are two ways of making a DIY rosemary hair rinse:
Method One: Using Fresh/Dried Rosemary Sprigs
Ingredients
Directions
Pour 6 cups of water into a stainless steel pot.
Bring it to a boil.
Add 6 stems of rosemary.
Let it simmer for 20 minutes on a medium flame.
Turn off the heat and let it cool down for 30 minutes.
Filter into a container of your choice like a Pyrex cup or mason jar.
Your DIY rosemary hair rinse is ready!
Method Two: Using Rosemary Essential Oil
Ingredients
Directions
Fill a Pyrex cup of mason jar with 3 cups of water.
Now mix up 1 tsp of vegetable glycerin (this is added as the moisturizing ingredient as well as the emulsifying (or carrier) ingredient for the essential oil: you could also add aloe vera gel or any liquid oil of your choice) with 7-10 drops of rosemary oil and add it to the water.
That's it!
To use this DIY rosemary hair rinse (any of the above recipes), simply pour it on your head after shampooing and conditioning as the FINAL hair rinse. Let it stay in your hair. Which recipe do you prefer? Share your thoughts!
More Interesting Reads