Stimulating hair growth with essential oils is a way to promote longer stronger and thicker hair!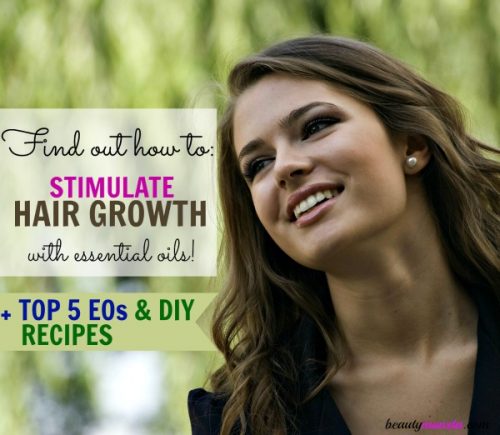 Is it possible to grow longer and healthier hair using essential oils? Yes, it is! Read my own hair growth story with rosemary essential oil here. There are quite a few essential oils including peppermint, rosemary and thyme that have proven (1) to stimulate hair growth, re-grow bald patches and even treat alopecia (2). Find out how to stimulate hair growth naturally using essential oils using 5 DIY recipes below. But first, let's look at the top 5 essential oils you can use in your natural hair growth journey!
Top Essential Oils for Stimulating Hair Growth
5 DIY Recipes to Stimulate Hair Growth with Essential Oils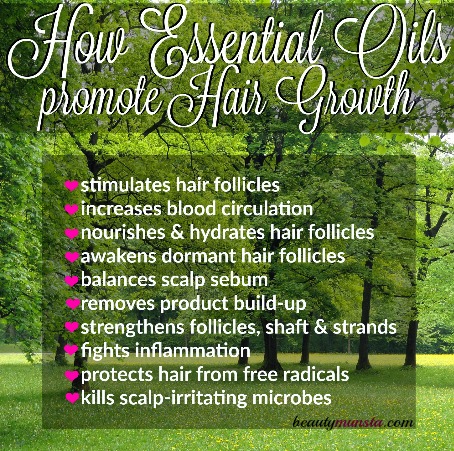 Note: Always dilute essential oils when it comes to using them for your scalp and hair. Use the rule: 1-3 drops of essential oil in 1 tbsp of carrier oil/base ingredient such as shampoo, etc.
► Invigorating Scalp Massage Blend
In an applicator bottle, add 1/4 cup of liquid coconut oil followed by 5 drops of rosemary, 4 drops of lavender and 3 drops of thyme. Shake well to combine. Now section your hair and start squeezing the oil little by little on your scalp until your whole scalp is covered. Using clean fingertips, start vigorously massaging your scalp for about 5 minutes. Wait for an hour then wash your hair as usual.
► Nourishing Hot Oil Treatment
Heat 2 tbsp of olive oil until warm. Do not let it boil! Only a gentle heat is needed. Remove from heat and add 5 drops of cedarwood, 3 drops of peppermint and 2 drops of rosemary. Section your hair and start pouring the oil blend using a spoon until your whole scalp is saturated. Leave it on for an hour or more then wash your hair thoroughly.
► Follicle-Stimulating Hair Mask
Crack an egg into a bowl, then add 1 tbsp raw honey, 1 tsp coconut oil, 5 drops lavender, 4 drops peppermint and 3 drops cedarwood. Whisk thoroughly until all combined. Apply onto dry hair. After applying, cover with a plastic bag/shower cap and wait for 15 minutes. When the time is up, wash your hair as usual with cold water.
►Deep Penetrating Overnight Treatment
Combine 2 tbsp coconut oil, 5 drops rosemary, 2 drops peppermint and 1 tsp olive oil. Apply to your scalp. Cover with a shower cap then leave it on overnight. Don't forget to throw an old towel over your pillow just in case your shower cap slips. Wash off very well the next morning with lukewarm water and your usual shampoo.
► Herbal Hair Growth Shampoo
In a clean soap dispenser, add ¼ cup liquid castile soap, 1 tsp liquid coconut oil, 7 drops rosemary and 4 drops lavender. Swirl gently to mix. Do not shake as this will activate the soap bubbles. Use in place of normal shampoo.
What Else to Do in Your Hair Growth Journey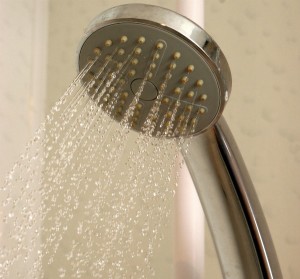 ✿ Invest in a Chlorine Shower Filter: Chlorine dries out the hair, is one major cause of scalp irritation and leads to product build-up as well. All these things indirectly lead to hair loss and inhibit healthy hair growth. Getting a chlorine shower head filter is one of the best things you can do to promote good scalp and hair health.
✿ Eat a Balanced Diet: What you eat plays a big role in hair health and growth. Here's a small list of foods that boost hair growth:
Foods rich in biotin: There are many foods out there are naturally contain high amount of biotin so you do not need to take biotin supplements that are all the rave these days. Instead, include eggs, avocados, almonds, peanuts and whole wheat in your daily diet to boost hair growth!
Foods rich in iron-rich protein: Iron-rich protein includes foods like poultry, eggs, leafy greens such as kale & spinach, shellfish, tofu, legumes, lentils, etc. Ensure to eat vitamin C-rich foods when eating iron-rich protein plant foods to help the body utilize and absorb it better.
Foods rich in Vitamins A & C: Vitamin A foods like squash, sweet potatoes and carrots not only promote hair growth but ensure well-moisturized and conditioned locks! Citrus fruits and bell peppers are rich in vitamin C and promote shiny hair in addition to enhancing hair growth.
Foods rich in Zinc: Go for shellfish, red meats and spinach to get meet the body's zinc requirements needed for hair growth. Check out 10 common superfoods to eat for hair re-growth in this post.
✿ Ditch Conventional Hair Care Products: Many a times, the commercial products you're using can contribute to problems such as scalp irritation, product build-up, etc, that in turn gradually contribute to hair loss until you finally notice your hair lacks luster, looks thin and lifeless, and has stopped growing. I suggest using liquid castile soap as a natural shampoo and other non-sudsy hair cleansers such as apple cider vinegar & baking soda, honey, rhassoul clay, yucca root powder, etc.
✿ Say Affirmations: Show your hair some TLC by just appreciating it! No matter how thin and lifeless it looks, whenever your brushing it or applying any DIY treatment, smile and think good thoughts about your hair. Think of it as your pet, use gentle strokes while handling it and don't be stressed. Say affirmations such as "No matter how short and thin my hair looks, it's always beautiful to me" and "My hair is a blessing, I love my luscious hair". Even if you feel like you're lying and you still feel negative, still say those affirmations! Your subconscious mind (which is child-like & accepts EVERYTHING you say) is hearing and will believe it! Soon your hair will become gorgeous and grow longer through the power of positive thoughts and all the good energy directed at it.
All Natural Hair Care Guide with Essential Oils!
Want to know more about essential oils for hair and how to make scalp & hair care recipes with essential oils? Check out our Complete Guide to Using Essential Oils for Scalp & Hair Care that talks about the magical properties, benefits & uses of essential oils for your scalp and hair with over 100 recipes to make your own chemical-free hair products for a healthy scalp and beautiful hair.
Take Care
Never use essential oils 'neat' or directly onto your skin. Always dilute first with a carrier oil (1 drop of essential oil in 1 tsp of carrier oil). For more info read: How to Dilute Essential Oils
Please ensure that you aren't allergic to any of the essential oils above before using them. Mix 1 drop of oil in 1 tsp of carrier oil and apply it on your inner elbow. Monitor this area for about 6-12 hours for any signs of irritation. If there's irritation, that means you might be allergic so immediately rinse the area with warm water and soap and do not use the essential oil on your body.
Pregnant or nursing mothers should avoid using essential oils. If you have any severe/chronic health conditions, then please first consult your doctor before using essential oils.
Keep essential oils away from children and pets.
References
(1) Arch Dermatol. 1998 Nov;134(11):1349-52.
(2) Toxicol Res. 2014 Dec; 30(4): 297–304.