Find out how lavender oil promotes hair growth and make this easy DIY lavender hair growth serum that boosts hair growth and reverses hair loss and balding!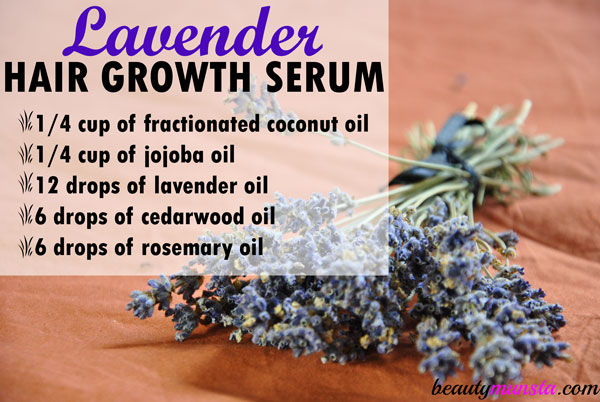 Lavender Oil is a Powerful and Versatile Oil
A beautiful clear oil extracted from the flower spikes of the lavender plant, lavender essential oil has a sweet and floral scent that smells clean and lovely.
Lavender oil has been used for centuries to treat and relieve many health issues. From skin diseases to green cleaning to psychological issues, there seems to be no end for the benefits of lavender.
Some of the uses for lavender oil include:
Promoting peaceful sleep
Treating insomnia
Relieving tension, anxiety and stress
Soothing diaper rash in babies
Fighting acne and pimples
Disinfecting and deodorizing
Reducing inflammation and swelling
Curing bug bites
And more!
Research Concerning Lavender for Hair Growth
Of course, aside from its other benefits, lavender oil is also extremely powerful in reversing hair loss, as proved by a prominent study carried out by scientists in Scotland showed that patients suffering from hair loss and bald patches noticed a 44 % improvement in hair growth after using lavender oil.
Supervised by dermatologists, the patients were massaged with a mixture of some carrier oils (such as jojoba oil and grapeseed oil) and essential oils (including thyme, rosemary, cedarwood and lavender).
Those who used the carrier oil alone, without any essential oils, only found a 17% improvement.
This shows that essential oils, such as lavender oil, can have a positive effect on hair growth.
How to Use Lavender for Hair Growth
The best way to use lavender for hair growth, in my opinion, is to make your own hair growth oil containing carrier oils that promote strong and lustrous hair, such as coconut oil and sweet almond oil. We are also going to be making use of other essential oils that are proven for hair growth.
You may use lavender essential oil alone, without adding any of the other essential oils. But for the best results, follow the recipe as it is – it really is worth it!
Ingredients
Directions
Measure out and pour all the ingredients into a 4 oz amber glass dropper bottle.
Screw on the lid and shake to get the ingredients evenly blended together.
Your DIY lavender hair growth serum is now ready!
Wasn't that easy? Apply about 5 – 7 drops on your scalp and hair 3 to 4 times a week. You can apply it at night for an overnight treatment, or you can apply it 15 minutes before you shower as a hair mask.
How Soon Will You See Results?
You will immediately notice that your hair is sleeker and shinier than it was before.
Within two weeks, you'll start noticing a difference in the density of your hair.
By the time you clock 1 month of using this lavender hair growth serum, you'll be noticing tiny baby hairs growing out of your scalp.
Continue using this serum consistently without giving up, and you'll see noticeable results in 6 months!
Hair takes a long time to grow. Factor in other variables like hormone levels and hair dormancy stages, it may take many months before you notice any new hair growth.
But the key is to BE PATIENT.
Other Ways to Ensure Hair Growth
Along with using you DIY lavender hair growth serum, also make sure that you are doing the following very important habits:
Take plenty of water to keep your hair follicles hydrated and your hair shafts moisturized from within.
Eat plenty of health, nutrient-rich foods like sea fish, almonds, kale and other greens, avocados and more.
Use a chlorine filter in your shower so that you don't get any chemical build up on your scalp, which can stunt hair growth.
Avoid using toxic hair products on your hair such as conventional SLS shampoos, conditioner and hair spray.
Avoid the use of heat on your hair.
Never shower in steaming hot water because it will open up your pores, soften the follicles and make your hair more vulnerable to fall out.