Discover the top 10 benefits of essential oils for hair growth and how they work!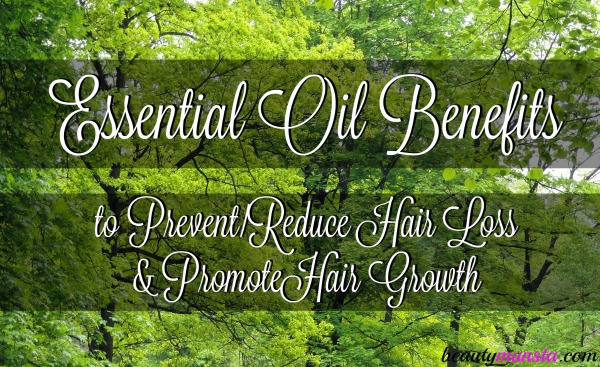 Essential Oils – Nature's Gift
The very essence of plants, essential oils are highly concentrated substances with incredible medicinal and therapeutic properties. They are carefully extracted by steam distillation of the aromatic parts of a plant, for example, the fresh petals of a rose or the fragrant roots of vetiver. Since ancient times, people have been relying on the healing powers of aromatic plants to treat various illnesses and health conditions including scalp and hair issues such as hair loss and balding. Let's briefly look at the most effective hair growth essential oils before we move on to the benefits of essential oils for hair growth:
The Most Effective Essential Oils for Hair Growth
Essential oils that stimulate hair growth, reduce hair shedding and prevent hair loss have many healing properties that repair the hair follicles from the outside-in. Below is a short list of the most effective essential oils for hair growth!
► Rosemary
► Cedarwood
► Lavender
► Thyme
► Clary Sage
► Peppermint
► Cypress
Benefits of Essential Oils for Hair Growth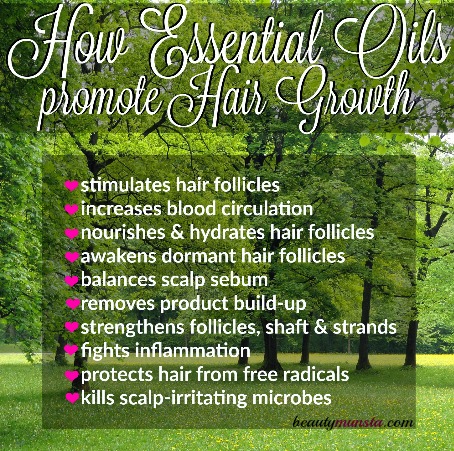 What makes essential oils so powerful a natural remedy for hair growth? Well, their miraculous medicinal properties play a large role! From stimulating the hair follicles to improving blood circulation in the scalp, there are many benefits of essential oils for hair growth. Before you go shopping for the above hair growth essential oils, let's take a look at the top ten benefits of essential oils for hair growth!
1. Scalp Stimulant
When certain essential oils such as peppermint, rosemary or eucalyptus essential oils are applied to the scalp (diluted in a carrier oil), a pleasant tingling sensation is experienced. This sensation is said to stimulate and invigorate the hair follicles, which fosters new hair growth and promotes existing hair growth.
2. Nourish Hair Follicles
Essential oils are highly concentrated essences of plants, for example, it takes about 150 lavender flowers to get just one pound of lavender essential oil. This shows how potent essential oils are and how much more nutrients and antioxidants a few drops of essential oil contain. When applied topically, essential oils penetrate deep into the hair follicles and into the blood stream, thereby deeply nourishing them and aiding in hair growth.
3. Strengthen Hair Follicles, Shaft & Strands
As the hair follicles weaken due to internal imbalances and external factors such as poor nutrition and heat damage, new hair growth is often characterized by thinner and shorter hair strands that are more prone to breakage. Essential oils, rich in nourishing nutrients and powerful antioxidants, can be used to strengthen hair follicles as well as heal damaged hair shafts and strands, thereby reducing hair loss and leading to thicker, longer and generally healthier hair growth.
4. Awaken Sleeping Hair Follicles
Did you know that at any given time, about 10% of the hair on your head is actually in a dormant phase? This dormant phase can last anywhere from 2 to 6 months and when this phase comes to an end, the hair is shed and new hairs begin to emerge. For some people, due to a variety of factors, including overuse of heat tools, poor nutrition, hormonal imbalances, chlorinated water, etc, the dormant stage ends up lasting longer than usual and the hair follicles gradually shrink which shortens the life cycle of hair. A shorter life cycle leads to new hairs progressively getting thinner and shorter as the hair follicles get weaker and eventually, the hair follicles can no longer hold the hair strands firmly in place, leading to hair shedding and hair loss. Through vigorous scalp massages using essential oils, sleeping hair follicles have a chance of being awakened in time, thereby stimulating hair growth.
5. Increase Blood Circulation
One important benefit of essential oils for hair growth is they increase blood circulation in the scalp, thereby ensuring each and every hair follicle is supplied with nutrient-rich blood. This is necessary for strong & nourished hair follicles that can hold the hair strand hence preventing easy breakage and hair fall.
6. Balance Scalp Sebum
Just like too little sebum leads to hair loss due to dehydrated hair follicles, too much sebum also leads to hair loss. When the scalp produces excess oils, it attracts and collects more dirt, grime, pollution and dead cells which end up clogged up the hair follicles. This suffocates the hair follicles making them weak and preventing hair growth. Essential oils work by cleansing the scalp, unclogging blocked hair follicles and reducing excess sebum thereby fostering the formation of new hairs and preventing hair loss.
7. Fight Inflammation
Inflammation is one of the root causes of hair loss in both men and women. Scalp inflammation or folliculitis weakens and damages the hair follicles thereby inhibiting growth of healthy hair. Many essential oils have powerful anti-inflammatory properties that reduce inflammation and soothe scalp irritation. When essential oils of chamomile, tea tree or lavender are diluted in fatty acid rich oils such as coconut, olive, emu or avocado and applied nightly as an overnight treatment, you can easily treat hair loss related to scalp inflammation.
8. Kill Bacteria, Fungi & Microbes that Promote Hair Loss
Another one of the benefits of essential oils for hair growth is their strong anti-septic, anti-fungal, anti-bacterial and anti-microbial properties that fight off and kill germs that cause hair loss and prevent hair growth by damaging the hair follicles. By eradicating scalp-irritating microbes, essential oils facilitate healthy hair growth.
9. Powerful Anti-Oxidant Properties
Essential oils are rich in powerful antioxidants that stave off free radicals. Free radicals cause a host of hair problems including hair loss and premature graying of hair by stealing oxygen from healthy cells. This leads to degeneration of hair cells, making them lifeless which weakens the hair causing shedding. The rich content of antioxidants in essential oils not only combat hair loss & premature graying but also contribute to hair growth.
10. Remove Product Build-Up
Chemicals from conventional hair products and chlorinated water can build-up overtime on the scalp, leaving a thin filmy layer known as product build-up. This layer blocks the hair follicles which leads to weakening of the hair follicles and hair shedding. Essential oils such as lavender and tea tree, among others have natural cleansing properties that work in dislodging this hard layer of product build-up on the scalp, thereby preventing hair loss and facilitating hair growth.
All Natural Hair Care Guide with Essential Oils!
Want to know more about essential oils for hair and how to make scalp & hair care recipes with essential oils? Check out our Complete Guide to Using Essential Oils for Scalp & Hair Care that talks about the magical properties, benefits & uses of essential oils for your scalp and hair with over 100 recipes to make your own chemical-free hair products for a healthy scalp and beautiful hair.