Discover the 7 best essential oils for hair care with recipes on how to use them included! 
One of the many benefits of essential oils is that they are brilliant for growing and maintaining healthy, beautiful hair.
Certain essential oils for hair can help with faster growth, less breakage, reduction in dandruff, among others. Essential oils also strengthen hair strands and make your hair look shiny and lustrous.
How are essential oils extracted? Often times, essential oils are extracted through evaporation or distillation. Among the many characteristics of essential oils, is the variety of beautiful, captivating scents.
However, in addition to the aromatic property are their chemical properties that make them suitable for a number of health-related purposes.
There are many essential oils for hair that you could use, but we will be discussing the 7 best of them in this article – as well as how they can be used to improve the quality of your hair.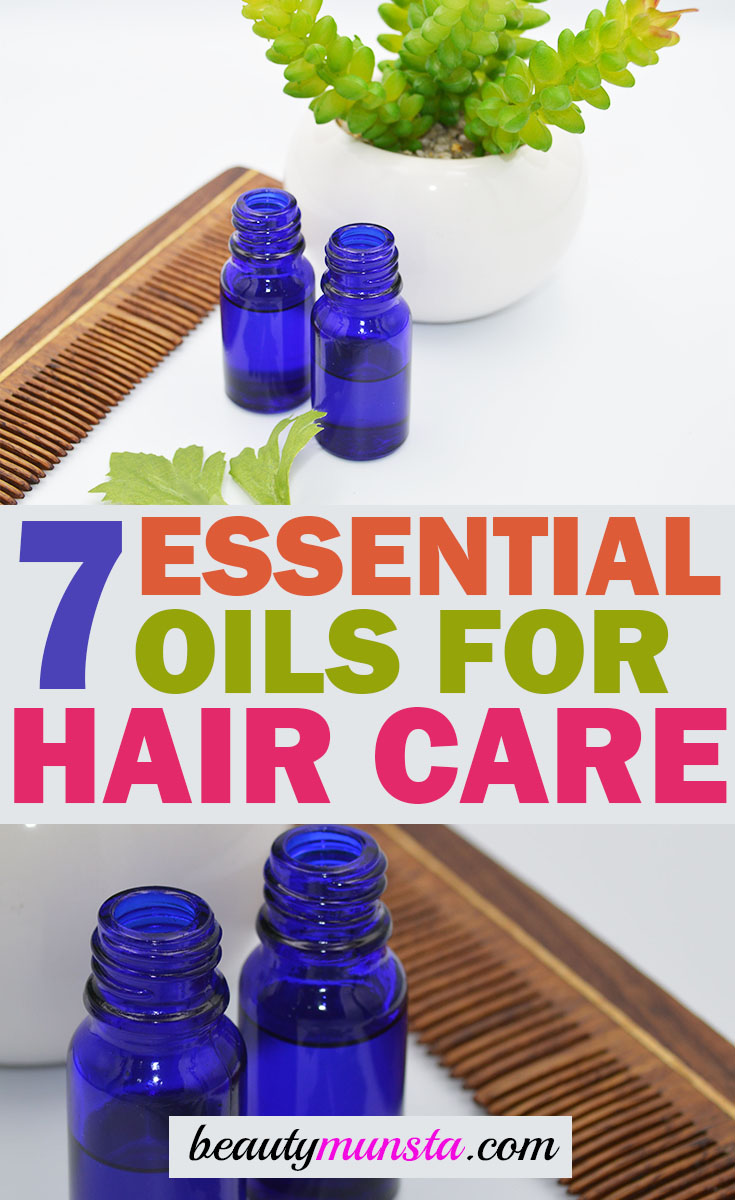 7 Best Essential Oils for Hair Care
Let's have a look at the 7 best essential oils for hair care:
1. Rosemary Essential Oil
One of the best essential oils for hair is rosemary.
Rosemary essential oil is characterized by a spicy, minty and woody smell.
The oil contains a lot of antioxidants, making it powerful for preventing thinning and graying hair.
Since rosemary oil aids blood circulation, it can be perfect for stimulating hair follicles thus improving hair growth.
It is also good for clearing pores, thereby reducing itchiness. It is likewise good for over greasy scalps.
Rosemary essential oil also leaves your hair looking shiny, bouncy and lively.
How to Use Rosemary Oil for Hair:
2. Lavender Essential Oil
Lavender essential oil is bestowed with a refreshing and sweet aroma.
This is probably why the oil helps with relaxation when it is massaged into the scalp. Lavender essential oil can prevent hair loss, enhance the circulation of blood and can improve hair growth.
Lavender essential oil is rich in antiseptic, moisturizer and antimicrobial.
The oil moisturizes the hair and scalp well and very effective for alleviating irritating scalp conditions, such as scalp psoriasis.
How to Use Lavender Oil for Hair:
3. Thyme Essential Oil
Thyme, the herb, is not only used as a food seasoning, but its essential oil is incredible for the hair. It is one of the best essential oils for hair.
Thyme essential oil can enhance the flow of blood through the scalp. Furthermore, it also revives hair follicles thus improving the growth of hair.
Indeed this is why thyme essential oil is added as an ingredient to many hair products for stimulating hair growth.
How to Use Thyme Essential Oil for Hair:
4. Cedarwood Essential Oil
The scent of cedarwood essential oil is woody and warm.
The essential oil is very effective for treating dandruff and combating hair loss. The oil, according to study, is very effective for reversing alopecia areata, a disease that causes loss of hair on the scalp.
Cedarwood essential oil balances the production of oil (sebum) on the scalp.
Moreover, its antiseptic and antibacterial properties make it effective in treating fungal problems on the scalp.
How to Use Cedarwood Essential Oil for Hair:
5. Chamomile Essential Oil
Chamomile essential oil has a soft apple-like scent with blue-green color. Basically, chamomile is of two types; German and Roman – and Roman has been found to be better for the growth of the hair.
Chamomile essential oil has anti-inflammatory property, making it suitable for relieving itchiness and dry scalp. It is likewise effective for eliminating psoriasis, dandruff and dermatitis.
It also protects the hair against damages that may be caused by environmental pollutants. Chamomile essential oil adds shine and lustre to dull and lifeless hair.
How to Use Chamomile Essential Oil:
6. Peppermint Essential Oil
Peppermint essential oil has a pungent minty smell. The essential oil is renowned for its ability to enhance positivity and resuscitate depleted energy. When applied to hair, peppermint essential oil increases the circulation of blood and revives hair follicles, thus enhancing hair growth.
How to Use Peppermint Essential Oil for Hair:
7. Citronella Essential Oil
Citronella essential oil is derived from the leaves of a type of tall grass known as cymbopogon.
The smell of citronella essential oil is both refreshing and sweet.
Citronella helps to control excess oil on the scalp, thus removing greasiness from the hair. Also, citronella essential oil softens and soothes the scalp.
The anti-fungal and antioxidant properties of citronella essential oil makes good for treating dandruff, and thereby boosts hair growth.
How to Use Citronella Essential Oil for Hair: