Check out the 5 essential oils for nail growth I've listed down below plus some awesome homemade recipes that'll not only promote faster growth but also strengthen your nails and prevent breakage!
Did you know that nails grow about 2-3mm every month? Another interesting fact is that women's nails grow faster than mens' except for the nail on the left ring finger. Weird, I know!
Growing long fingernails can be tough especially when your nails are prone to brittleness and breakage – but when using essential oils, you can not only get longer nails but also protect them from breakage, thinning, splits, beau lines and brittleness, a.k.a, get the healthiest nails ever!
5 Essential Oils for Nail Growth


1. Myrrh Essential Oil
Myrrh essential oil (where to get it) is said to be the best essential oil for nail growth – it has wonderful moisturizing properties that protect the cuticles from dryness and the nails from brittleness, thinning and easy breakage.
2. Lavender Essential Oil
The most versatile essential oil on the planet, lavender essential oil (where to get it) has been shown to strengthen the nails and the cuticles, as well as keeping them moisturized. Its antibacterial properties fight off germs that can infect the cuticle. If you're prone to dry skin on and around your cuticles, use lavender essential oil as it is moisturizing and helps hydrate skin.
3. Lemon Essential Oil
Lemon essential oil (where to get it) brightens yellow nails,just like lemon juice. It also leaves your nails looking shiny!
4. Frankincense Essential Oil
One of the most ancient essential oils, frankincense oil (where to get it) is another one of the best essential oils for nail growth. It also protects the cuticle from infection and peeling because of its moisturizing properties and fights off nail fungus that is known to slow down nail growth.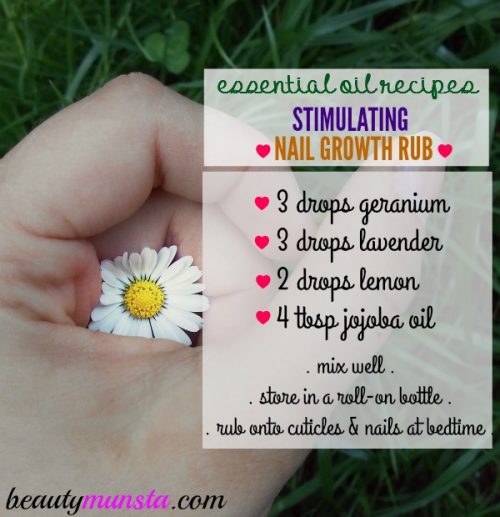 5. Geranium Essential Oil
Moisturized nails naturally tend to grow longer and stronger than dry nails. You can instantly achieve moisturized nails using geranium essential oil (where to get it) which is one of the best moisturizing essential oils! It restores moisturize to dry cuticles and skin around the nails. It also has antibacterial and antiseptic properties that protect the cuticles and nails from infections and fungus, which inhibit nail growth.
How to Use Essential Oils for Nail Growth

Smoothies for Nail Growth
Remember, growing your nails stronger and longer starts from the inside!
Make sure to eat nutritious foods as well.
Here are some awesome smoothie recipes for your nails:
Do's and Don'ts In Your Nail Growth Journey
Don't cut your cuticles. Much as it looks appealing, please don't ever cut your cuticles! Cuticles are there for a reason – first of all they lie on top of your nails' growth matrix and secondly, cutting them makes it very easy for bacteria to slide in and cause infection.
Eat omega 3 fatty acid rich foods. Examples are salmon, fermented cod liver oil, flax seeds, walnuts, beans, chia seeds, organic eggs, organic meats and spinach. These foods promote healthy and shiny nails! Wanna know the best foods for healthy nails and how they help? Read here.
Say NO to being dehydrated. Make sure you drink enough water and don't let yourself get dehydrated. Lack of water causes hard, brittle and weak nails! Try to drink 2 glasses when you wake up, 4 glasses during the day and 2 glasses before dinner. Here's a tip – if you're thirsty, you're already dehydrated.
Pamper your nails. Once in two weeks, rub your nails with half a lemon slice before rinsing them with warm water and applying a drop of coconut oil to moisturize. Use a good nail file and a nail clipper to maintain and shape them up.
Your nails are not tools. Never use them to open stuff, peel or scratch off stuff because you'll ruin them. This advice especially goes to me, by the way, just yesterday I damaged just the edge of my thumb nail trying to break open one of those annoying almost fully closed pistachio shells. (-_-)'
Take Care
First check with your doctor to see if essential oils are okay to be used by you if you suffer from hypertension, skin allergies and other medical conditions.
Always use 100% pure and high quality essential oils.
Never use essential oils 'neat' onto your skin. Always dilute first with a carrier oil (2 drops of essential oil in 1 tsp of carrier oil). For more info read: How to Dilute Essential Oils
If you are pregnant or lactating and would like to use essential oils for nail growth, please first consult your doctor as most essential oils are not safe to use for pregnancy/lactating women.

New to essential oils? Then please take some time to read this amazing quick guide Caution and Safety when Using Essential Oils