Find the top 7 carrier oils for hair growth in this article! 
Since time immemorial, humans have been extracting natural oils from herbs, plants, seeds and nuts.
Most of these oils are known as carrier oils.
There are so many carrier oils for hair growth and prevention of hair loss. Carrier oils can be applied directly to your hair and scalp. They can also be combined with essential oils and other oils to improve their benefits.
The purpose of carrier oils is to be diluted with essential oils.
Check out which essential oils help with hair growth: 10 Benefits of Essential Oils for Hair Growth | How they Work
Carrier oils have different nutrients and specifications that you can choose according to your hair needs.
Massaging your head with carrier oils will help you revitalize your hair naturally.
Top 7 Carrier Oils for Hair Growth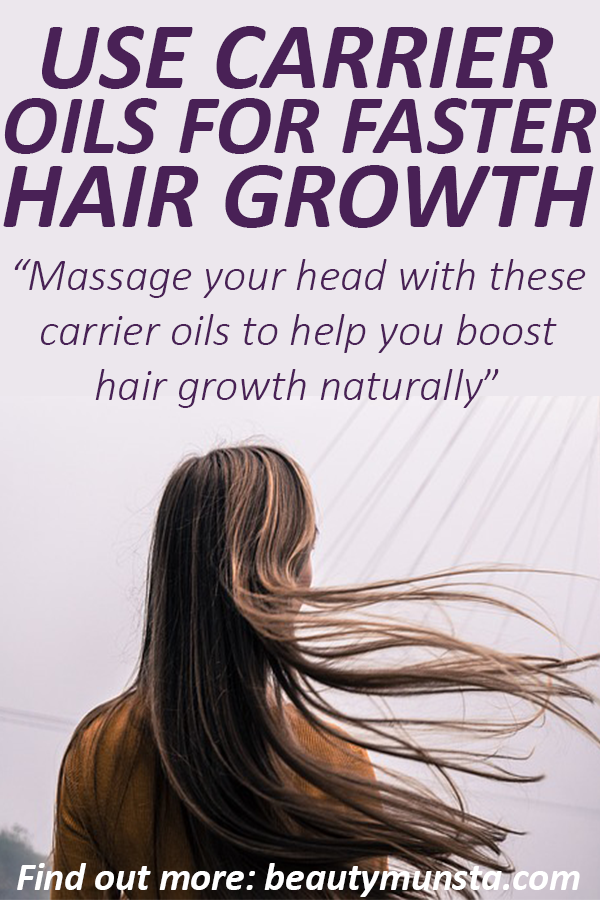 Now without further adieu, let's look at the top 7 carrier oils that boost hair growth and strengthen your hair
naturally:
1. Argan Oil
Argan oil is one of the best carrier oils for hair growth. It is packed with properties that act as a moisturizing agent, nourishes your hair and treats dandruff and scalp problems.
It is also a great remedy to strengthen thin and brittle hair.
Rich in Vitamin E, it is highly beneficial for hair and can benefit your hair in numerous ways.
Argan oil also contains antioxidants that boost cell growth, which, in turn, help you grow healthy
hair. It also turns your dry and frizzy hair into smooth, lustrous and softer hair.
Don't miss: DIY Argan Oil and Egg Hair Mask
2. Avocado Oil
Avocado is not just a delicious fruit but contains a huge amount of minerals and nutrients that help your hair grow stronger and healthier.
Avocado oil is also an excellent source of potassium, amino acids as well as protein that stimulates hair growth and keeps your hair moisturized and soft.
It also works effectively in unclogging hair follicles. Further, it is phenomenal in supporting hair regeneration.
The vitamin E content in avocado oil repairs the damaged hair; vitamin B boosts hair growth, while vitamin E targets the hair shaft and increases the growth of new hair. Check out: 12 Beauty Benefits of Apricot Kernel Oil
3. Jojoba Oil
If you have rough hair, then jojoba oil is a great carrier oil to use.
It is excellent to get frizz-free and shinier hair.
The best thing about jojoba carrier oil is that it is so light and is easily absorbed into the hair cells.
It can be used for both dry and normal hair types. It cleanses your hair; unclog the follicles, and works best in retaining the moisture in the hair.
Read about: 12 Amazing Beauty Benefits of Jojoba Oil
The antimicrobial properties protect your scalp from infections and provide relief from inflammation.
Jojoba also fights free radicals due to its rich antioxidant content. Jojoba oil also contains Vitamin E and other vital nutrient like copper, zinc, and silicon that hydrates the hair, promotes hair growth and soothes the scalp.
4. Castor Oil
Castor oil is the best carrier oil for hair growth and to get healthy hair.
The ricinoleic acid content of castor oil is a great remedy for strengthening roots and for nourishing the scalp.
It also works effectively in treating scalp infection and itchy scalp naturally.
It also comes loaded with many vital nutrients like omega-6 fatty acids, vitamin E etc. that makes your hair tresses long, shiny and a lot more manageable.
Harness castor oil to boost hair growth:
5. Apricot Kernel Oil
Apricot kernels are said to be so potent that they have cancer-curing properties. These same powerful properties can do wonders for your hair.
If you want your hair to become smoother and more pliable then apricot kernel oil is one such oil that you must try.
It contains oleic acid, which acts as an emollient and makes your hair smooth and flawless.
It also moisturizes your hair, nourishes them and treats the dry scalp and hair.
Apricot kernel oil also allows new hair to grow and offers you well-nourished and hydrated scalp.
So if you have not used it yet, try apricot kernel carrier oil for hair growth. Read more: 12 Beauty Benefits of Apricot Kernel Oil
6. Olive Oil
The rich and unique antioxidants in olive oil make it one of the most preferred hair oils among individuals.
It is also great carrier oil for hair growth.
As olive oil is non-greasy, you can mix it with any essential oil of your choice and apply it without clogging the pores.
It also doesn't make your hair greasy and help you treat hair problems like dandruff, dry scalp, and frizzy hair.
7. Coconut Oil
One of the most important carrier oils for hair growth is coconut oil.
It is the best medium dilute essential oils, coconut oil can do wonders for your hair.
Diluting essential oils with coconut oil is proven to make their aroma last longer.
Rich in antioxidants, anti-fungal, and antimicrobial properties, it is a great oil to use for healthy hair, skin as well as nails.
It also contains Vitamin E and K that helps in building healthy tissues that strengthens the hair and prevents it from breakage and thinning out.
Coconut oil is also the best remedy to treat dandruff, scaly scalp and several other hair problems.
Don't miss: DIY Hair Oil for Dandruff with Coconut Oil & Essential Oils
I hope you've had a good overview of the carrier oils for hair growth. Pick any of the above-listed oils and mix them with your favorite essential oil to massage your scalp with this mixture. It will surely help you get denser and fuller hair in just a few weeks. Try now and experience the difference yourself.