Apricot kernel oil is a one-of-a-kind oil that serves many purposes for radiant beauty! Discover 12 amazing beauty benefits of apricot kernel oil in this article!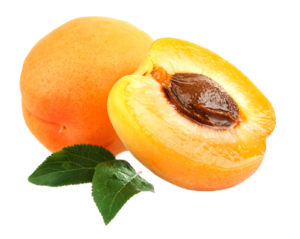 Dried apricots are one of my favorites things to snack on! They are such a delicacy and what's more is that they contain a very high amount of iron, which is necessary for a lot of bodily functions including healthy hair growth!
Inside apricots, there is a seed, also called a kernel. These apricot kernels contain about 40-50% of oil – apricot kernel oil! It is an oil similar to sweet almond and peach oil and has a lot to offer for health and beauty as we shall see soon.
Apricot kernel oil has been proven to treat many beauty woes including acne vulgaris, dandruff and boils, among others. In the health department, apricot kernel oil is used to treat cough, asthma and constipation.
Okay, before looking at the amazing beauty benefits of apricot kernel oil, let's look at the its ingredient profile!
Apricot Kernel Oil Profile
♥ Scientific Name:
Prunus armeniaca
♥ Other Names:
Apricot kernel oil is also called apricot oil and apricot seed oil
♥ Origin:
Apricots are said to originate from Armenia
♥ Color and Smell:
Apricot kernel oil has a gentle golden color. It has a very faint nutty scent.
♥ Texture:
Apricot kernel oil is a thin and light oil, which easily absorbs into skin.
♥ Comedogenic Rating:
2
♥ Shelf Life:
1 year (if refrigerated, 2 years)
♥ Potential for Irritation:
Low
♥ Precaution & Tips:
Before use, do a patch test on your inner elbow/wrist to see that apricot kernel oil does not irritate your skin.
Refrigerate apricot kernel oil to make it last longer.
Composition of Apricot Kernel Oil
Apricot kernel oil is primarily composed of unsaturated fatty acids which include oleic acid (60%) and linoleic acid (30%). Other components of apricot kernel oil are:
Palmitic acid
Palmitoleic acid
Stearic acid
Vitamin A
Vitamin C
Vitamin E
Vitamin K
12 Beauty Benefits of Apricot Kernel Oil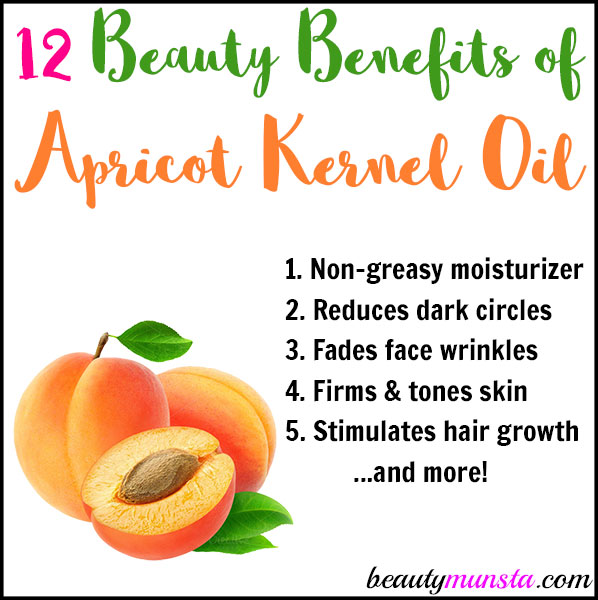 1. Non-Greasy Moisturizer
Apricot kernel oil is a light and 'dry' oil. When applied to skin, it immediately sinks in which leaves skin non-greasy. In fact if you've ever used apricot kernel oil, you must have noticed it absorbing into your skin within seconds, leaving your skin feeling tight and 'dry.'
For acne prone skin, I suggest using caution because apricot kernel oil may clog your pores since it has a comedogenic rating of 2. You can use it sparingly under your makeup or usual moisturizer.
2. Good for Inflammatory Skin Conditions
If you have eczema or psoriasis, use apricot kernel oil! It has strong anti-inflammatory properties and helps soothe skin and reduce redness. Lather your whole body with apricot kernel oil while it's still damp from the shower. This will keep your eczema/psoriasis patches moisturized.
3. Moisturizes Skin
Apricot kernel oil is good for moisturizing oily skin types. It's a very light and 'dry' oil that doesn't leave skin greasy. You can even make your own moisturizer by whipping up shea butter and apricot oil like so:
Light Summer Body Moisturizer: Melt 1 cup of shea butter in a double boiler. Now pour in ¼ cup of apricot kernel oil. Refrigerate the mixture for about 20 minutes. When the time is up, add 20 drops of ylang ylang oil then whip the mixture using a hand mixer till it turns white and fluffy. Transfer into a clean container and use as a light body moisturizer!
4. Firms & Tones Skin
If you've used apricot kernel oil on your face before, you'll know how it soaks up very fast and leaves your skin feeling tight and dry. This makes it good for tightening and toning skin. It's best applied right before your usual moisturizer! I love doing this to gently tone up my skin without using harsh astringents.
5. Fades Face Wrinkles
The unsaturated fatty acids found in apricot kernel oil coupled with the Vitamin E content are good for promoting youthful skin. You can make a anti-aging serum with apricot kernel oil for ageless skin! Check out the recipe below!
Ageless Skin Anti-Aging Serum: Get a 1 oz amber glass dropper bottle. Using a small funnel, pour 1 tbsp of apricot kernel oil and 1 tbsp of argan oil. Next add 6 drops geranium oil and 6 drops lavender oil. Screw on the cap and shake well to combine everything. Apply 2-3 drops on your whole face twice a day.
6. Gets Rid of Dark Circles
Apricot kernel oil is rich in Vitamin K, which is known to reduce dark circles. It also contains vitamin E and omega 6 fatty acids that together with Vitamin K, nourish skin deeply, allowing the nutrients to penetrate the surface of your skin and reaching the blood cells. To treat dark circles, I'd mix essential oils of clove, lemon and frankincense together like so:
DIY Dark Circle Serum: In a small glass bowl, add 3 drops clove oil, 5 drops lemon oil and 5 drops frankincense oil. Finally add 1 tsp of apricot kernel oil. Stir everything together with a toothpick. Now use a syringe to transfer the oil blend into a 10 ml roller bottle. To use, gently roll it under your eyes at night time.
7. Great Massage Oil
Since apricot kernel oil is moisturizing and quickly sinks into the skin, it's a great massage oil. If you have sore muscles, painful joints or just want a good absorbing massage oil, take a look at this recipe:
Soothing Lavender Mint Massage Oil: Fill a 8 oz amber bottle with apricot kernel oil, leaving a little space at the top. Now drip in 10 drops of lavender oil and 10 drops of peppermint oil. Screw on the cap tightly and gently shake the bottle to mix everything up. Your massage oil is ready!
8. Retains Moisture in Hair
Apply a little apricot kernel oil to your damp hair to seal moisture into it and keep it hydrated and soft! You can even mix in your favorite essential oils in apricot kernel oil and make a simple yet ballistic leave-in conditioner:
Lovely Leave-in Conditioner: Get a clean container and pour in ¼ cup of apricot kernel oil. Now add 5 drops peppermint, 5 drops lavender and 5 drops geranium oil. Close the bottle and shake it well to mix up the contents. Apply 4 drops on your damp hair every after a shower before drying it.
9. Stimulates Hair Growth
According to this publication from the University of Maryland Medical Center, omega 6 fatty acids stimulate hair growth. And what do you know? Apricot kernel oil contains a significant amount of omega 6 fatty acids! The best way to use apricot kernel oil is through a DIY Hot Oil Treatment:
DIY Hot Oil Treatment: Put 1 tbsp of apricot kernel oil and 1 tbsp castor oil in a small bowl. Now pour a little hot water into a pan. Place the bowl in the pan of very hot water, making sure water doesn't enter the small bowl. Once the oil turns warm, take it off the pan. Now you may add hair growth boosting essential oils: 6 drops rosemary oil and 6 drops lavender oil. Massage this oil onto your scalp then throw on a shower cap and leave it on for an hour. Then wash your hair well with an all natural shampoo + conditioner! Repeat once a week.
10. Protects Skin From Sun Damage
Lightly apply apricot kernel oil on your face before lathering up some sunscreen! If you have tan or dark skin, you can even apply apricot kernel oil on its own as a sunscreen.
11. Eye Makeup Remover
Wipe off mascara and eyeliner using apricot kernel oil! Just add a little apricot kernel oil onto a clean cotton ball. Gently wipe your eyes twice. Now you can go ahead and cleanse your face as usual.
12. For Oil Cleansing
Yes, you can use apricot kernel oil for oil cleansing! This is good for people with oily and normal skin. Simply mix ¼ cup of apricot kernel oil and ¼ cup of sweet almond oil in a clean bottle. Use this blend for oil cleansing: simply add 3 drops of oil to your fingertips and massage it on your face for a minute. Wring out a washcloth in hot water then apply it on your face to open your pores. After that, use it to wipe the day's dirt together with the oils off your face. Lastly, rinse your face with cool water to close up your pores. You can do this every night if you have time or at least once a week.
Where to Buy Apricot Kernel Oil
Always look for 100% pure quality apricot kernel oil without additives. Avoid synthetic apricot kernel oil which is extracted with chemical solvents and processed to remove its natural color and aroma.
I love Now Foods 100% Pure Apricot Kernel Oil. Now Foods is a reputable brand to buy all your carrier oils from! Whether it's sweet almond oil, jojoba oil, avocado oil, castor oil or apricot kernel oil!

What do you think? Are you interested in using apricot kernel oil in your natural beauty journey?