Native Americans were the first people to use jojoba oil (pronounced: hoe HOE buh). For centuries they used it for cooking, hair care and medicinal purposes such as treating poison ivy, sores, wounds and even kidney malfunction.
The natives extracted jojoba oil by first heating the seeds to soften them, then pounding them with a mortar and pestle to extract a buttery or salve-like substance, which is jojoba oil. In fact, jojoba oil is not actually an oil but a liquid wax ester whose molecular structure is very similar to our skin's natural oils (sebum). It is also unique in that it does not become rancid when exposed to high temperatures!
In today's world, jojoba oil is very popular in the skin and hair care world. Let's look at the profile and properties then beauty benefits of jojoba oil below!
Jojoba Oil Profile
♥ Scientific Name:
Simmondsia chinensis
♥ Other Names:
Jojoba oil is also known as goat nut, pignut, deer nut and coffeeberry.
♥ Origin:
Jojoba oil was extracted and used by the Native Americans. The jojoba shrub is native to Southern Arizona and California and North Eastern Mexico.
♥ Color and Smell:
The oil has a golden color and it is generally odorless or has a very mild scent.
♥ Texture:
Jojoba oil has a silky and light texture that easily penetrates into the skin.
♥ Shelf Life:
Jojoba oil is a very stable oil with an extensive shelf life of over 4 years.
♥ Comedogenic Rating:
2
Properties of Jojoba Oil
Jojoba oil is rich in many nourishing nutrients, which make it incredibly healing for the skin and hair. Some of the vitamins and minerals found in jojoba oil are:
Vitamin A
Vitamin B complex
Vitamin E
Omega 3 fatty acids
Omega 6 fatty acids
Oleic acid
Iodine
Palmitic acid
Stearic acid
Gadoleic acid
Erucic acid
Docosenol
Phytosterols
Now let's look at the beauty benefits: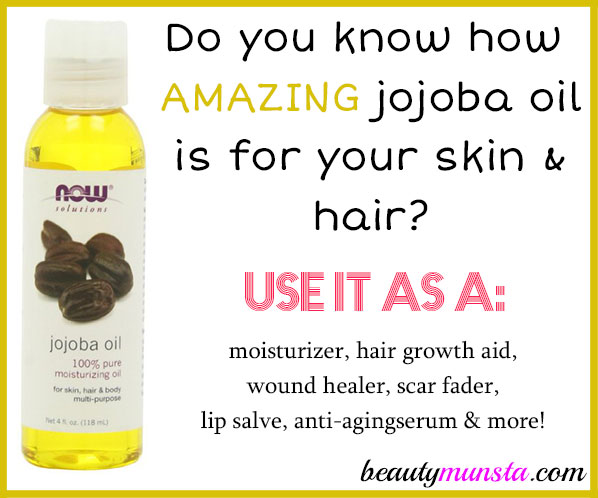 12 Beauty Benefits of Jojoba Oil
1. Moisturizer
Jojoba oil can be used on its own as an excellent moisturizer. Simply pour a tiny amount on your palm, rub them together and apply all over your body. It can also be used to moisturize facial skin. But keep in mind that it has a comedogenic rating of 2. A comedogenic rating shows the pore clogging rate of a product on a scale of 0-5. So if you have overly oily skin, acne-prone skin that breaks out often, avoid using jojoba oil as a facial moisturizer. But if you have dry skin, go right ahead! It has a silky consistency that penetrates deep into skin!
2. Anti-Aging Properties
With its semi-thick and silky texture, jojoba oil can be used to make a nice anti-aging serum. It nourishes skin deeply with its essential fatty acids and helps prevent wrinkles and finwae lines. If you already have wrinkles, you can use jojoba oil to fade them faster. To make an anti-aging serum with jojoba oil:
Pour in 2 tbsp of jojoba oil into a 2 oz amber glass dropper bottle with the help of a small funnel. Now add 1 tbsp of prickly pear oil and ½ tsp of vitamin E oil. Finally, add 10 drops of lavender oil, 5 drops of carrot seed oil and 3 drops of lemon oil. Use only at night time before bed.
3. Works as a Carrier Oil
Feel free to use jojoba oil as a carrier oil for essential oils. Carrier oils help dilute essential oils so that they can be safely used. Dilute 8 – 12 drops of any essential oil of your choice in 4 oz of jojoba oil, or use a 2% dilution rate: 2 drops of essential oil for every 1 tsp of jojoba oil.
4. For Massage
Jojoba oil is also a good massage oil. You can use it all on its own or mix in some essential oils for therapeutic properties. Lavender essential oil soothes tired muscles and promotes relaxation so it's a wonderful essential oil to combine in jojoba oil.
Simply mix together ½ cup of jojoba oil with 20 drops of lavender essential oil. Store in a 4 oz amber dropper bottle. To use, drop some of the blend onto the area to be massaged (such as the back) then rub it in while kneading and squeezing the tired muscles.
5. Treats Alopecia and Hair Loss
A recent study conducted involved mixing equal parts of jojoba and grapeseed oils with the essential oils of rosemary, lavender, thyme and cedarwood. This blend was regularly applied on the scalp of alopecia patients for a fortnight. The results were very successful and shown to help treat alopecia. Here's how you can make such a mixture for yourself:
In a 4 oz amber glass dropper bottle, add 2 tbsp of jojoba oil and 2 tbsp of grapeseed oil with the help of a small funnel. Now add 3 drops thyme oil, 3 drops rosemary oil, 4 drops of lavender oil and 3 drops of cedarwood oil. Close the bottle and shake well to combine everything together. To use, apply a few drops all over your scalp then vigorously massage with your finger pads for 2 minutes. You can leave it on overnight and wash your hair the next day. Repeat every after a day.
6. Heals Wounds& Scars
Jojoba oil speeds up healing of wounds and even helps fade scars. This study shows that jojoba oil helps fasten wound closure. Apply on a wound that has stopped bleeding to protect germs from entering. For scars, apply a generous amount of jojoba oil and massage it in a criss-cross motion from the center of the scar going outward. This will help break up scar tissue.
7. Shiny Tangle-Free Hair
Got dry damaged and frizzy hair? Apply jojoba oil! Immediately after showering, place 3-5 drops of jojoba oil on your palms, rub them together and smooth them along the length of your hair to detangle and promote hair shine.
8. Makeup Remover
You can also use jojoba oil to remove your eye makeup. Get a circular cotton pad and add a few drops of jojoba oil to it. Now gently but firmly wipe off eye makeup. You can also apply the jojoba oil with your fingers directly to your closed eyes then use some wet wipes to remove makeup. It works!
9. Prevents Razor Burn
Prevent razor burn by smearing a thin layer of jojoba oil on skin before shaving. This will also prevent cuts and nicks and leave you with soft and smooth skin!
10. Lip Salve
Dry cracked lips can be soothed and healed using jojoba oil. It has a nice semi-thick consistency that lubricates and moisturizes lips. So this winter, keep jojoba oil nearby to dab some on your lips before heading out! You can also make your own lip salve with jojoba oil! Here's how:
In a double boiler, add 1 tsp beeswax pastilles, 2 tsp shea butter and 1 tsp jojoba oil. Gently melt them over low heat until liquefied. Now you can add 2 drops of peppermint oil and 2 drops of lavender oil and stir well. Pour into a round salve tin.
11. Fights Fungal Infections
Fungal infections like athlete's foot, scalp fungal infection and toenail fungus can be treated using jojoba oil. You can mix 3 drops of oregano oil in 1 tsp of jojoba oil. Apply it directly on your toenail fungus on a cotton ball and tape it to your toenail. Apply this every night until the fungus dies.
12. Treats Inflammatory Skin Conditions
If you have psoriasis or eczema, you can safely and effectively use jojoba oil as a moisturizer and skin treatment. It is rich in vitamin E that helps heal skin as well as omega fatty acids that nourish, lubricate and protect skin. Apply it on damp skin so it can seal moisture into dry eczema/psoriasis patches.
Where to Buy Jojoba Oil
Always look for 100% pure quality jojoba oil without additives. My recommended brand is Now Foods Jojoba Oil. It's a popular and trusted brand on Amazon and comes in a 16 oz bottle. You can also get this high quality jojoba oil from Leven Rose.