Cranberries are tiny deep-red fruits that have a tart taste. They're great for making cranberry jam, juice and sauce. But cranberries are also used to process cranberry seed oil, an amazing oil with fantastic beauty benefits!
It's the richest known source of tocotrienols (vitamin E) as mentioned in a study conducted by Professor Wassef Nawar from University of Massachusetts! And vitamin E is known as the 'beauty vitamin' and 'skin vitamin' because it's excellent at promoting beautiful skin and hair!
In this post, we shall look at its ingredient profile and then the beauty benefits of cranberry seed oil for skin and hair!
Cranberry Seed Oil Profile
♥ Scientific Name:
Vaccinium macrocarpon
♥ Other Names:
Large cranberry, American cranberry, bearberry
♥ Origin:
Vaccinium macrocarpon is native to Northern North America across Canada, and eastern United States. Native Americans used it as food, wound medicine and dye, among others.
♥ Color and Smell:
Cranberry seed oil is a golden yellow color. It has a generally pleasant fruity and faintly bitter smell
♥ Texture:
Cranberry seed oil has a medium-light consistency and it absorbs well into skin
♥ Shelf Life:
2 years
♥ Comedogenic Rating:
2
♥ Precaution & Tips:
Before using cranberry seed oil, do a patch test by applying about ¼ tsp on your inner arm. If there's irritation within 1-2 hours, do not use the oil.
Be careful if using this oil on oily/acne prone skin because it may clog pores. Check out: List of Non-Comedogenic Oils for Oily Skin
There are no reported side effects of using cranberry seed oil however, pregnant/nursing mothers should be on the safe side and consult their doctors before use.
Properties of Cranberry Seed Oil
Cranberry seed oil has a variety of properties that make it a nourishing oil for skin and hair care. These include: antioxidant, anti-inflammatory, antibacterial, anti-fungal, antiseptic, emollient and sunscreen. It is rich in the following nutrients:
Vitamin A
Vitamin E
Phytosterols
Phospholipids
Tocotrienols
Tocopherols
Omega 3 fatty acids
Omega 6 fatty acids
Omega 9 fatty acids
It also contains a lot of minerals such as calcium, iron, magnesium, phosphorus, potassium, sodium, zinc, copper, manganese and selenium.
7 Beauty Benefits of Cranberry Seed Oil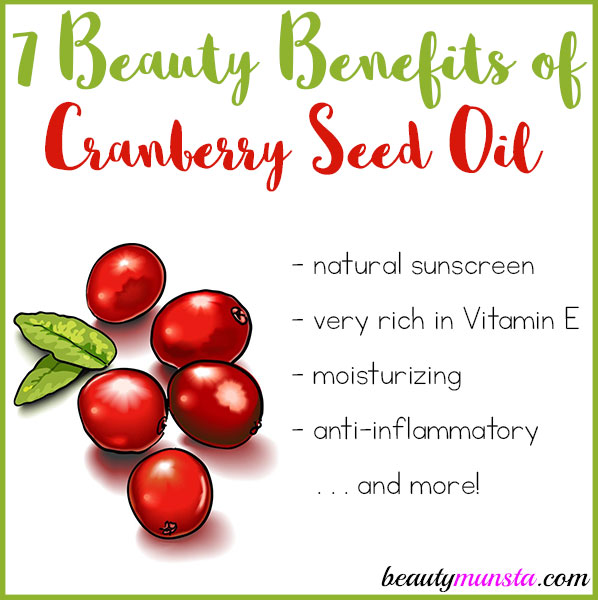 1. Anti-Aging Secret
Cranberry seed oil is rich in antioxidants such as Vitamin E and fatty acids that deeply nourish skin. When applied on skin, cranberry seed oil improves the skin's elasticity, boosts collagen and firms skin. It also reduces the appearance of age spots. All these benefits make cranberry seed oil a secret to youthful skin! You can use it directly on your skin or make an anti-aging serum with it as follows:
In a 2 oz amber glass dropper bottle, pour in 1 tbsp of argan oil, 1 tsp of watermelon seed oil, 1 tsp of cranberry seed oil and 1 tsp of prickly pear oil using a small funnel. Now add in anti-aging essential oils: 4 drops lavender, 4 drops frankincense and 4 drops sandalwood. Close the bottle and shake well to combine everything together. Massage 2-4 drops on your skin.
2. Natural Sunscreen
The high antioxidant content of cranberry seed oil gives it natural sun blocking properties. You can boost your sunscreen by first applying a thin layer of cranberry seed oil on your face before putting it on. Or better yet, make your own natural sunscreen like so:
In a double boiler, melt together ½ cup olive oil, ¼ cup of coconut oil and ¼ cup of beeswax pastilles on medium-low heat. Stir occasionally to help the ingredients melt evenly. Once melted, stir in 2 tbsp of non-nano zinc oxide powder until well mixed. Now let it cool in the refrigerator until partially solidifies (15-10 minutes). When the time is up, add 1 tsp of cranberry seed oil, 1 tsp of vitamin E oil and 1 tsp of red raspberry seed oil. Whip the ingredients with a hand mixer until you get a fluffy whipped cream like texture. Store in amber plastic jars and take one jar to the beach with you! Slather it on after swimming as well!
Note: The above sunscreen is perfect for people with olive to dark skin. If you have really pale skin that is prone to sunburn and want to make the above sunscreen recipe, pass it through your doctor first or do a patch test with it to ensure it works for you.
3. Moisturizing
Cranberry seed oil is rich in omega fatty acids, which makes it incredibly moisturizing. It truly lubricates skin and locks in moisture which provides long lasting hydration. You can mix a few drops of cranberry seed oil into your body lotion for a moisturizing and anti-aging effect at the same time! If you have dry acne prone skin, you can safely use cranberry seed oil for intense hydration without any greasiness.
4. Soothes Sensitive Skin
Sensitive skin can benefit from cranberry seed oil because it helps reduce irritation and redness. It's chock-full of organic acids such as benzoic acid that fight skin irritation and inflammation. It also has a comedogenic rating of 2 so it can be used for acne prone skin that's dry and sensitive.
5. For Healthy Scalp & Hair
Cranberry seed oil contains a cocktail of nutrients for a healthy scalp and hair. Its high vitamin E levels moisturize the scalp and promote shiny hair while the essential fatty acids fight dandruff and seal moisture as well. Add a tsp of it to your shampoo bottle and shake well to promote healthy scalp and hair.
6. Anti-Inflammatory
Eczema, psoriasis and rosacea affected skin can benefit from the anti-inflammatory properties of cranberry seed oil. It contains high amounts of omega 3 and 6 fatty acids that protect the skin's lipid barrier and prevent dry and rough patches which come during flare-ups. It can also be consumed to for its anti-inflammatory properties.
7. Massage Oil
With its medium texture and consistency, cranberry seed oil can be used as a massage oil. You can combine it with jojoba oil and add a few drops of lavender oil for a soothing massage oil. Since it has a high vitamin E content, it will beautify skin as well!
Where to Buy Cranberry Seed Oil
Always look for 100% pure high quality cranberry seed oil without additives. My recommended brand of cranberry seed oil is Berry Beautiful's 100% pure cold pressed cranberry seed oil. It comes in a 4 oz amber dropper bottle.