Today, everyone's suffering from some degree of adrenal fatigue. Yet it is not acknowledged by modern doctors. Try essential oils for adrenal fatigue, among other natural remedies to get relief from this stress condition!
What is Adrenal Fatigue?
Adrenal fatigue is generally caused by an individual's bodily inability to tackle stress.
We live in a world which is dominated by an unending cycle of fight or flight conditions that eventually causes adrenal burnout in many cases. Humans have a pre-determined stress tolerance level, which is controlled by the body's adrenal glands.
Under stress, however, these glands start releasing a concoction of neurotransmitters and hormones that give us the power to tackle stressful conditions.
Should this keep failing time and again, adrenal burnout is likely to happen.
What Are The Signs Of Adrenal Fatigue:
The following are the typical symptoms of adrenal fatigue:
Chronic muscular and joint pains;
a feeling of anger and restlessness;
binge eating; constipation;
breathlessness;
depression;
abdominal cramps;
difficulty in completing tasks logically because of a lack of concentration;
sporadic bouts of diarrhea;
blackouts; eczema;
a feeling of despair;
headaches;
sudden onset of food allergies;
indigestion and anorexia;
insomnia; memory loss;
muscle spasms;
psoriasis;
sweating and tiredness.
Top 10 Essential Oils For Adrenal Fatigue
The use of certain essential oils along with lifestyle changes can alleviate stress to support and eventually repair your adrenal glands. The following are the top 10 essential oils for adrenal fatigue along with tips on how to use them!
1. Clove Oil:
The properties of clove oil stimulate the vagal nerve and improve your digestive health overall. Clove oil also stimulates blood circulation, increases energy levels and tackles adrenal burnout-induced fatigue by relieving stress and boosting moods. Dilute a drop of clove essential oil with a 1/2 tsp of olive oil or Aloe Vera gel and apply on the jaw bone and behind the ears.
2. Cinnamon Bark Oil:
Cinnamon bark oil strengthens the body's endocrine and nervous systems, while also helping in balancing blood sugar levels. It increases physical energy by stimulating the immune system. It also acts as a catalyst for amplifying the action of other essential oils, which increase self-esteem and reduce negativity. Apply the oil in a diluted form over your adrenal vitaflex points that are located on the feet's inner arches.
3. Helichrysum Oil:
Helichrysum oil regenerates and heals connective tissues and damaged nerves. It's also known to be a most effective analgesic. It aids hepatic, pancreatic and gall bladder functions and also alleviates negativity and stress, to increase mental clarity and physical energy. Apply diluted helichrysum oil on back of your neck and/or the temples.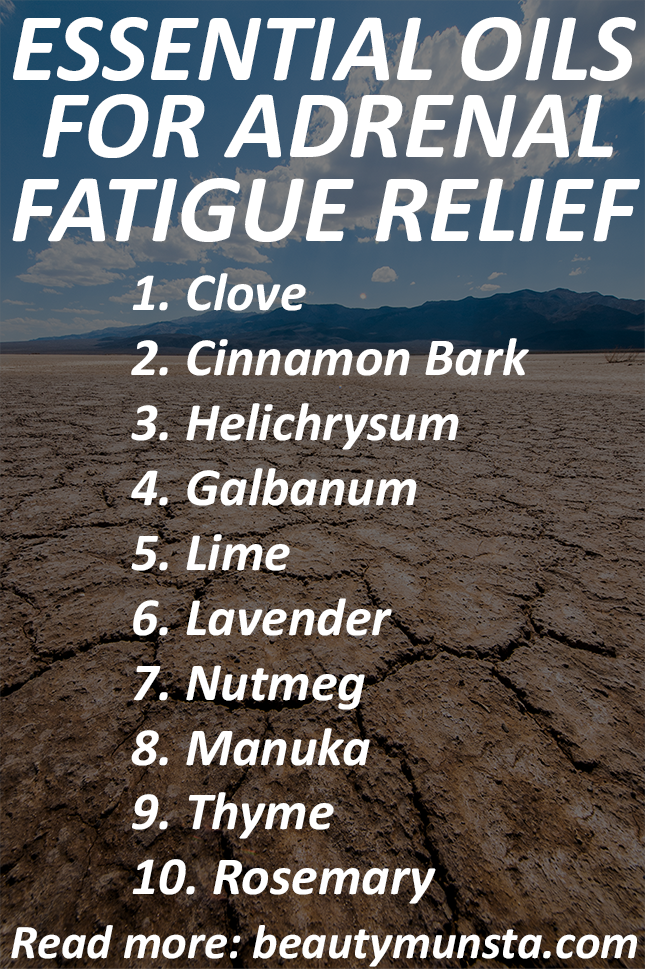 4. Galbanum Oil:
A proven remedy for combating nervous tension, chaotic emotions and stress, Galbanum oil reduces skin, bone and muscular inflammations and enhances physical strength also. Massage the mid-back area of the body, just above the kidneys with the oil (diluted, of course) to get the best results.
5. Lime Oil:
Lime oil works wonders in relieving apathetic feelings, nervousness and anxiety. It refreshes a tired mind, dissipates negative thinking and induces optimism. It's also a most effective anti-depressant. It works really well when mixed with clove oil as a powerful parasympathetic agent. Apply on the jawbone or behind the ears but stay away from direct sunlight till the oil is absorbed.
6. Lavender Oil:
The Lavender essential oil is effective in treating insomnia and other stress-induced conditions. It soothes and calms the adrenals from being hyperactive unnecessarily. This allows them to rest and gradually recover. Lavender oil can be sprayed in the bedroom before bedtime or applied on the chest for the best results.
7. Nutmeg Oil:
Nutmeg oil exhibits corticosteroid activity. It supports adrenal functions by increasing the body's energy level and eliminates nervous fatigue as also chronic stress symptoms. Apply nutmeg oil in a diluted form on the inner arches of both feet on the vitaflex points.
8. Manuka Oil:
For those with stress-induced sleeping disorders, Manuka oil works well. It has potent sleep-inducing and relaxing powers that help the body to repair itself gradually by reducing systemic inflammation. Massage the oil over the adrenal gland area or on the feet's vitaflex points.
9. Thyme Oil:
The sweet fragrance of Thyme oil eliminates mental exhaustion and fatigue. It also balances adrenal hormones, strengthens nerves and induces a feeling of calm by relieving emotional fatigue. Massage the adrenal vitaflex points with the oil for the best results.
10. Rosemary Oil:
Just smell this oil and your cortisol levels will come down in minutes. This lessens the pressure on the adrenal glands and they recover faster. Inhale the smell directly from the bottle twice or thrice deeply at bedtime, or spray it on your pillows before sleeping. Rest assured, you'll have a deep, deep sleep and wake up fully rejuvenated the next morning.
Have you tried using essential oils for adrenal fatigue? Which ones are your favorites?
More Adrenal Fatigue Gems: