Ready for the best sleep ever?! Count on essential oil diffuser blends for sleep.
The real reason I bought my first essential oil diffuser was actually to help with sleep!
Since then I've been using a number of awesome essential oil diffuser blends for sleep.
Like my own mother, I'm a very light sleeper.
Even when I'm exhausted, I can't seem to fall asleep easily.
Usually it's because my mind is on overload thinking about the past, present and future. Funnily enough, my son is also a very light sleeper!
He wakes up at the slightest sound and wakes up multiple times a night. More than my own sleep, I used to worry about the quality of my son's sleep.
That's because sleep is so important to us humans. It is crucial for proper functioning of all systems in the body.
There are so many reasons not to scrimp on sleep. Lack of sleep causes us to be grumpy and moody.
It affects our decision making skills. Chronic sleep deprivation can lower our immunity and imbalance hormones.
In fact, severe sleep deprivation can even lead to death.
Essential oils are a great tool to improve the quality of your sleep.
These unique and potent extracts are squeezed out different plants, herbs and flowers.
They embody all the medicinal qualities of a plant within one concentrated drop. Now I'm not saying they are the one-stop solution for all your sleep problems.
But essential oils are undeniably one of the most important methods that you cannot miss for better sleep.
Make sure you invest in an excellent quality, affordable yet highly effective diffuser like the Smiley Daisy Ultrasonic Diffuser featured below:
Smiley Daisy Essential Oil Diffuser, Quite Cool Mist Humidifier, 350 ml

How I Use Essential Oils for Sleep
Essential oils are now a solid part of my sleep routine. Before I hit the sack, I turn on my bedroom diffuser without second thought. The gentle humming sound of my diffuser eases me into sleep almost every night.
My all-time favorite essential oil for sleep is, of course, lavender! More essential oils that have sleep benefits include:
Bergamot
Cedarwood
Frankincense
Patchouli
Wild orange
Roman chamomile
Sandalwood
Vetiver
The reason why essential oils work boils down to the science of aromatherapy.
Aromatherapy refers to the field of alternative medicine that stimulates healing through scent.
Time and time again, aromatherapy has been found to heal various parts of the body.
This happens by the unique scents stimulating various parts of the brain that directly correspond to different limbs and organs.
Even when applied topically, the medicinal properties contained in essential oils travel through the skin and into the bloodstream. This grants relief for various ailments and conditions in the body.
6 Essential Oil Diffuser Blends for Sleep
These are the essential oil diffuser blends for sleep that I use on a nightly basis. I tend to stick to lavender + cedarwoord. But I also like to change things every now and then! Here's to the best sleep ever: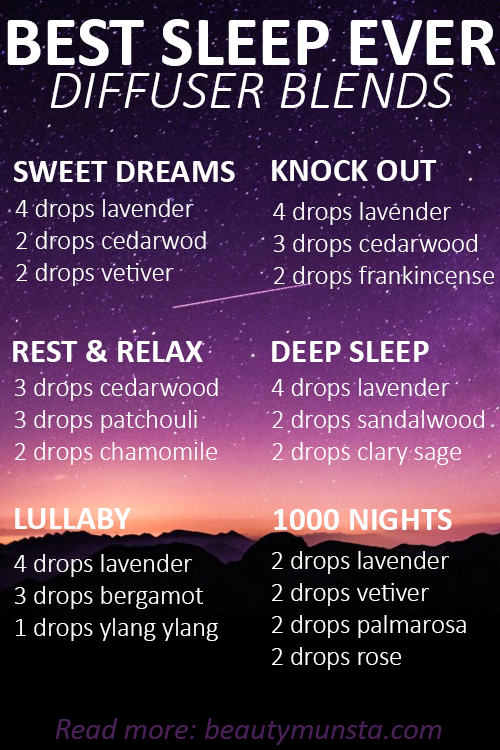 Sweet Dreams Essential Oil Diffuser Blend for Sleep
Knock Out Essential Oil Diffuser Blend for Sleep
Rest & Relax Essential Oil Diffuser Blend for Sleep
1000 Nights Essential Oil Diffuser Blend for Sleep
Lullaby Essential Oil Diffuser Blend for Sleep
Deep Sleep Essential Oil Diffuser Blend for Sleep
Other Ways to Improve the Quality of Your Sleep
In addition to essential oils, there are other tools that you can use just before bed to ensure restful sleep:
Take a relaxing salt bath with Epsom salts
Bed-time massage
Lavender pillow spritz
Sip on some chamomile tea to relax you before bed
Stay away from caffeine 3 -4 hours before bedtime