Make a DIY hair serum for oily hair using oils that won't grease up your hair but keep it healthy and looking luscious!
Even oily hair needs to be moisturized to keep sebum in balance. This DIY hair serum can regulate excess oil production and promote a healthy scalp and tresses!
Here are the ingredients we shall be using:
Grapeseed oil – Grapeseed oil is one of the lightest oils out there. It has a very thin consistency and is considered a 'dry' oil. This means, it won't leave a greasy feeling when applied. It is perfect for oily hair! It adds shine, moisturizes without adding extra greasiness and has a mild scent that won't affect how your serum smells.
Hemp seed oil – Just like grapeseed oil, hemp seed oil is also a 'dry' oil. It moistures your hair without adding a layer of greasiness on oily hair. It is also high in linoleic acid, just like grapeseed oil, which reduces excess oil production on the scalp.
Watermelon seed oil – This precious oil also has a light consistency. It's also filled with necessary nutrients that nourish hair and keep it looking silky, soft and smooth! It can be replaced with pomegranate seed oil or prickly pear oil!
Rosemary oil – Rosemary oil is a great essential oil for hair. It's well known to boost hair growth and reduce thinning hair. But it's also a natural astringent, which means it reduces excess oiliness.
Lemon oil – Lemon is of course an oil good for oily hair. Lemon juice itself is a natural astringent, so is lemon oil. It also has a nice fruity fragrance that blends well with rosemary and ylang ylang oil, two other oils we're using in this DIY hair serum for oily hair!
Ylang ylang oil – One of my favorite smelling oils, ylang ylang helps balance sebum production on the scalp. This prevents excess oil production. It also smells fantastic and heavenly!
Let's get onto the recipe:
DIY Hair Serum for Oily Hair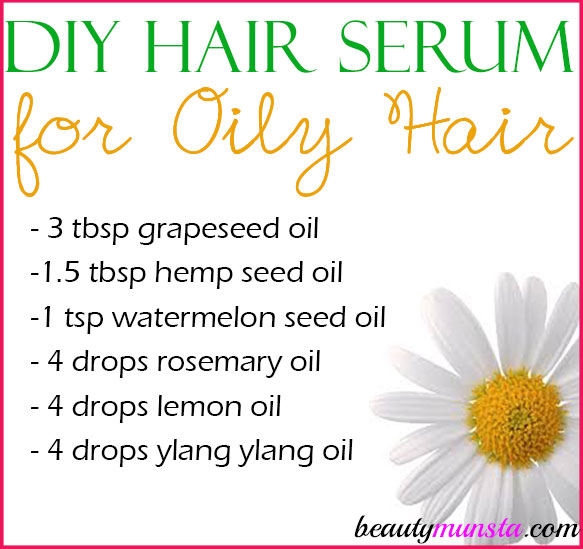 What you need
Directions
Using a small funnel, pour in the grapeseed oil, hemp oil and watermelon seed oil.
Next, carefully add the essential oils, drop by drop.
After adding all the ingredients, close the bottle and shake well to mix everything up.
Your DIY hair serum for oily hair is ready! Store in a cool dry place, away from sunlight.
Have fun using this DIY hair serum for oily hair and come share your results! xoxo