Want to boost your skin color within days? Use black seed oil for skin lightening for it is highly potent and many have used it with success!
The benefits of black seed oil for skin whitening cannot be overemphasized. Black seed, being an extremely rich source of vitamins A, C & E, antioxidants and fatty acids, may be ingested, which eventually reflects itself on your appearance by way of healthy, radiant and glowing skin.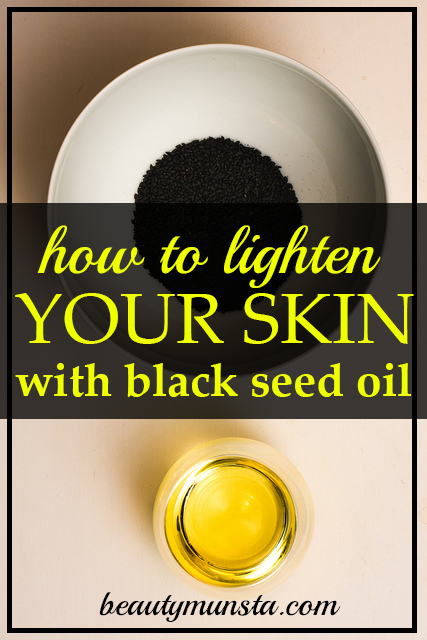 Why Use Black Seed Oil For Skin Lightening?
The nutrients contained in the black seed inhibit melanin production and enhance skin glow. Moreover, the amino acids and Vitamin A in the oil reduce dark spots and scars. Black seed's anti-inflammatory properties are also known to heal minor burn injuries while also strengthening your immune system. What's more, its antioxidant properties thwart cell membrane-damaging free radicals and also enhance cell regeneration and collagen production. The oil also contains Linoleic acid that hydrates the skin.
How Do You Use Black Seed Oil for Skin Lightening?
Black seed oil, when used for skin lightening purposes, yields the best results over a period of time – minimum 2 weeks. It doesn't happen overnight. Moreover, you need to keep in mind the following associated factors:
You must have a vitamin-rich diet that enhances collagen production.
Drink plenty of fluids, particularly water, to keep the skin hydrated from inside.
Regularly use sunscreen in outdoor conditions to prevent hyper pigmentation.
Regularly use any black seed oil-based face mask for at least 3-4 weeks.
Avoid chemicals-based creams of any sort, because they strip the skin of its natural moisture.
Cleanse your face regularly to remove any types of impurities.
Do a patch test before applying any black seed oil-based mask all over his/her face.
Best 4 Ways to Use Black Seed Oil For Skin Lightening:
One simple method of using black seed oil is to wash your face first and then massage the oil in a gentle, circular motion all over the face, before retiring at night. Black seed mixed with honey and ingested also leads to a healthy and glowing skin and takes care of other health ailments as well. However, to increase its effectiveness, you may blend some other innate ingredients with it. Here's how.
1. Black Seeds & Apple Cider Vinegar
Lightly roast black cumin seeds in a bowl, grind to a fine powder and mix it with equal amounts of black seed oil  and Apple Cider Vinegar. Apply all over the face and other affected areas of the skin and let it be for about 15-20 minutes. Rinse off with cold water. Apple cider vinegar is to be avoided if skin irritation occurs.
2. Honey & Black Seed Oil Face Mask
Blend honey with black seed oil in a bowl and apply all over the face after washing it first. If you don't have black seed oil, then roast black seeds in a bowl and grind them to a fine powder. Pour raw honey into it, make a paste and apply evenly all over your pre-washed face. Let it dry for about 20 minutes. Rinse off.
3. Black Seed Oil & Sesame Oil
The Vitamin E in sesame oil works as a sunscreen, while sesamol, which is also present in the oil has antioxidant properties that reduce fine lines and wrinkles. Take equal amounts of black seed oil and sesame oil and apply all over the face. However, first cleanse the area with a mild cleanser or water to eliminate any cosmetic creams or impurities and then pat dry. Let it dry naturally and wipe off with cotton wool or a soft cloth.
4. Black Seed Oil & Lemon Juice
Lemon juice, because of its acidic properties, has some bleaching qualities. However, its excessive use may make your skin extra sensitive to strong sunlight. Make a mixture of a few drops of lemon juice and black seed oil and then gently massage it all over your skin. Let it dry for 15-20 minutes and rinse off thoroughly with water.
Where to Buy Black Seed Oil
Make sure to purchase 100% pure black seed oil! Avoid oils that contain fillers and other substances. I recommend buying Amazing Herbs 100% Pure Cold-Pressed Black (Cumin) Seed Oil!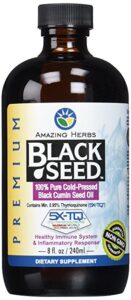 Before Using Black Seed Oil for Skin Lightening

A word of caution, though. Excessive use of black seed oil is known to cause problems for a few people. So patch testing is strongly advised before applying any such paste or mixture all over your face. It's also advisable to take proper advice on dosage when ingesting black seed oil. Even though this great natural remedy elevates overall skin conditions, you also need to change your current lifestyle, which includes avoiding smoking, cosmetic creams and alcohol intake also.