Do you know how to use castor oil for skin lightening? There are many ways to lighten your skin with castor oil, but here at beautymunsta.com, we share the best and most effective ways!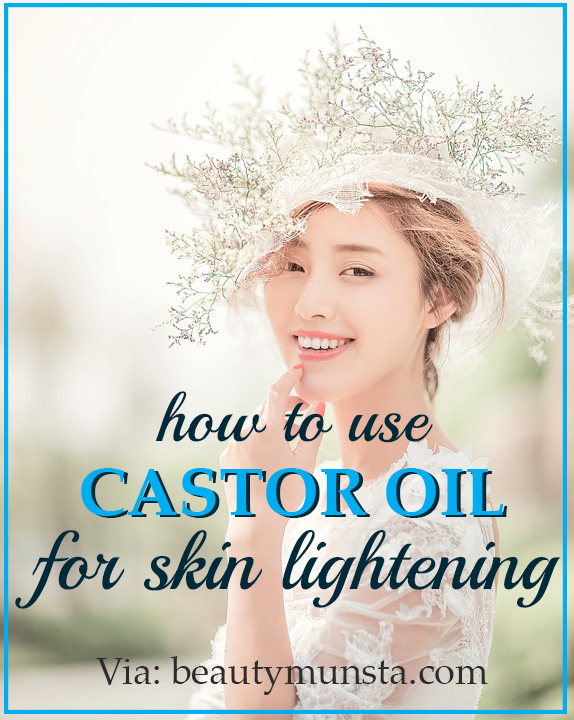 Since time immemorial, Castor oil has been known to be in existence. It has also been used widely both for medicinal and beauty purposes all over the world. Its use as a skin lightening agent too, has been established. This article is about the methods involved in using castor oil for skin lightening.
How Effective Is Castor Oil For Skin Whitening?

Castor Oil makes a significant difference in cases where excessive production of melanin in the body, harsh environmental factors and improper diet lead to dark patches or spots on the skin. It's a thick liquid, pale yellow in color and extracted from castor seeds. Moreover, it's rich in nutrients and essential vitamins that your skin requires and forms an essential ingredient in mixtures that enhance skin whitening by reducing pigmentation. However, regular and prolonged use of such mixtures is advisable to get the desired results.
Castor Oil is rich in Omega-3 fatty acids that reduce pigmentation magically because fatty acids stimulate growth of new healthy skin cells, hydrate the skin and make it supple. Furthermore, Omega-3 fatty acids enhance skin elasticity and help avoid premature dermatological wrinkling. The oil also creates a protective shield on the skin to ward off harmful ultra violet rays. Ricinoleic acid is one such vital ingredient in Castor Oil that gradually removes dark spots and patches, making the skin scar free.
The oil is also known to have powerful anti-inflammatory, antibacterial and antiseptic qualities and its application helps avoid bacterial infection and other skin ailments. Its vitamin content too, aids in toning up the skin, making it firmer while its excellent cleansing abilities eliminate pollutants and impurities from the skin also.
How to Use Castor Oil for Skin Whitening?
The moot question that now arises is: How does one use this oil to get the best results? It pays to remember first that your treatment based on Castor Oil won't work overnight. It takes certain suitable ingredients to be mixed with the oil and time to yield the desired results. The following Castor Oil-based cosmetics are known to yield some great results:
1. Castor Oil & Turmeric Pack

Turmeric is known to contain Curcumin, a vital enzyme with proven beauty benefits. It inhibits melanin production and lightens dark spots. Take one teaspoon of Castor Oil and mix it with half a teaspoon of turmeric powder. Apply the paste on your face after washing it first in a circular motion. Let it dry and wash off with cold water. This is one of the best masks using castor oil for skin lightening.
2. Plain Castor Oil Application For Pigmentation
First wash your face thoroughly to eliminate all impurities and pat dry. Take one teaspoon of Castor Oil and massage it on the face in circular motion. Let it dry for about 20 minutes. Wash it off and pat dry with a soft cloth. Best done before going to bed or first thing in the morning. However, those having oily skin must avoid using the oil excessively.
3. Lemon juice, Honey & Castor Oil
Plain lemon juice acts as a skin bleaching agent that whitens the skin as it curbs excessive melanin production while also shrinking the larger skin pores. Honey moisturizes, cleanses and heals damaged skin with its antioxidant properties. Take one teaspoon castor oil, ½ teaspoon lemon juice and one teaspoon raw honey and apply to the face after washing it. Let it remain for about 20 minutes and rinse off.
4. Vitamin E & Castor Oil Mixture
Vitamin E is known to prevent dermatological damage and reduces oxidative stress. It also thwarts free radicals to make the skin supple. So pierce one vitamin E capsule and squeeze out the fluid and mix it with one teaspoon of Castor Oil thoroughly. Gently massage this mixture on the face, leaving it to naturally dry for about 15 minutes and rinse off.
5. Gauze & Castor Oil
Make your skin glow with this thin fabric. Dab it with the oil and apply generously on the face. After lightly wrapping the gauze with a cling film, leave it on the face for a couple of minutes and peel off. This is a once-in-a-fortnight remedy.
6. Castor Oil with Potato
Potato contains the catecholase enzyme that reduces dark spots and scars. Moreover, it also contains Vitamin C, zinc and magnesium that promote collagen production to reduce wrinkles. Mix 2 teaspoons of potato juice with two teaspoonfuls of castor oil and 1 teaspoon of oatmeal powder. Apply this paste on the face and kept for about 20 minutes. Rinse off with cold water subsequently.
7. Castor Oil & Aloe Vera Gel
Aloe Vera contains gibberellins that reduce dark spots and scars. It also rejuvenates skin cells, hydrates them and improves blood circulation. Aloe gel may be mixed with castor at a 1:1 ration and applied as a mask, avoiding the eye region. Rinse off after about 20 minutes.
8. Castor Oil & Almond Oil
One tablespoon of castor oil may be mixed with two 2 tablespoons of almond oil and applied to the face after washing and patting dry. Let it sit for 10 – 15 minutes before blotting it off with facial tissue.
9. Castor Oil & Tea Tree Oil
Tea Tree oil is known for its antiseptic properties. Less known is that tea tree oil also removes pigmentation. One tablespoon of jojoba oil may be mixed with ½ tablespoon of castor oil with 4 drops of tea tree oil mixed in. Apply it to the face after washing and patting it dry. Leave it for a while, rinsing off subsequently.
Caution
None of the above treatments should be used if you are allergic to any one of the ingredients. To make sure you have no adverse reactions, please do a patch test for 12 – 24 hours. To do a patch test, just apply a small swab of the ingredient onto your inner elbow and wait for any irritation, redness or itching. If you have any such signs, you must avoid the treatment.
Where to Buy Castor Oil
Always look for 100% pure quality castor oil without additives. I love Now Foods 100% Pure Castor Oil. It comes in an 16 oz bottle clear bottle.

How are you planning on using castor oil for skin lightening? Share your thoughts below!