Learn how to use essential oils for under eye wrinkles with 5 DIY recipes!
Have you ever noticed that the skin under and around your eyes is thinner than the skin of your cheeks/ other facial areas? This thin and sensitive skin is one of the first areas affected by aging: in the form of saggy bags and under eye wrinkles, as mature skin loses its natural elasticity and suppleness.
Today, we're going to be talking about how to use essential oils for under eye wrinkles through 5 most effective and exciting essential oil recipes! You can print out the recipes below, share with your loved ones or simply pin the image below for future reference. Have fun making your own wrinkle-smoothing products!
How to Use Essential Oils for Under Eye Wrinkles
Before we look at these 4 effective essential oil recipes for under eye wrinkles, I must warn you to be careful not to get any of them into your eyes. If you do, first step: stay calm – your eyes will be fine (they'll just sting and get irritated), second step: gently rinse the eye(s) with full fat milk or fractionated coconut oil – not water.
The logic behind this is that essential oils are hydrophobic meaning they are repelled by water and attracted to fat instead. So if you wash your eyes with full fat milk, the essential oils will cling to the fats and get away from your delicate eye.
Now, moving on to the exciting recipes! Here's to youthful under eye skin! 😉
Simply choose one of the essential oil recipes below and use it, preferably at night time – which is when the skin repairs itself, to smooth out under eye wrinkles and prevent fine lines!
5 Effective Essential Oil Recipes for Under Eye Wrinkles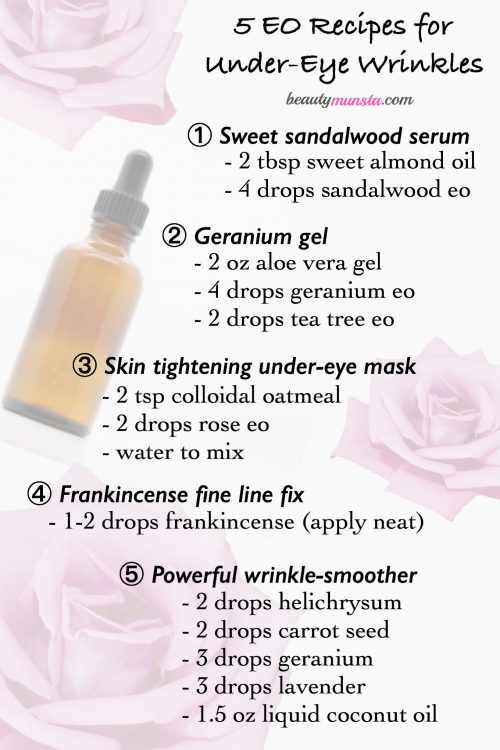 1. Powerful Wrinkle-Smoother
What you need
– 2 drops helichrysum essential oil
– 2 drops carrot seed essential oil
– 3 drops geranium essential oil
– 3 drops lavender essential oil
– 1.5 oz liquid coconut oil
Directions
Add all ingredients to a 2 oz amber glass dropper bottle. Roll the bottle gently between your palms to mix the oils. To use, apply a drop under each eye before bed.
2. Sweet Sandalwood Serum
What you need
– 2 tbsp sweet almond oil
– 4 drops sandalwood essential oil
Directions
Add the above ingredients in a 1 oz small amber glass dropper bottle. Swirl gently between your palms to combine. To use, place a drop on your finger tip and carefully smooth over your under eye wrinkles.
3. Frankincense Fine Line Fix
What you need
– 1-2 drops of frankincense essential oil
Directions
Before bed, gently dab a drop or two of frankincense essential oil on your under eye wrinkles using your clean index finger. Leave it on overnight.
4. Geranium Gel
What you need
– 2 oz pure aloe vera gel
– 4 drops geranium essential oil
– 2 drops tea tree essential oil
Directions
Place the aloe vera in a small sterilized amber glass container, add the essential oils and stir well using a spatula. Your geranium under eye gel is ready! Store in a cool dark place as aloe vera + essential oils change with light exposure. To use, smooth a pea-sized amount on your under eye area.
5. Skin Tightening Under Eye Mask
What you need
– 2 tsp colloidal oatmeal
– 2 drops rose essential oil
– Enough water
Directions
Add the colloidal oatmeal and rose essential oil in a small dish. Now add just a little water to make a paste. Using clean fingertips, apply this mask under your eyes. Leave it on for 5 minutes. Make sure not to make any faces or talk during this time. To remove the mask, wring a soft washcloth in warm water and dab gently on the dried mask to soften it before wiping it off.
Take Care
Please note that essential oils are very powerful so a little goes a long way. Do not add too many drops and always dilute with a carrier oil before use. Always dilute first with a carrier oil (1 drop of essential oil in 1 tsp of carrier oil). For more info read: How to Dilute Essential Oils. Some essential oils can be used undiluted for example frankincense or lavender essential oils but even then, please be careful as you don't want it to go into your eyes and sting.
Keep essential oils away from children and pets.
Please avoid essential oils if you are pregnant or nursing.
If you have any serious/chronic health conditions, consult a doctor before using essential oils.