Discover 10 best essential oils to soothe shingles itch, rashes and nerve pain!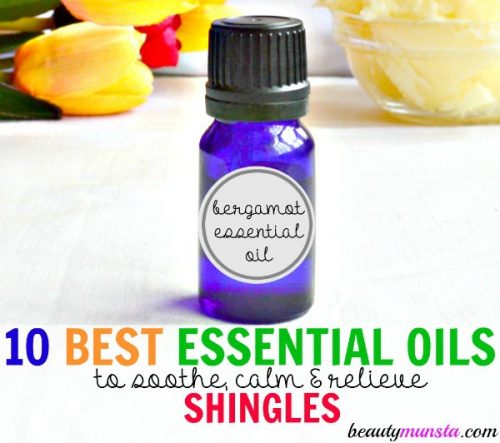 Shingles – Causes, Symptoms & Cures
Shingles is a skin condition caused by the varicella zoster virus, which causes painful inflamed rashes to appear on any part of the body, commonly one side of the abdomen and face. There are many causes of shingles but stress & fatigue are the most common causes for shingles. Symptoms of shingles include: sensitivity to touch & light, painful, burning, itchy skin with numbness, inflamed red rash, fluid or pus-filled blisters, fever, headache and others.
Using Emotional Healing to Cure Shingles
Since shingles is majorly caused by stress & fatigue, you can easily find a cure through emotional healing. Find out more by clicking on the image to go to the post.
Natural Cure: 10 Best Essential Oils for Shingles Itch, Rash & Nerve Pain
The essential oils listed below have powerful anti-viral, anti-bacterial, anti-inflammatory, antispasmodic, anesthetic, analgesic and even anti-depressant properties (work in improving mood & fighting stress-related shingles) that help naturally relieve itchy, painful and inflamed shingles.
1. Tea Tree Essential Oil
Tea tree's powerful antiviral properties help naturally heal shingles and its anesthetic properties reduce pain normally associates with shingles. It also has antibacterial and antiseptic properties that prevent further infection. You can apply a few drops of tea tree essential oil neat onto the affected areas or if you have sensitive skin, try diluting it first in a base cream/lotion/carrier oil.
2. Lavender Essential Oil
Lavender essential oil has a skin soothing effect that makes it effective in treating a number of skin ailments including eczema, psoriasis, rosacea and shingles. The word lavender comes from the Latin work lavare which means 'to wash'. Use about 5-7 drops of lavender essential oil mixed in unscented liquid castile soap to gently cleanse and purify shingles rashes.
3. Geranium Essential Oil
Extracted from the leaves of the Pelargonium Odorantissium plant, rose geranium essential oil is a natural and quick remedy for nerve pain. Mix 10 drops diluted in 10 ml of fractionated coconut oil to help relieve shingles nerve pain. It also soothes and moisturizes dry itchy and scaly shingles.
4. Clove Essential Oil
A potent anti-fungal, antiseptic, antibacterial and anti-inflammatory, clove essential oil is among the most powerful essential oils for shingles. One of its main components, eugenol has strong anti-pain properties that help relieve a myriad of painful conditions from toothaches to shingles nerve pain.
5. Oregano Essential Oil
Oregano essential oil is effective in treating toenail fungus, eczema, psoriasis and acne but it's also potent against shingles. It has anti-fungal and antiviral properties help beat the itch while its anti-inflammatory properties soothe inflamed skin. It can be used combined with thyme essential oil and a carrier oil of choice and applied to the bottom of feet and along the spine to help fight the shingles virus.
6. Peppermint Essential Oil
Thinking of peppermint essential oil, reminds me of its cooling properties that can help calm skin inflammations and irritations of all sorts. Menthol is the cooling agent in peppermint essential oil and helps soothe and calm shingles rashes and itch. It also provides a very quick relief from shingles nerve pain and PHN symptoms.
7. Lemon Balm Essential Oil
Lemon balm essential oil is known to completely reduce the appearance of herpes simplex lesions hence it can also be used to improve shingles. Its antiviral, anti-inflammatory and antispasmodic properties help relieve shingles itch, rashes and nerve pain.
8. Ravensara Essential Oil
There is much confusion between ravensara and ravintsara essential oils and which of them is actually more effective for shingles. Ravensara essential oil is the most effective essential oil for shingles due to its powerful antiviral properties. Distilled from the leaves of the Ravensara aromatica Sonnerat tree, ravensara essential oil has successfully been used to treat all forms of herpes, including shingles. Taking in a capsule form (7 drops in one capsule) once in the morning and once at night helps with pain and discomfort.
9. Bergamot Essential Oil
Obtained from the peel of bergamot oranges, bergamot essential oil is known to be very effective against herpes and applying it immediately onto the breakout can keep it from spreading. Bergamot essential oil also has a strong antibacterial effect on shingles and chicken pox, both caused by the varicella zoster virus.
10. Chamomile Essential Oil
German chamomile essential oil is best known for its skin soothing and calming properties which will take care of itchy and inflamed shingles rashes. Combining a few drops of chamomile and lavender in St. John's wort-infused oil (to make, place a handful of the dried herb in olive oil and let it steep in direct sunlight for 2-3 weeks) is said to be effective as a topical treatment to soothe postherpetic pain.
Take Care
Please consult your doctor before using essential oils for shingles internally and externally. Also be sure to use a patch test on your inner wrist or elbow to check that you are not allergic to any of the above essential oils.
If you are pregnant or nursing and would like to use essential oils for shingles, please first consult your medical practitioner as most essential oils are not safe for pregnancy and new born babies.
People suffering from asthma, hypertension, epilepsy and any other severe/chronic condition must consult a doctor before using essential oils for shingles.
Always dilute essential oils in a carrier oil or base cream/lotion (2 drops of essential oil in 1 tsp of carrier oil) before applying them onto your skin to avoid further skin irritation. For more info read: How to Dilute Essential Oils