When experiencing hair loss, hair shedding or thin and weak hair, immediately look at what you're eating because food greatly affects hair health. A balanced diet containing healthy fats, sea food, grass fed meats, nuts & seeds, free range milk & eggs promotes healthy hair while a diet rich in processed flours, refined sugars and store-bought food may contribute to poor hair health. If you change your nutrition as soon as you notice hair fall, then you can easily have thicker and stronger hair that is less prone to breakage and hair loss within a year or even sooner depending on how fast your hair grows! Below are 10 powerful superfoods for hair regrowth. Add these to your diet and soon you'll have a healthy head of hair!
Eat Your Way to Longer, Thicker & Stronger Hair! Top Superfoods for Hair Regrowth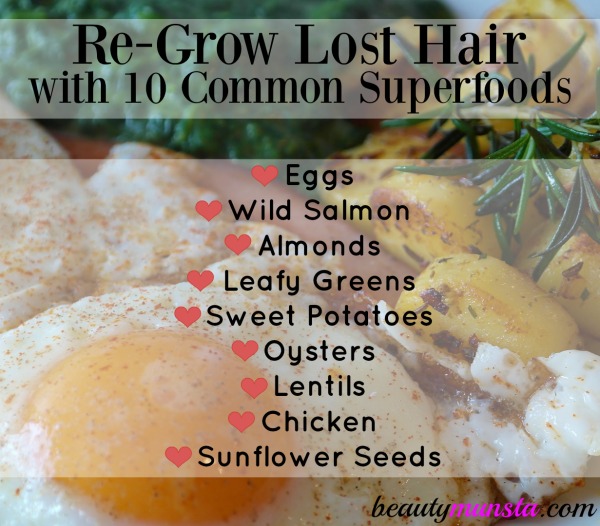 1. Eggs
Eggs top the list because they are loaded with biotin, a type of B-vitamin that is highly touted for promoting gorgeous hair. However, as biotin can be produced by our bodies, you do not need to take a lot of it so steer clear of biotin supplements with lofty claims such as curing balding, etc. Eggs also contain sulfur and protein, two minerals that also make up our hair strands. Eat an egg a day (preferably free range) for stronger and shinier locks!
2. Leafy Greens
When I was younger, my mom had a vegetable patch that was exclusively for leafy greens. Those plants were so resistant that they survived even the most brutal pest attacks. That being said, leafy greens were always part of our lunch menu and I hate to admit that I almost always found a way of trashing the bitter greens when no one was looking! Nowadays I always try to include these antioxidant-rich superfoods that are loaded with hair-boosting nutrients. Leafy greens are not always green: also include the pink variety of these leafy vegetables, said to purify the blood of harmful toxins that are a cause of hair loss.
3. Salmon
Wild salmon is rich in b-vitamins that are necessary for good hair health. They are bursting with omega 3 fatty acids that are found in many fatty fish. These nutrients not only help regrow lost hair but also make it grow stronger and shinier. It also contains vitamin D and protein, which are both necessary for beautiful hair.
4. Almonds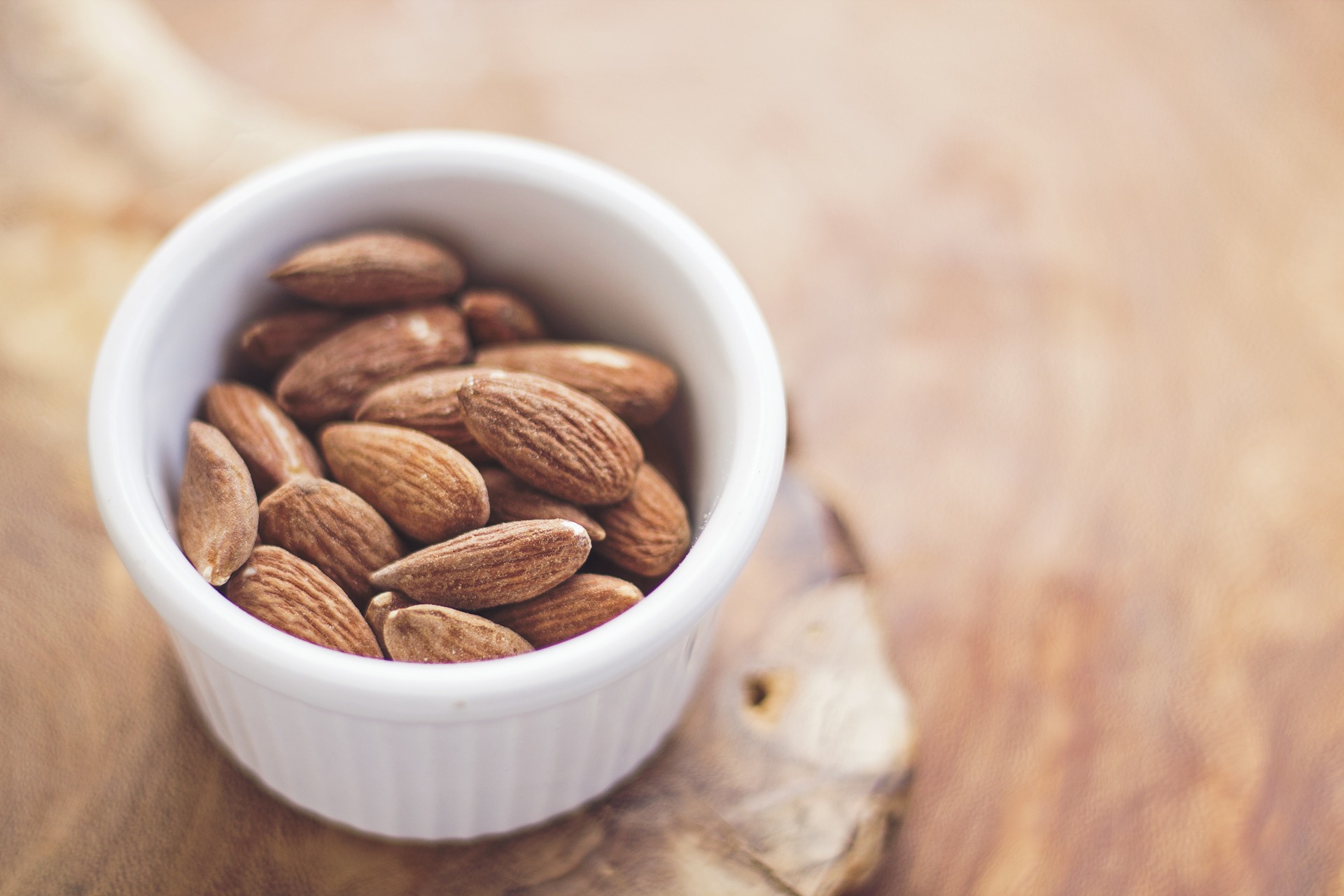 Out of all the nuts, almonds (where to buy) are the best superfoods for hair regrowth! Eating almonds has a significant impact in promoting hair growth and helping regrow lost hair. This crunchy nut is rich in omega fatty acids, vitamin E and biotin which not only promote beautiful, strong long hair but also glowing skin and healthy nails.
5. Sweet Potatoes
Rich in beta carotene that gives many vegetables and fruits their yellow/orange color, sweet potatoes are a sweet way to get your daily hair growth boosting nutrition. Beta carotene is converted into vitamin A in our bodies. Vitamin A is necessary for cell growth and regeneration including hair cells that's why it's an important nutrient for healthy hair. Deficiency not only leads to dry and brittle hair but also causes dandruff. However, as with anything, excess is a bad thing. Too much vitamin A can actually lead to hair loss so steer clear of vitamin A supplements and instead eat foods like sweet potatoes that contain a healthy amount of vitamin A for beautiful hair and an overall healthy body! I most often than not have steamed sweet potatoes for lunch and it's very tasty all on its own!
6. Oysters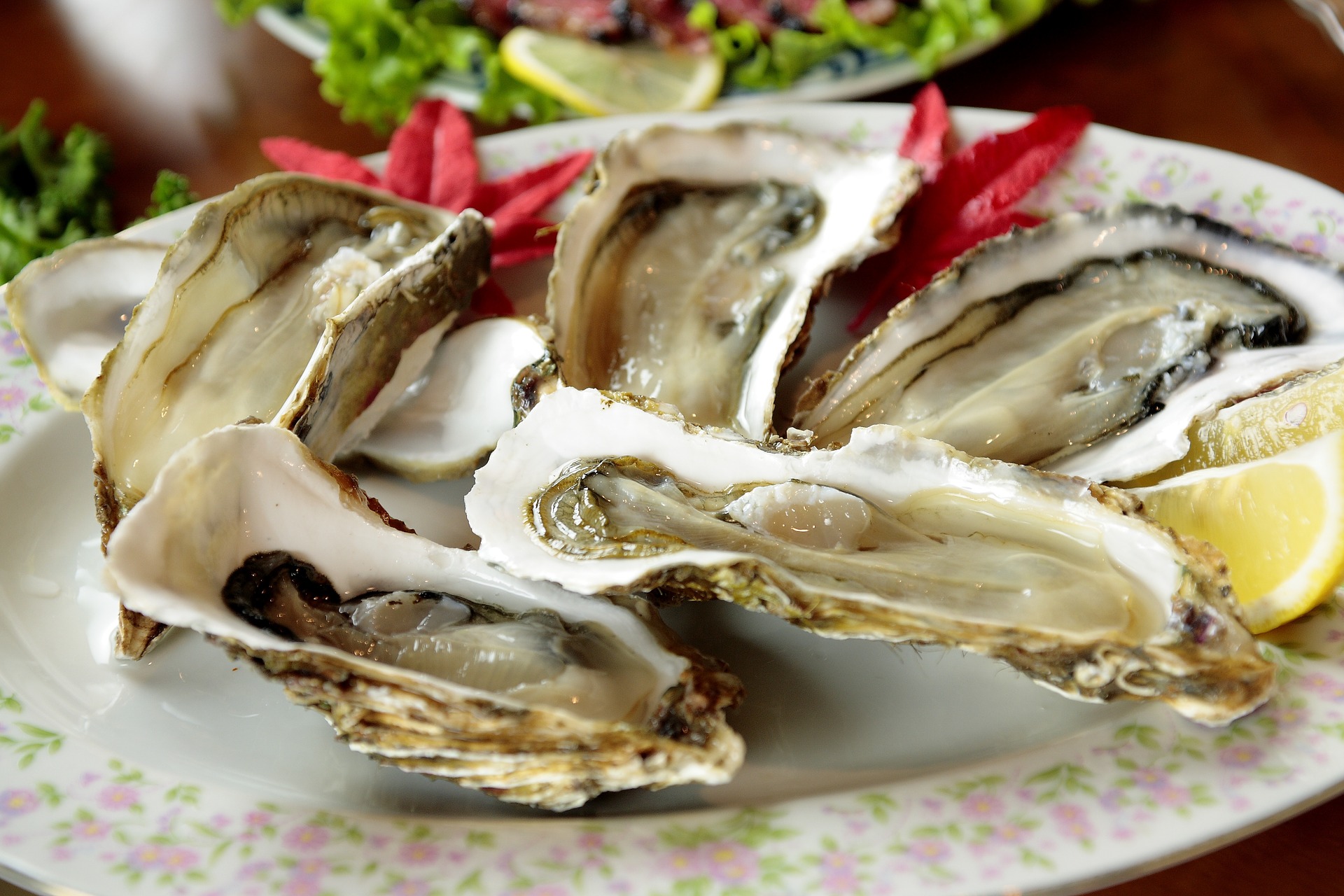 What makes oysters so good for regrowing lost hair is their high zinc content. Zinc is necessary for tissue repair and growth, which includes repairing damaged hair and promoting hair growth. Low levels of zinc can actually cause rapid hair loss, thinning hair, stunted hair growth and itchy scalp issues coupled with dandruff. Eat zinc to also keep your scalp and hair well moisturized due to its scalp sebum balancing properties.
7. Sunflower Seeds
Sunflower seeds (where to buy) are rich in vitamin E, also known as the skin and hair vitamin. Vitamin E plays a big part in promoting glowing skin, luscious hair and shiny nails. Throw in a few of roasted sun flower seeds into your salads or snack on a handful of salted sunflower seeds every time you get those salt cravings.
8. Chicken
When buying chicken, always look for free range or local because factory chicken is injected with growth hormones that have been said to cause a variety of problems including early menopause and painful periods. Chicken is rich in selenium, iron, protein and other hair supporters that protect hair from easy breakage and damage, while helping regrow lost hair.
9. Lentils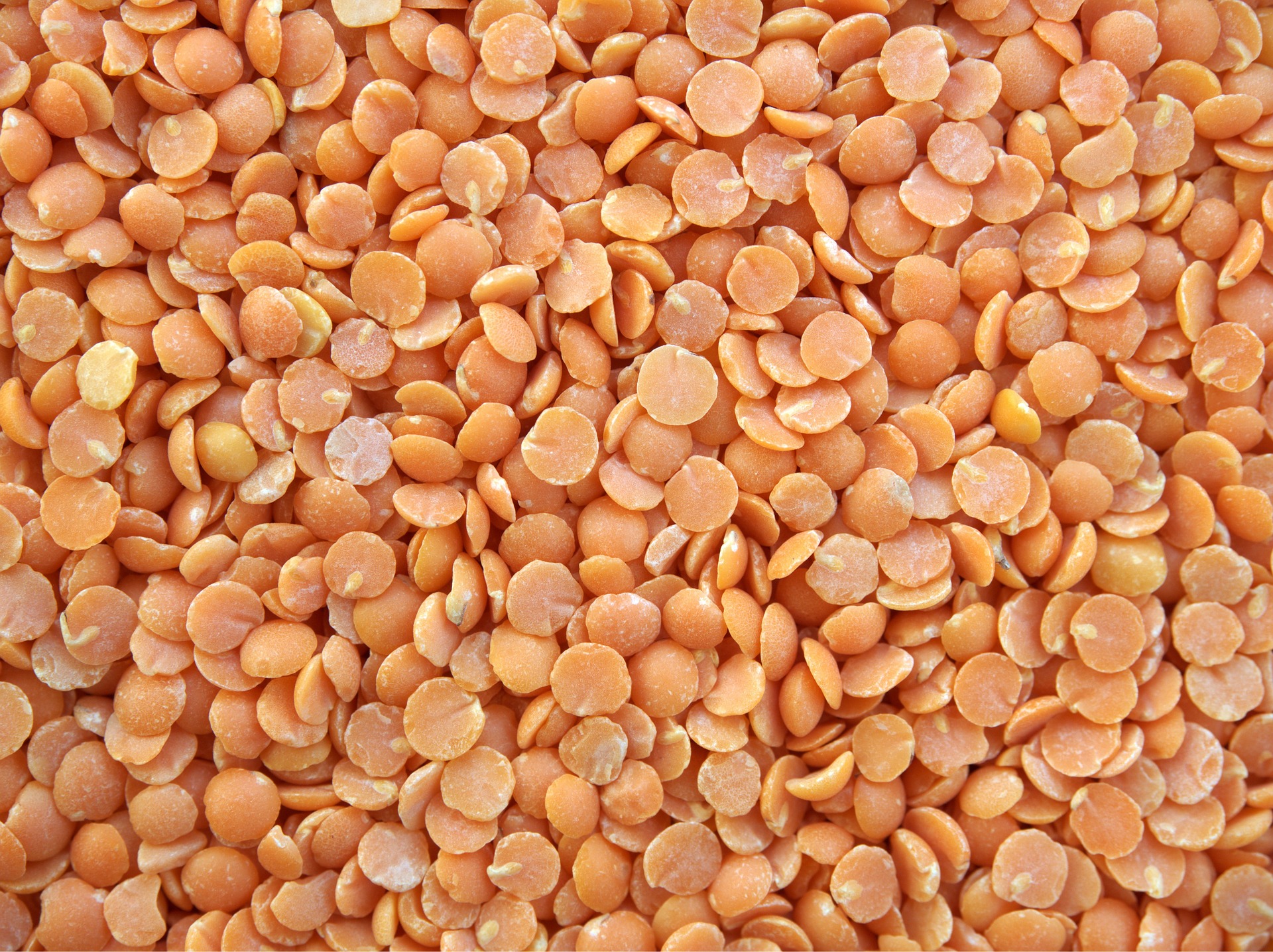 If you're vegetarian or vegan and can't have diary or meats, then load your plate with lentils that are contain high levels of iron-rich protein. Plant foods which contain iron are known as non-heme iron. Since heme-iron (animal foods containing iron) is actually more easily absorbed by the body than non-heme iron, it's important for vegans to eat a lot of iron-rich plant foods to get their daily requirement of iron. Deficiency in iron is one major cause of hair loss in menstruating women and many vegans also suffer from dry, brittle and thinning hair because of lack of iron. Check out my warm and comforting sweet lentil porridge recipe! As a matter of fact, I'm going to have it tonight for a nutritious dinner! 😉
10. Spinach
Last but not least on this list is spinach! Brimming with vitamin A, C as well as iron and calcium, spinach is a winner when it comes to promoting strong, long and healthy hair while helping regrow lost hair and batch patches.
Note: If eating iron-rich plant foods (non-heme iron) such as spinach and lentils, ensure to also eat vitamin C-rich foods on the same plate because vitamin C improves the body's ability to absorb non-heme iron. A good way to combine these two nutrients is in a spinach salad: toss in a few slices of oranges or squeeze in a lemon. Don't forget to also add in some sunflower seeds and almonds for that extra crunch and of course, added hair growth boosting nutrients!