This is not just another trendy new superfood. If you get to know these bone marrow soup health benefits, you will never go another day without it!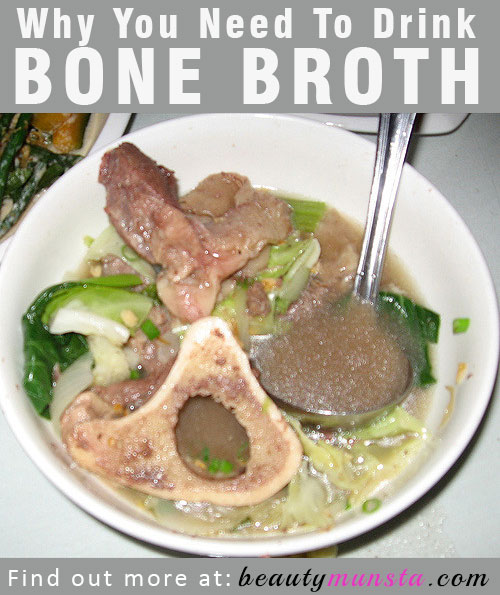 What is Bone Marrow?
Bone marrow is the soft, gelatin-rich, fatty material found inside large animal bones, such as the hip and thigh bones. It is a delicacy in many cuisines, especially in the Asian region. Bone marrow is rarely eaten alone, but rather eaten as part of the dish. Bone marrow is also collected and used as a spread on other foods or in sauces.
There are 2 types of bone marrow – the red marrow (found inside the top spongy part of the bone) and the yellow marrow (found within the centers of the bones). Both these marrows are important and can be benefited from when they are made into soup.
The bone marrow performs important tasks in our body. It is where stem cells are found. These are some of the functions of bone marrow:
It produces red blood cells (the nutrient transporters), white blood cells (fighter cells) and platelets (the blood clotters) in the body.
Transforms stem cells into essential cells needed by the body
It houses mesenchymal and hematopoietic stem cells
Responsible for renewing old cells by replacing them with new copies
Helps in destroying and eliminating old cells
Help in producing lymphatic cells
Generating different types of mature cells
Act as a storage for fats
Enable the proper function of bones
As you can see, bone marrow plays such a pivotal role in the proper functioning of life. It's no wonder that when we consume it, we gain such a range of benefits, including healing of life-threatening diseases such as cancer.
What is Bone Marrow Soup?
Many holistic doctors prescribe bone marrow in the form of bone broth to their cancer and chronic disease patients. It's not common to find soup containing bone marrow alone as it is inconvenient to collect only the marrow from bones. Instead you will be able to enjoy the benefits of bone marrow by taking bone broth. Bone broth is made by cooking the entire bones, not just bone marrow alone, in water and vegetable stock. Besides, half of the marrow (red marrow) is found deep within the bones and can only be available to us if we make a stock out of them.
Bone Marrow Soup Health Benefits
Rebuild the body
Nutrients found in bone marrow, like collagen, can help the body to rebuild and regenerate itself.
Prevent premature aging
Bone marrow contains powerful antioxidants like glutathione, which help prevent premature aging, including premature wrinkles and grey hair.
Improves beauty
Bone marrow soup contains essential nutrients that help promote beautiful, supple skin; thick, shiny hair and strong healthy nails.
Read more: Beauty Benefits of Bone Broth
Promoting easier digestion
Nutrients in bone marrow are bioavailable and easily absorbed, with much less work for the digestive system. It also strengthens the digestive system enabling it to perform its work easier.
Heals the gut
Bone marrow soup can help heal gut related ailments like irritable bowel syndrome, celiac disease, gluten intolerance and leaky gut syndrome.
Boost immune system
Bone marrow can help boost the immune system and promote health and vitality.
Fight cancer
In cancer patients whose white blood cells have been destroyed by radiation, bone marrow soup is found to replenish and regenerate these important cells at a faster level.
Read more: Bone Broth and Cancer
Heals rheumatoid arthritis
Studies have proved that bone broth helps reduce arthritic pain, reduce inflammation in the body and help promote healthy joints. It is very helpful for patients with rheumatoid arthritis
Read more: Bone broth and Rheumatoid Arthritis
Save