Ancient civilizations knew the benefits of bone broth for babies, and there could be nothing more healing, nourishing, safe and easy-to-digest as bone broth as a first food for babies!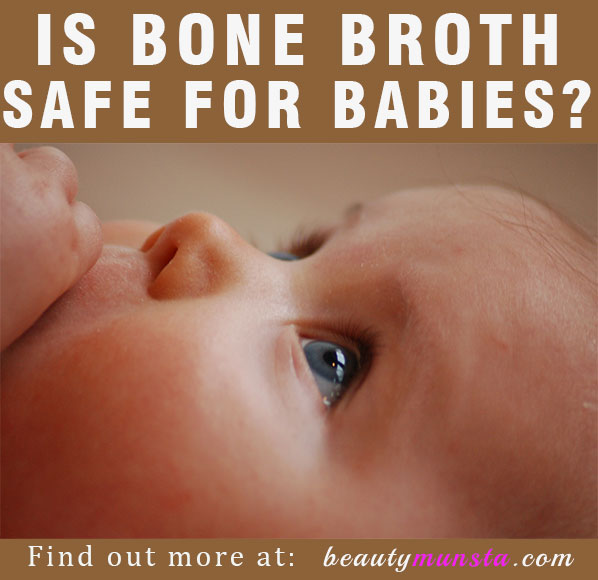 What is Bone Broth?
Bone broth is simply a soup made from beef, chicken, fish or goat bones and water. Vegetables such as carrots, celery and zucchini may also be added to the broth. It is often lightly spiced with garlic, ginger, cumin and pepper.
Bone broth is rich in many nutrients, minerals and vitamins, unlike any other food in the world. Some of the nutrients in bone broth such as gelatin and collagen just can't be found in other foods that are often offered to babies.
Bone broth is often cooked for long hours (6 – 48 hours) to get all the minerals and nutrients out of the bones. But with modern advancements, bone broth can be made in a pressure cooker in as little as 1 – 2 hours!
Read More: Pressure Cooker Bone Broth Recipe – The Only Bone Broth Recipe You'll Every Need!
Bone Broth for Babies | A Cry for Nourishment
It's not the crunchy mamas who are crazy about giving their 6 month olds bone broth as one of their first foods. Bone broth has been given as food for babies as young as 4 months old since the time of ancient civilizations.
In fact, before the agricultural revolution, man was mostly a hunter-gatherer. Grains were not even discovered by then, let alone cultivated. Man mostly lived on animal meat that he hunted and brought back to the settlement by himself. Foraging for food in the forests, also known as gathering, also took place and mostly wild berries, edible leaves and roots were collected and consumed.
So what were babies fed with? Not pureed white rice, that's for sure! Babies were exclusively breastfed, at least until the age of 2 and extended breastfeeding (between the ages of 2 – 7) was not unheard of. If a mother was unable to breastfeed her child for whatever reason, a foster mother within the community was assigned to be a milk mother for the baby. While breastmilk was the primary source of sustenance for babies back then, they were also fed with another powerful food – bone broth, of course.
Unlike us, who casually disregard and throw away the bones after having a meal, back in the day, every little scrap of food was made use of. After a meaty meal, the bones would be collected, roasted and saved to be made into a rich wholesome broth that was cooked for many hours using a firewood stove.
The resulting broth was thick, gelatinous and rich in so many precious nutrients that help build strong, healthy generations.
What Makes Bone Broth a Great First Food for Babies?
1. Bioavailability
The nutrients in bone broth are more bioavailable to us as compared to nutrients from other foods such as grains and legumes. Cooking bone broth for long hours also makes the nutrients in bone broth more bioavailable and therefore easily absorbed and benefited from.
2. Easy to digest
Babies have young and still-developing digestive systems which find it difficult to digest most foods that adults eat. This makes them more prone to missing out on crucial nutrients like iron, which are not found in breastmilk. Bone broth is a great nutritious food that's easy to digest for babies.
3. Nutrient-dense
Most babies are fussy eaters and won't take more than 4 bites of a solid food/puree. You may be worried about your baby getting enough nutrients and calories. In such cases, it's so reassuring to a mother if the 4 spoonfuls you manage to get in your baby's mouth are of bone broth, since it is nutrient- dense and nourishing.
4. Prebiotic
The good bacteria/flora in a baby's gut have not yet been established – this is one of the reasons why probiotics like yogurt and kefir are encouraged as a baby's first food. Bone broth is a wonderful PRE-biotic. This means it is a great food that good bacteria in the gut love and will use to multiply and populate the lower intestines. A good balance of gut flora is essential to the baby's mental development, too.
Is Bone Broth Safe for Babies?
Bone broth is generally considered safe for babies above 6 months of age.
Why You Need to Be Giving Your Baby Bone Broth
1. Seals the baby's open gut
From between 6 – 18 months, babies have 'open' guts, or guts that are still semi-permeable where food particles can get across from the intestinal walls into the blood stream. While open guts close on their own, bone broth is an amazing healer that seals your baby's gut and strengthens the digestive system.
2. Boosts immunity
Until the age of 2, a baby's immune system is operating at half the level of an adult. This makes them more susceptible to diseases and makes it more difficult for them to recover from illnesses. While it can take an adult 3 days to recover from a common cold, it can take babies upto 10 days to recover. Bone broth contains essential nutrients that help build and support a baby's young immune system.
3. Builds the body
Bone broth is rich in many nutrients including protein, which is the building block of the body. Nutrients such as gelatin and collagen help build new cells in the body and help support the rapid growth the joints, bones and organ's in the baby's body.
Caution When Giving Babies Bone Broth
As with any first food, you may find your baby rejecting bone broth during the first try. Your baby may turn their face away, crinkle their nose, spit it back out or even gag. Don't force it on them. Just try again next time and within 3 – 5 tries, they'll start accepting it.
If you notice any change in the baby's stool consistency along with diaper rash, or fever, you may want to stop the bone broth, or any other first food, and see if the rash improves. Give it a break of 2 weeks before introducing the broth again.
Save