Bone broth is the new health trend of the year and everyone, including celebrities, seems to be forcing it down our throats. But are you aware of the dangers of bone broth? Here are 3 reasons you should STOP drinking bone broth now.
Yes, bone broth is a highly healing, nutritious, wholesome "elixir" for prime health. It has been consumed since ancient times. It contains antioxidants that help slow down aging and keep you youthful. Bone broth is even prescribed for cancer patients and those with degenerative joint problems.
But most of us are doing it all wrong! These are the 3 main reasons you may be better off without bone broth and why drinking bone broth could be sabotaging your health, instead!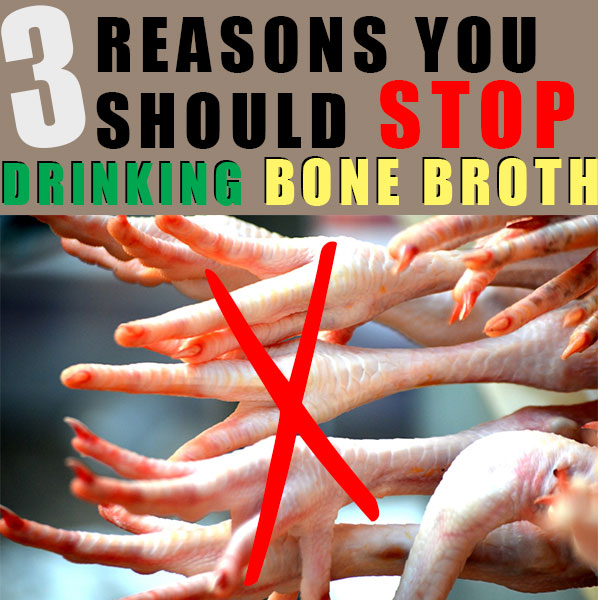 The Dangers of Bone Broth and How You Can Avoid Them

STOP DRINKING BONE BROTH IF:
1. You use factory farmed GMO animals to make bone broth
Stop. Just stop. By drinking bone broth from factory-farmed animals, you are doing more harm than good. You are essentially loading up your body with more heavy metals, pesticides and toxins. You are better off without drinking bone broth!
Did you know that factory-farmed cows have probably never eaten grass their entire lives. They are also fed with GMO corn and other produce.
Furthermore, factory farmed livestock are GMO's (Genetically Modified Organisms). Dairy cows, which normally produce only up to 9 liters of milk a day, have been bred and modified, injected with hormones in order to produce up to 60 liters a day!
These animals are tortured, exhausted, crammed into filthy dark sheds with no space to move. In order to prevent disease in such filthy stressful conditions, the animals are doused with powerful antibiotics, on a daily basis.
If all this is shocking to you, you need to watch this:
If Slaughterhouses Had Glass Walls
The bottom line? If you drink bone broth from these poor, tortured animals, all the toxins, heavy metals and artificial hormones lodged within their bodies are basically being passed on to you. In the long term, this could be very, very dangerous to your health.
Drink bone broth if:
You use bones from organic, pasture-raised, grass-fed animals that are reared in a humane manner.
2. You use toxic cooking utensils to prepare your bone broth
Most of our cookware today is mostly made of aluminum and the ever-popular non-skin or Teflon.
Aluminum is a heavy metal that is toxic for your brain and your neurological system. Non-stick (don't even get me started on this one) has pervaded our kitchens to such a level that we can't imagine cooking without one. The fumes released from Teflon when it is heated, actually KILLS pet birds in seconds, and is harmful to humans as well. It is a hormone disrupter, causes inflammation of the liver and cripples the immune system.
When you cook bone broth for hours on end in toxic cookware, you are basically infusing the broth with heavy metals and PFTEs (polytetrafluoroetheylene) from Teflon. If you do this, then you need to stop drinking bone broth now.

Drink bone broth if:
You use healthier cooking equipment to cook it such as:
Stainless steel
Enameled cast iron
Clay Pots
Glass cookware
3. You heat your bone broth in the microwave
Granted, the microwave oven is super convenient and saves time but did you know, it is actually hazardous to our health? By using a microwave to warm up or defreeze bone broth, you are basically radiating your broth and zapping all the nutrients within it so that they are of a different chemical composition.
There are many studies showing the dangers of using microwaves – please read: The Dangers of Microwaves and its Effect on Food
IF you're going to be nuking your bone broth and destroying all its nutritional content while harming your body, then maybe you should stop drinking it.
Drink bone broth if:
You throw your microwave out for good and heat up bone broth with a good ol' pan over a stove or in the gas oven. Defreeze bone broth by letting it sit in a bowl of hot water or by heating it over low flame, but not in the microwave.