Here's the real reason we add vinegar to bone broth. Now it all makes sense.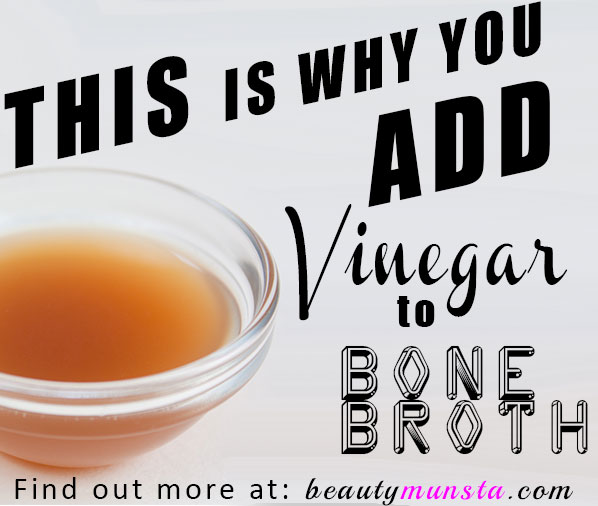 Why I Add Vinegar to Bone Broth
I've been drinking bone broth since I was a kid and the way my grandmother and mother made it, no such thing as vinegar was added to the broth. The broth was still delicious and gelatinous, by the way.
Today, I make bone broth for my own family but I never skip the vinegar. I add it to the stock and leave it to "marinate" for at least 30 minutes before I switch on the heat and begin the cooking.
The purpose of the vinegar is to act as an acidic medium that will effectively leech out the minerals in the bones. Cooking over long periods of time (6 – 48 hours) also helps extract as many of the minerals as possible.
But for my I use my pressure cooker bone broth recipe, which only takes about 2 hours max to get a rich gelatinous broth. So I like to add vinegar to make sure I'm getting out as much of the goodness as I can.
What Type of Vinegar Should You Use?
You can use any type of vinegar such as:
White vinegar
Apple cider vinegar
Balsamic vinegar
For our purposes here, it doesn't matter if the vinegar is refined or unrefined. I tend to use unrefined raw apple cider vinegar for my bone broth.
How Much Vinegar to Add
You don't need much. Only about 2 teaspoons for 4 cups of broth, which is what I usually prepare.
For those who prepare bigger amounts of broth, use 2 tablespoons for 3.5 quarters (14 cups) of broth
Will Vinegar Stink Up My Broth?
Not at all! The amount of vinegar we're using is too small to even be detected. The smell of the bone broth itself is strong enough to cover up the smell of vinegar, anyway! There have been many times where I added a little too much vinegar and it didn't stink up my broth whatsoever.
Vinegar Substitutes for Bone Broth
You can easily substitute vinegar for another acid medium like lemon juice or lime juice. Replace 1 tablespoon spoon of vinegar for 1 tablespoon of lemon or lime juice.
Is your bone broth too stinky? It doesn't have to be! The secret to yummy aromatic bone broth lies in roasting the bones beforehand and using sensational spices such as cumin. Check out my aromatic bone broth recipe: How to Make Paleo Bone Broth