Can doing a bone broth fast for leaky gut heal your intestinal woes? Yes, it can! Here's why and how to go about it the right way!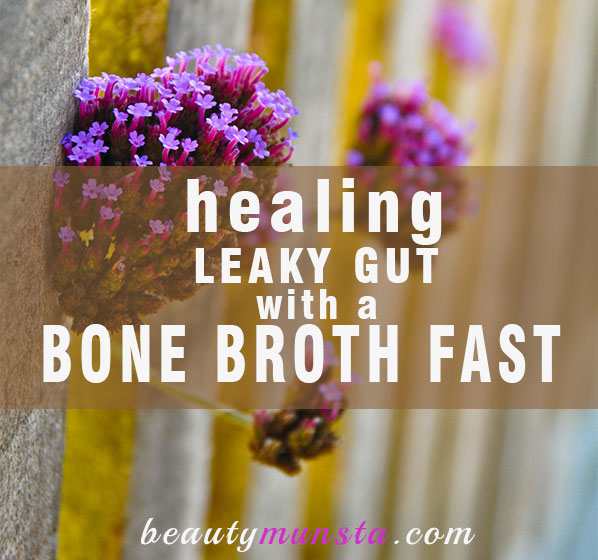 What is Leaky Gut Syndrome?
Leaky gut syndrome has only recently come to light and while studies are currently being undertaken on the condition, a lot is yet to be discovered.
Leaky gut is not fully understood, but is commonly defined as a condition where the intestinal walls are overly permeable and "leaking" food and other particles into the blood stream.
This creates allergies and autoimmune disorders where the immune system goes into overdrive to tackle the foreign particles in the blood and begins attacking its own cells.
Signs of Leaky Gut Syndrome
Some of the signs of leaky gut syndrome include:
Food allergies and sensitivities
Inflammatory bowel disease, such as ulcerative colitis and Crohn's disease
Poor absorption of nutrients
Hormonal imbalances
Inflammatory skin conditions, such as psoriasis
While the cure for leaky gut is still under investigation, there is no doubt that bone broth can do wonders to seal a leaky gut and heal many of the conditions linked to leaky gut.
Can Bone Broth Heal Leaky Gut Syndrome?
Bone broth has many powerful nutrients and compounds that help heal leaky gut holistically. Here are some of the reasons why bone broth can heal leaky gut syndrome:
1. Bone broth boosts the immune system – It is a known fact that those with leaky gut are facing a weak and impaired immune system. The nutrients in bone broth boost immune function and help normalize its role in the body. This helps reduce the severity of autoimmune conditions.
2. Bone broth is rich in collagen – Along with collagen, bone broth contains glutamine, glycine and proline, which all work to actively rebuild intestinal cells, repair and heal damaged cells. These healing compounds also help regenerate new and healthy cells to repair the old, diseased cells.
3. The anti-inflammatory properties of bone broth – Bone broth is rich in anti-inflammatory compounds that reduce and heal intestinal inflammation. This can help reduce the pain associated with leaky gut, can help fasten the healing of the intestinal wall and can reduce bloating and gas.
How to Make Bone Broth For Leaky Gut Relief
When you're going to be doing a bone broth fast, you obviously need to make sure your bone broth is delicious enough to drink for days on end.
Most bone broth recipes are simple, yet bland and you can easily get bored after a few sips.
I recommend that you make your own bone broth for your bone broth fast and I recommend you use an easy-to-make yet flavorful recipe, like the ones below:
To make things easier, you can make large amounts of stock, pour them into different containers and freeze them.
Each day, remove one container and defrost it by placing it in a bowl of hot water. Heat in a pan to warm up before consuming. This way, you only need to make bone broth every 3 – 7 days.
How to Do A Bone Broth Fast For Leaky Gut Relief
Caution: Remember, before attempting any fast, you should consult with your health care professional to get the O.K sign to go ahead with fasting. Your doctor may assess your physical condition and may run a few blood tests before deciding whether you are fit to fast.
There are many types of bone broth fasts that you can do, such as the 1 day fast, 3 day fast and 2 week fast.
To heal leaky gut, you will need to do a more long-term fast and a 2 week fast would be a minimum. Some say they got over their leaky gut in 3 weeks while others, 4 weeks.
The bottom line is, everyone is different. You may heal faster than others. Or you may take longer.
Remember, when attempting a fast more than 2 – 4 weeks, you must consult your doctor or do so under professional supervision.