Make this easy and effective homemade hair serum for split ends to help heal damaged and frayed hair ends!
Split ends are a frustrating hair problem that don't seem to have a proper remedy. Many people think that the only way to fix split ends is by trimming your hair. That's true – but you can also use this homemade hair serum to help seal your split ends, nourish your damaged hair ends and prevent more split ends!
We're going to be using the following ingredients:
Fractionated coconut oil – This contains MCT's (Medium Chain Triglycerides) that penetrate into hair cuticles and seal them up.
Argan oil – Known for its exquisite beauty benefits, argan oil is great for nourishing and treating lifeless damaged hair.
Sea buckthorn oil – Perhaps the number one oil for dry damaged hair, sea buckthorn oil is incredibly healing. It's good for heat damaged hair too!
Geranium essential oil – This heavenly floral oil balances the sebum production on the scalp since dry hair is very prone to split ends.
Sandalwood essential oil – With its sweet warm woody scent, sandalwood is divine for hair. It seals moisture into the hair, keeping it moisturized which allows no room for dry hair that leads to split ends.
Okay, now let's check out the recipe for my homemade hair serum for split ends!
Homemade Hair Serum for Split Ends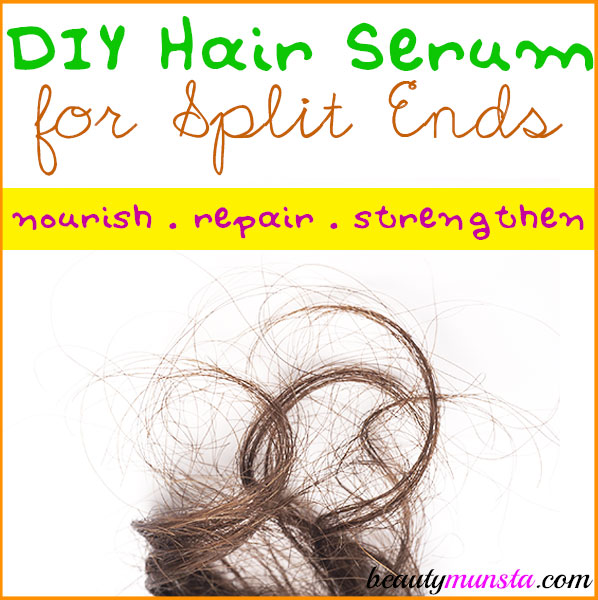 What you need
Directions
Using a small funnel, pour in the fractionated coconut oil, argan oil and sea buckthorn oil.
Now carefully add the geranium and sandalwood essential oils, drop by drop.
Close the dropper bottle and shake well to mix up the ingredients. Store in a cool dry place, away from sunlight.
Apply on freshly washed hair that's damp – not dripping wet. After a shower, do not towel dry your hair and do not use a towel at all. Towels cause hair breakage aka split ends. Just squeeze out the excess water from your hair then wrap it gently into a T-shirt. Yes, keep one just for wrapping your washed hair into. Remove the T-shirt when your hair is no longer dripping wet.
To use, place 3-6 drops on your palm, rub both palms together then smooth over your hair length. Concentrate on applying it on your hair ends, especially, because this is where the most damage & split ends occur.
Use this homemade hair serum for split ends every after your shower xoxo