Got brittle and dehydrated hair? Then it's time to mix up this DIY hair serum for dry hair!
Do you know how easy it is to make a DIY hair serum for dry hair?! Why bother buying pricey store-bought hair serums that contain things such as mineral oil, preservatives like parabens, and other unnecessary chemicals? If you follow the recipe below, you'll see what I mean. You only need a few ingredients and your serum is going to last for a very long time. What's more is that it works incredibly well.
Here are the ingredients we're going to be using:
Castor oil – This acts as a thick emollient to lubricate dry hair. It is very thick, so we're using just 1 tbsp. Don't use more than this.
Avocado oil – Avocado oil has a thick consistency, like castor oil. It's filled with nourishing fatty acids that feed hair and keep it healthy. It's also good as a detangling oil for dry hair.
Sweet almond oil – Almond oil is the medium-light oil that thins out the thick castor and almond oils. It has anti-frizz properties and keeps hair moisturized.
Lavender oil – Lavender oil seals moisture into hair and balances sebum production. It's a good essential oil for dry hair.
Sandalwood oil – Sandalwood oil is very moisturizing in nature. It also has a nice woodsy scent that's fantastic on hair.
DIY Hair Serum for Dry Hair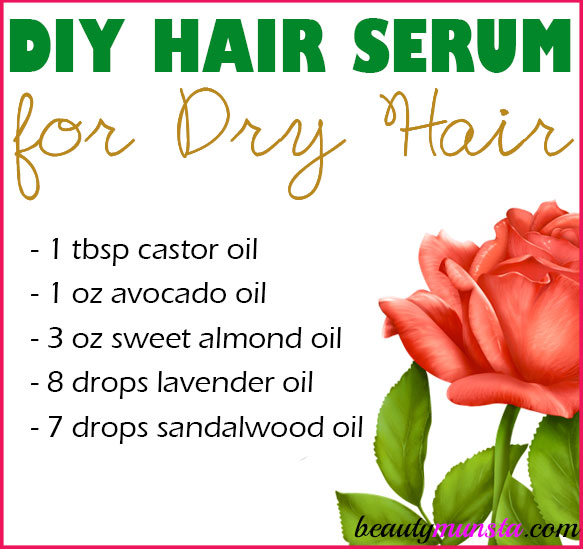 What you need
Directions
Using a small funnel, pour in the castor oil, avocado oil and sweet almond oil.
Next, carefully add the sandalwood and lavender essential oils, drop by drop.
After adding all the ingredients, close the bottle and shake well to mix everything up.
Your DIY hair serum for dry hair is ready! Store in a cool dry place, away from sunlight.
To use, apply just a 2-4 drops on freshly washed hair that you've lightly towel-dried so it's damp. It shouldn't be dripping wet. Apply as a leave-in conditioner.
Give this DIY hair serum for dry hair a go! Come share your results xoxo